Sept. 26, 2023
By Kayla Holman, communication assistant
Northwest Missouri State University students, faculty and alumni recently participated in New York Hope, a four-day training exercise in homeland security and emergency services at the State Preparedness Training Center in Oriskany, New York.
New York Hope annually provides training to students, community members, and local and state responders. College students from Connecticut, Missouri, New York, North Carolina and Pennsylvania participated in disaster management simulations and applied skills they learned throughout training.
"It's a different set of rules that show the students that this is what they'll be dealing with in the real world," Travis Surprise, a Northwest instructor of emergency and disaster management, said. "You're going to be put in situations you've never seen before … You're going to learn from it." 
Northwest students Sarian Blunk, Lawrence Link, Rachel McWilliams and Michael Meyers joined faculty members Dr. Mark Corson, Dr. Lauren Leach-Steffens and Surprise, along with alumni Mackenzie Baker and Kelsie Krier, for the training exercise and disaster simulation in August.
Participants worked in teams to handle mass casualty situations, water rescue operations, secondary triage and treatment, damage assessment, wilderness search and rescue, and emergency response cyberattacks.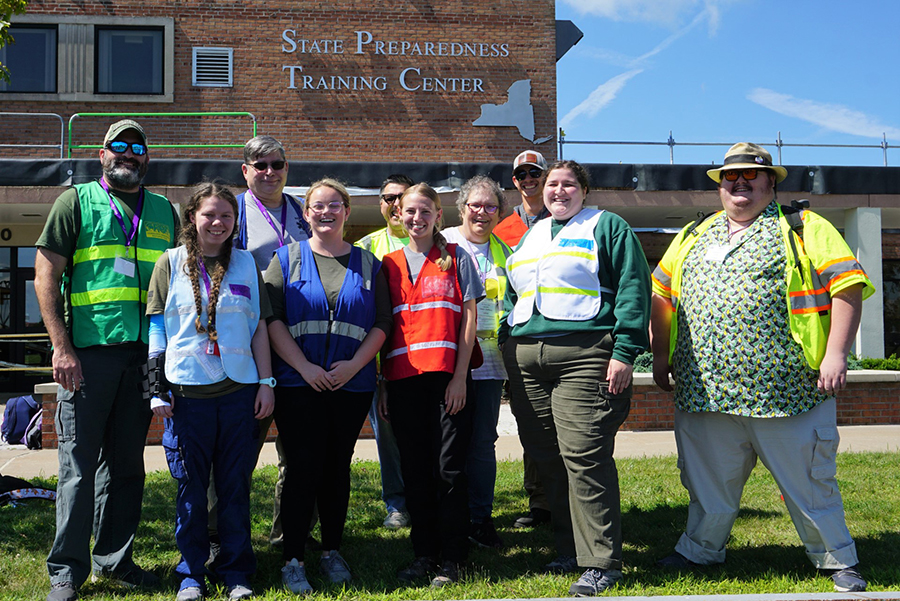 Pictured left to right while attending New York Hope in August are Travis Surprise, Kelsie Krier, Dr. Mark Corson, Mackenzie Baker, Richard Leach-Steffens, Sarian Blunk, Dr. Lauren Leach-Steffens, Michael Meyers, Racheal McWilliams and Lawrence Link. (Submitted photo)
Blunk, a senior emergency and disaster management major from Kearney, Missouri, said she enjoyed learning swift water rescue – a technique designed to prepare emergency and disaster responders on how to handle water emergencies.
Blunk completed a summer internship with EcoSafe Environmental Services Inc. and hopes to launch her career with the company after graduating from Northwest.
"These experiences enhanced my skills by throwing us into the field and diving right in," Blunk said. "Even if you aren't medically trained, like me, you learn basic skills quickly as you try to help people the best you can."
Link, a senior emergency and disaster management and geology major from Chillicothe, Missouri, played the role of a staff member and delivered the disaster simulations to participants. He plans to attend graduate school to pursue a master's degree in emergency management.
"This continued expanding my knowledge of how an Emergency Operations Center works, Link said. "Ultimately, I would like to work in an EOC, and this gives me some experience."
New York Hope is sponsored by the Consortium for Humanitarian Service and Education, the University of Albany College of Emergency Preparedness, Homeland Security and Cyber Security and Elmira College.
Northwest will host its iteration of Missouri Hope Oct. 12-15 at Mozingo Outdoor Education Recreation Area.