Tommy Thrall broadcasts a Cincinnati Reds baseball game at Great American Ball Park.
July 6, 2023
Story by Mark Hornickel, photography by Todd Weddle
The time is approaching 6:40 p.m. on the first Monday of April. With pages of game notes and a scorebook on the desk in front of him at Great American Ball Park in Cincinnati, Tommy Thrall '06 leans forward in his chair and listens for a cue in his headset.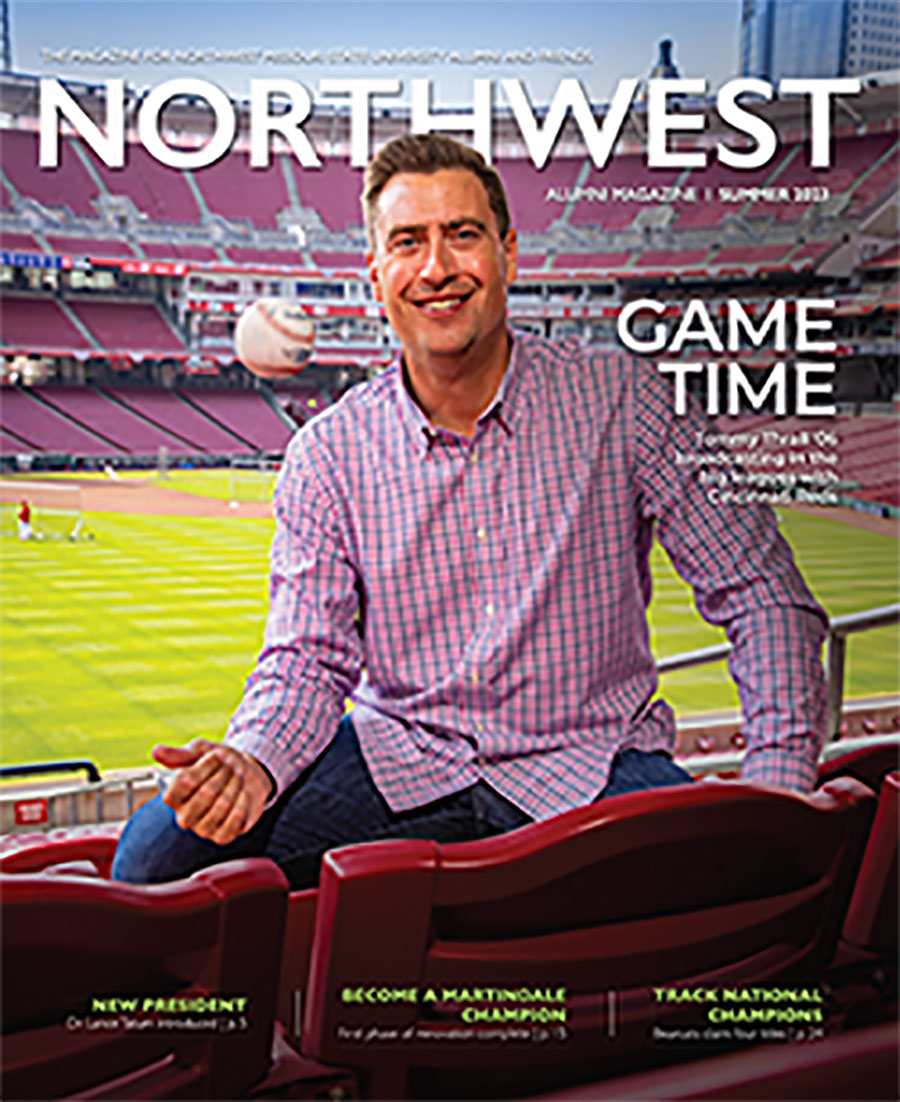 This story appears in the summer 2023 edition of the Northwest Alumni Magazine. View the print version of the magazine in its entirety here.
"Beautiful night for baseball," Thrall says to fans tuning in to hear the radio broadcast of that night's Reds game. "It was cloudy, overcast, a little rainy this morning, but, boy, the clouds have burned off and we are left with just a picturesque night."
Thrall quickly reads the game's starting lineups, leaving about 30 seconds for him and his broadcast partner, Jeff Brantley, to discuss the pitching matchup. In the next moment, the game's first pitch crosses home plate for a strike as the Reds opened a three-game series against their division rival Chicago Cubs.
The Reds had won two of their first three games to start the 2023 Major League Baseball season, when hope and optimism for a championship run are high in nearly every ballpark.
Thrall knows those feelings well. Combined with his persistence and penchant for saying "yes," they helped him get to his seat in the Reds radio broadcast booth.
Tommy Thrall joined the Cincinnati Reds' "Reds on Radio" broadcast team in 2019.
Thrall can barely remember a time when he didn't want to be a baseball announcer. One of his first memories is a time sitting in the living room of his childhood home in Smithville, Missouri, where his parents were watching a Kansas City Royals game. The TV commentator's voice caught Thrall's attention and he began taking interest in the action on the screen.
"I remember thinking at one point, like, 'Wait a second, there's a job where you get to travel around, see the country, watch baseball for a living and talk on the radio? Well, that's what I want to do,'" Thrall said. "Because I figured there was no way I was ever going to be good enough to play."
At age 10, Thrall had an opportunity to meet Denny Trease, the play-by-play man whose voice caught Thrall's ears those years earlier. Trease was so impressed with Thrall's impression of Denny Matthews, the Royals' longtime play-by-play announcer, that he invited the kid on his radio show. That was Thrall's first on-air experience, and he hasn't stopped. 
After starting his résumé as a public address announcer for basketball, football and soccer games at Smithville High School, Thrall went to Northwest as a broadcast major with a business minor. He had barely finished moving onto campus when he started doing play-by-play for Maryville High School football games with student-managed radio station KZLX. That work soon connected him with John Coffey '82, the voice of the Bearcat Radio Network, who became an influential mentor to Thrall throughout his student career at the University.
Coffey emphasized preparation for every broadcast and using available resources to help listeners understand the topic. Thrall also heeded Coffey's advice to practice, regularly checking out recording equipment and returning with tapes for Coffey to evaluate.
"He was just one of those kids that you knew from the very start that he had a goal and he was going to go after it," Coffey said. "Some kids that come in, they want to do it, but then when they find out that you've got to do more than just go on the air and do it, they kind of back away. Or some of them think that they'll just take the classes and ESPN's going to come calling when they graduate."
Matt Gaarder '97, who was then the news and sports director at KNIM in Maryville, also noticed Thrall's drive to try things and pitched him an opportunity to broadcast eight-man football games.
"I had this philosophy that, if somebody asks you to do something, you just say 'yes,'" Thrall said. "If it's a chance to go call anything, announce anything, you just say 'yes' and figure it out. And so of course I said, 'sure.' And I hung up the phone and I thought, 'What is eight-man football?'"
Thrall figured it out, and the gig led to him not only broadcasting Missouri's eight-man football championship game but announcing eight-man football games in northwest Missouri for the rest of his collegiate broadcast career.
"He got the opportunities, took advantage of those opportunities and did an amazing job," Gaarder said. "Obviously, if you look at where he is now, he was doing games that people didn't want to do, but he wanted to and took the bull by the horns."
To go along with being hired by Northwest's Department of Athletics to provide play-by play for all Bearcat baseball games, home and away, the ultimate example of Thrall's work ethic and motivation to gain experience might be the 24-hour span he logged during a fall weekend his senior year at Northwest. He worked a Friday afternoon on-air shift at KZLX in Wells Hall, headed across town to broadcast a Spoofhound football game at Maryville High School and capped the night by returning to Wells for a late shift until 1 a.m. on National Public Radio affiliate KXCV. The next day, he worked a morning on-air shift at KNIM and then reported from the sideline of a Bearcat football game that afternoon for the Bearcat Radio Network.
"It was to try to get as much experience as I possibly could," Thrall said. "Then, once I got out and I was getting paid, you had to do as many jobs as you could just to make ends meet, because you're kind of paid by gig. Some of it early on was by choice. Others, as I got later, it was more by necessity. But the thing was, it was always fun. I always enjoyed all the work."
But calling baseball games was all Thrall really wanted to do. "It's the sport I love the most," he said. "I like the day-in and day-out aspect of it. There's a storytelling element there too, and it lends itself to being a little bit more descriptive."
Partnered with former Major League pitcher Jeff Brantley (above on right), Tommy Thrall occupies the radio booth for a storied baseball franchise whose previous play-by-play announcers include Marty Brennaman, Joe Nuxhall and Waite Hoyt.
Thrall began his career as most professional ball players do, paying his dues and slogging in the minor leagues with a hunger to get to the bright lights of a big league ballpark. After securing a broadcasting role as a Northwest student with the Kansas City T-Bones in an independent professional baseball league and putting in five seasons there, Thrall bounced to the Myrtle Beach Pelicans, an Atlanta Braves affiliate in South Carolina, for a year and then to the Quad City River Bandits, a St. Louis Cardinals affiliate in Iowa, for two years before landing with the Pensacola Blue Wahoos, a Reds affiliate in Florida, for seven years.
In 2015, Thrall was named the Southern League Broadcaster of the Year for his work with the Blue Wahoos – a sign that his smooth, natural broadcast voice was beginning to get some notice – and he was cultivating a sturdy network of people around the league. In addition to voicing Blue Wahoos baseball, Thrall ingrained himself in the Pensacola community by doing play-by play for University of West Florida football and basketball games, working as a sports reporter for WEAR-TV and even doing shifts as a DJ for a country radio station.
"That's the grind of it all is to be ready for all the assignments that you have, whether it's a high school football game on Friday night, followed by a college game on Saturday, and then you've got another baseball game on Sunday to do somewhere," Thrall said. "It's not just doing them and being prepared for all of them, but getting to all of them."
When 2018 arrived, there was talk in the Reds organization of Marty Brennaman, a hall of fame broadcaster who had been with the franchise since 1974, nearing retirement. After calling some spring training games for the Reds, Thrall entered the running to be Brennaman's successor. That September, Thrall was in Biloxi, Mississippi, preparing to broadcast a Blue Wahoos game, when he received a phone call offering him a tryout with the big league club.
Brennaman was hosting a weekend golf tournament and the Reds needed someone to do the radio play-by-play for three games. Of course, Thrall said, "yes."
"Now I've gotta figure out how to get out of a high school football game on Friday," Thrall remembered. "There's a radio broadcast of a college football game on Saturday and a Blue Wahoos playoff game that I was supposed to broadcast on Sunday, but yeah, sure, I'm free."
When Thrall made it to Cincinnati, nerve-racking rain delays factored into every game. But the Reds won two of the three, and Thrall clicked with Brantley, a big league pitcher for 14 seasons who joined the Reds broadcast team in 2007. Thrall had achieved his dream of calling a Major League Baseball game.
"I remember sitting here thinking, 'Man, there are a lot more seats,'" Thrall said. "I've been to games here as a fan. I had been up to shadow Marty and Jeff before, but then to actually sit in the chair to broadcast, it was very, very surreal and incredibly special."
Tommy Thrall says he is "all-in" with the Reds and is hopeful the franchise can recapture championship glory.
The Reds were pleased with Thrall's work, and he officially joined their broadcast team in 2019, Brennaman's last season, to host the "Reds on Radio" post-game show and produce stories and interviews for the pre-game show. In 2020, Thrall's wait to become the Reds' full-time play-by-play radio announcer was extended when the COVID-19 pandemic delayed and shortened the baseball season to 60 games. But since then, Thrall has settled into his broadcast chair nicely and is winning over fans in the process.
Dave "Yid" Armbruster, the producer and engineer for the Reds Radio Network since 1986, met Thrall during a Reds spring training game in Pensacola and became an early supporter of him.
"There's now a very good comfort level where he now knows he belongs," Armbruster said. "Early on, that's a learning curve, especially when you follow Marty Brennaman. I think he's confident in what he does. He's gotten better as time goes on. He's really good."
In a short time, Thrall and Brantley have developed a chemistry that is noticeable on the airwaves and in their broadcast booth. During games, Brantley drinks Coca-Cola and delights in throwing the empty glass bottles into a trash can behind him in the broadcast booth, intent on making a clinking sound that's audible to radio listeners when they crash against other discarded bottles. "That's one of the sounds of summer – an empty Coke bottle clinking in the trash can," Thrall said to their audience after the sound made it onto a broadcast during the Reds' home series against the Cubs. "It goes hand in hand with the crack of the bat."
Their shared passion for baseball is evident, and Brantley says the pairing has reached a point where they can finish each other's sentences. 
"The best part, I think, about Tommy is he can laugh at himself, and you have to be able to do that in this job because you're not gonna be perfect," Brantley said. "If you're trying to be perfect all the time, you're gonna mess up bad because you get too uptight. And one thing that Tommy is not is uptight. I mean, he's cool as a cucumber, and he's excited about doing the games."
For Thrall, the key is trying to reflect the emotions a fan is likely feeling during the highest and lowest moments of a game.
"I don't know if that's right or wrong. It's just kind of how I've always felt," he said. "You get excited when fans get excited. You get disappointed when fans are disappointed by something that happens, and that's OK."
Tommy Thrall is broadcasting in the big leagues with the Cincinnati Reds.
Tommy Thrall interviews Reds manager David Bell prior to a game.
Tommy Thrall chats with Cincinnati catcher Curt Casali in the Reds' dugout before a game.
Although recent seasons have not been bright for the organization, the history of the Cincinnati Reds – one of baseball's most storied franchises – is not lost on Thrall. Founded in 1869 as the Cincinnati Red Stockings, they have the distinction of being baseball's oldest professional team. In the 1970s, the Reds were a perennial power with a lineup known as the "Big Red Machine" that won the World Series in 1975 and 1976.
After signing on in Cincinnati, Thrall read books about the Reds to educate himself about the team's history and tried to soak up as much as he could from Brennaman, who publicly praised Thrall during the transition.
"Marty spent 46 years here, and I got to work with him, and he was incredibly helpful at trying to encourage the fans to give me a chance, too, and he spoke to that during his retirement, which was incredibly nice," Thrall said. "That meant the world to me."
Thrall also has tried to learn from the fraternity of baseball announcers who work in the booth next to him on any given night – from hall of famers like Pat Hughes with the Chicago Cubs and Bob Uecker with the Milwaukee Brewers to a wave of younger broadcasters like the Los Angeles Dodgers' Joe Davis, with whom Thrall connected as a minor league broadcaster before Davis succeeded the legendary Vin Scully.
"I think you have to listen to as many of them as you can – and so I do," Thrall said. "Vin Scully's storytelling was second to none. Bob Uecker's humor is unreal, but he does it in such a way that it works perfectly with a broadcast. And then Jon Miller (with the San Francisco Giants) just has this energy and enthusiasm when he speaks that just makes him fun to listen to. Those are the things that you kind of take away that, to me, make a great radio broadcast. Good energy, some humor and good storytelling – because it's about the game. You're just the vessel that brings the game to the fans."
Now 39 and in his fifth full season with the Reds' radio broadcast team, Thrall admits there were a few times throughout his minor league years that he thought about quitting, discouraged that his big league dreams might never come true. He can see now with a thankful set of eyes how each stop positioned him for the next and says he is "all-in" with the Reds.
Thrall knows firsthand that the preparation and waiting isn't easy, but achieving the goal is worth the work.
"I don't think the shine wears off," he said. "You get a little bit more comfortable, which I think is a good thing, but there's times where I still think, 'Wow, this is real life.' It's been so long chasing a dream that you start to think is never going to happen. When it does, it's just so surreal."