July 6, 2023
The Rosier family has farmed land near Mound City, Missouri, for four generations but knew they needed to diversify their row crop farm to sustain it for future generations.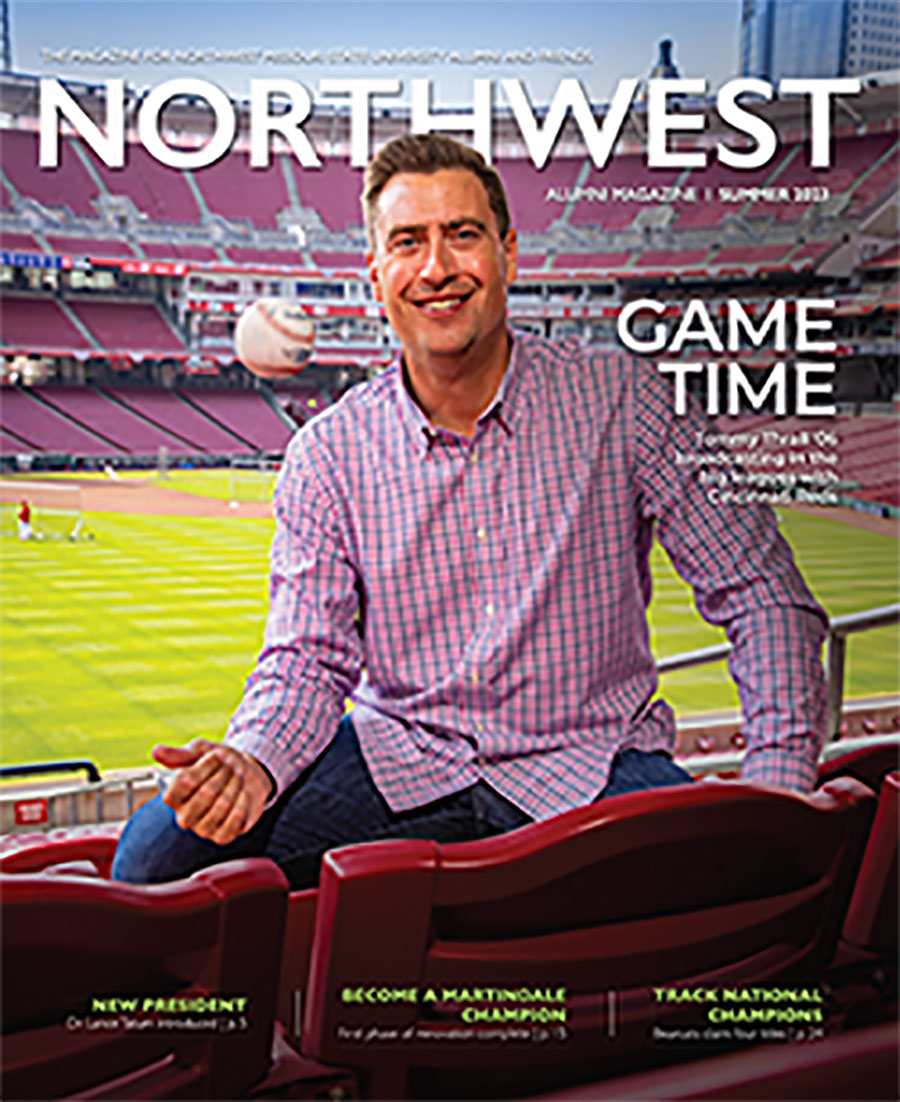 This story appears in the summer 2023 edition of the Northwest Alumni Magazine. View the print version of the magazine in its entirety here.
So last year – after years of researching alternative uses and planning – they launched R/Farm Distillery, redirecting a portion of their land to producing premium whiskey. Since opening to the public, the farm has begun to develop a reputation as a relaxing destination where visitors can sip handcrafted cocktails while learning about nuances of agriculture and the distilling process.
"We basically took a leap of faith and just jumped," said Dylan Rosier '11, who co-founded R/Farm with his brother, Cole '13, and their parents, Kirby and Kim. "We didn't have a clue what we were getting ourselves into either, and it's probably a good thing we didn't know because it has been a haul for the last three solid years."
The family filled its first barrel of bourbon in March 2022 and opened their tasting venue that April. Located just off Interstate 29 on one of the highest points in northwest Missouri, R/Farm offers breath-taking views of the region's rolling hills.
Its private event room pays tribute to Mound City with historic photos and refurbished doors from a demolished downtown building. The large social room features a grain bin repurposed from the farm as a backdrop for the bar area alongside handmade furniture crafted from reclaimed barn wood and scraps.
The Rosiers' commitment to family and the region also is evident on the walls where photos depict their farming history next to some of their grandfathers' barn ladders.
The family includes Dylan's wife, Lauren Haer Rosier '11; Cole's wife, Holly Howard Rosier '16; Gage Rosier '14 and his wife, Ashley McGinnis Rosier '14.
Members of the Rosier family involved in the development of R/Farm Distillery are, left to right Dylan Rosier, Lauren Haer Rosier, Gage Rosier, Ashley McGinnis Rosier, Holly Howard Rosier and Cole Rosier. (Photo by Todd Weddle/Northwest Missouri State University)
Each brings unique skill sets and experiences to the operation. With such a personal stake in the operation, the Rosiers have worked hard to hone their processes.
"As a family we're pretty good at that," Dylan said. "Don't get me wrong. We're a family. You're going to have your days. But we do a good job working together."
The distilling operation comprises a 60-acre section of the Rosier family farm. After harvesting their grain and turning it into corn flour, the Rosiers add water and heat their mix to nearly 200 degrees. The bourbon mash is then run through a fermenter and distilled. When the process finishes, the product goes into wood barrels for aging.
They made 105 barrels last year, filling about 60 percent with bourbon and the remainder with rye. The bourbon is not yet available to the public, however.
"When we started from scratch, we just started the clock," Dylan said. "Our oldest barrels are a year old, so we've probably got another couple years, at least, before we'll actually have a bourbon on the market. But when we do it will be all ours – everything from us planting it to harvesting it to milling it and cooking."
While R/Farm bottles their product by hand, the family regularly hosts bottling parties for friends and community members to join. A "farmhand" club offers swag and discounts as well as opportunities to participate in exclusive tastings.
The Rosiers also pride themselves on selling only the products that they have a hand in creating. To complement their drink menu, which includes non-alcoholic mocktails and juices, R/Farm offers a menu of appetizers and welcomes food trucks.
"We make all of our juices and all of our simple syrups," Holly said. "The ingredients that go into our cocktails are premium as well. It's all fresh, and we try to use as many local things as possible."
Outside, visitors can walk among the rows of whiskey wheat and whiskey rye crops, providing them with a full sensory experience. For some, a stop at R/Farm is their first time seeing crops up close.
"They can come in and see the stuff growing," Dylan said. "We can talk about what we do and explain what we call modern agriculture."