July 6, 2023
Even as John Coffey '82 enters his 39th year as the "Voice of the Bearcats" this fall, he's not sure he's achieved a perfect broadcast. Though his partner on the Bearcat Radio Network, Matt Tritten '11, argues Coffey hit the mark on a February 2020 night in Bearcat Arena when Trevor Hudgins '22 landed a jump shot at the end of regulation to beat Missouri Southern by one point and claim a MIAA regular season men's basketball championship.
"Working with John, he's never actually said it, but in my mind I'm kind of like, 'OK, if we get into a big situation, I don't want to allow my fan to come out to mess up an award-winning call,'" Tritten said.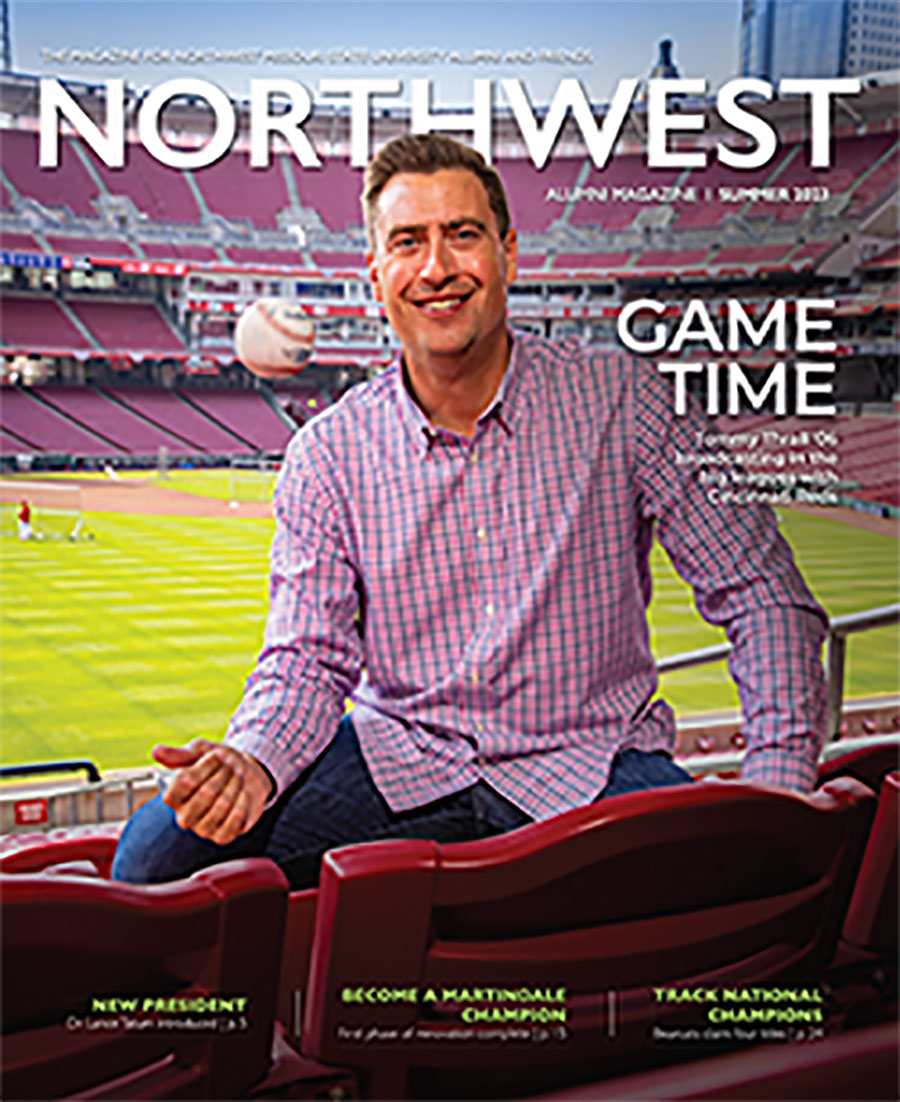 This story appears in the summer 2023 edition of the Northwest Alumni Magazine. View the print version of the magazine in its entirety here.
After a missed Missouri Southern free throw, Northwest's Ryan Hawkins '20 rebounded the ball and passed it to Hudgins as the game's final seconds ticked away. Tritten held his breath and raised his hands to the air while Coffey made the call.
"Hudgins with four seconds, left side to the left wing, steps back with one second, puts up the jumper – it is good!" Coffey exclaimed as the final buzzer sounded and the Bearcat Arena crowd erupted. The play call earned Coffey and the network a first place award from the Missouri Broadcasters Association.
"There's a lot of times that we'll go through a big moment at the end of a game, and John will be like, 'I don't think I hit that quite right,'" Tritten said. "Are you kidding me? I listened to it live. It was pretty right."
For Coffey, the accolades are nice. But the value of his work with Northwest's National Public Radio affiliate, KXCV-KRNW, and the Bearcat Radio Network lies in relationships he's developed through the years – on and off the air – with Northwest students, faculty, staff, coaches, alumni and fans.
Coffey has traveled countless miles to ensure Northwest games are accessible to fans. That includes being on the radio broadcasts for all 14 of the NCAA Division II national championship games involving Bearcat teams since the football program's first trip to a national championship game in 1998 in Florence, Alabama.
"I've seen a lot of history come through and unbelievably lucky, too, when you look at six football national championships and four basketball," Coffey said. "To be able to watch those, it's something that I never thought would happen to get one, let alone be able to broadcast that many on both sides."
John Coffey is entering his 39th year as the "Voice of the Bearcats" this fall, and has worked as a staff member with the Bearcat Radio Network's flagship, KXCV-KRNW, since 1999. (Photo by Lauren Adams/Northwest Missouri State University)
Until Coffey came along, the duties of calling the play-by-play of Bearcat athletics games were handled by students on the low-power, student-managed KDLX, which is now KZLX. Thus, Coffey was the Bearcats' first professional play-by-play caller.
By Tritten's count, Coffey has broadcast 460 consecutive Bearcat football games, dating from the start of the 1985 season through 2022.
"There's just a certain amount of dedication and hard work, and your best ability is availability," Tritten said. "Whether it's to be on games or to help students, it's all about the availability to put himself out there to make sure that he's ready for whatever anybody needs."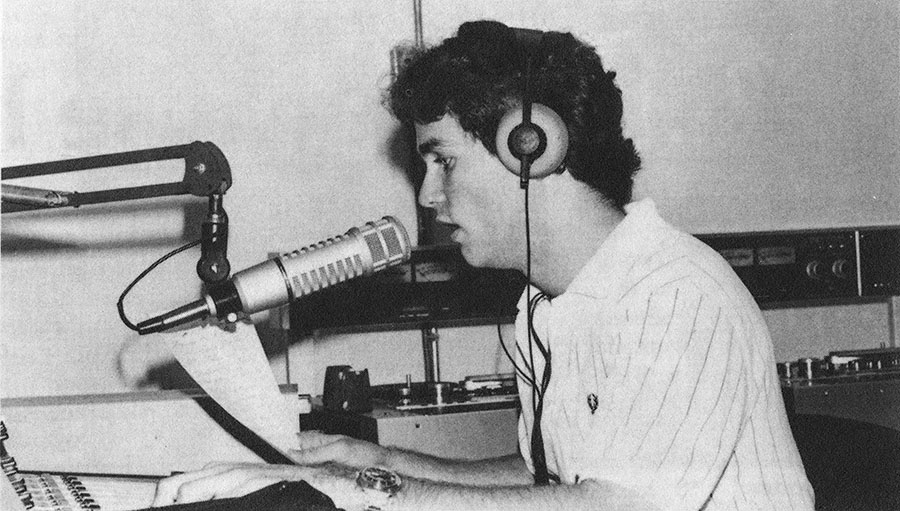 John Coffey, pictured in the 1981 Tower yearbook, gained experience as a Northwest student on KDLX and KXCV.
John Coffey began broadcasting Bearcat football games in 1985. (Photo by Todd Weddle/Northwest Missouri State University)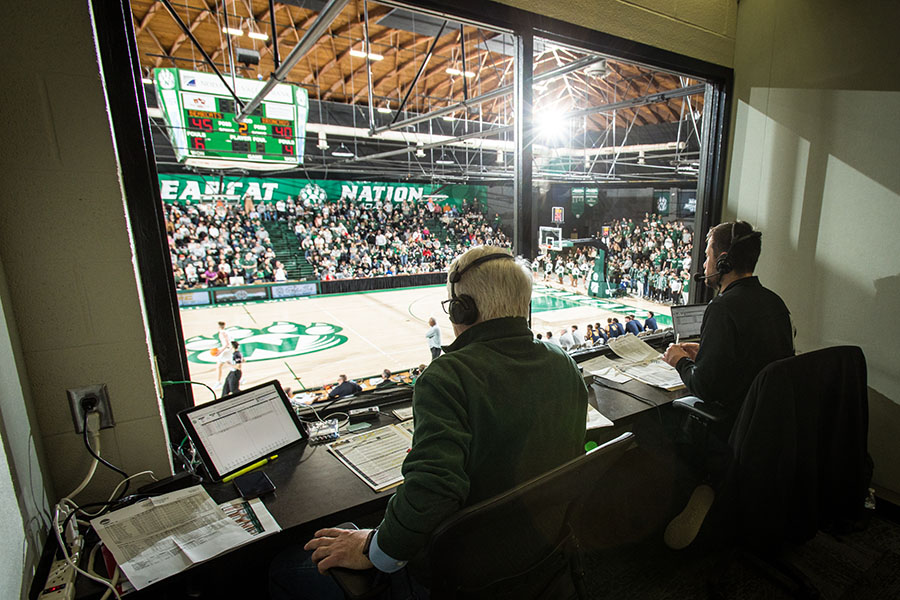 In addition to football games, John Coffey provides the play-by-play for all Bearcat men's and women's basketball games with Matt Tritten. (Photo by Lauren Adams/Northwest Missouri State University)
Coffey's love affair with the radio began as a boy in Albany, Missouri, where he favored listening to broadcast legends Harry Caray and Jack Buck call St. Louis Cardinals baseball games on KMOX.
"I was just fascinated by radio and listening to games," he said.
When KXCV launched at Northwest in 1971, Coffey became a listener of it, too, deepening his interest in the radio profession. That was a time when other communities in northwest Missouri had only low-power radio stations or none at all.
"KXCV was kind of the only game in town, and it was neat to be able to work on that station," Coffey said.
Beginning as a Northwest student in the fall of 1978, Coffey worked hard to sharpen his signature broadcast voice, gaining experience on KXCV as well as KDLX.
"There were several of us at that time that went through and would practice and even pair up and take a tape recorder out and sit in the corner of Rickenbrode (now Bearcat Stadium) or at Lamkin Gym at the time and practice and try to get on the air," Coffey said, acknowledging former KXCV Station Manager Rollie Stadlman '70 and News Director Jeff McCall as mentors who helped him hone his play-by-play calling.
After completing his bachelor's degree at Northwest, Coffey worked as the news director for a station in Fairbury, Nebraska, and returned to Maryville to join KNIM in 1983 as its news and sports director.
Beginning with the 1985 football season, Coffey partnered with a rotation of Bearcat coaches and athletics staff to deliver the play-by-play of games on KNIM. In 1999, Coffey moved to KXCV-KRNW's airwaves and partnered with Matt Gaarder '97 to help launch the Bearcat Radio Network, which was one of the first networks to cover NCAA Division II athletics and gave fans throughout the world online access to Bearcat broadcasts.
Coffey, who was named KXCV-KRNW's station manager in 2019, also was instrumental in expanding the network to stations covering northern Missouri, southern Iowa, northeast Kansas and southeast Nebraska. Additionally, he has propelled it into emerging media vehicles, such as podcasts and the launch its Bearcat Public Media mobile app.
At the same time, he helps carry KXCV's long tradition of helping to prepare students for careers in the broadcast field and elsewhere. Under his supervision, Northwest students have gone on to successful broadcast careers at organizations including ESPNU and other NPR affiliates throughout the country. Graduates of the program have received awards from the Missouri Broadcasters Association for feature reporting, news series, and documentary and public affairs programming.
"That means a lot," Coffey said. "I really enjoy that part because I like seeing them come in early and just see how they progress and the confidence that they get by the time they graduate. I always enjoy seeing the success they have."
Tritten started his professional career as a sports reporter with KQ2-TV in St. Joseph, Missouri, and found his way back to Maryville in 2017 when Gaarder transitioned from the Bearcat Radio Network to become Northwest's public address announcer. 
Tritten remembers his arrival several years prior as a student and, similar to others before him, getting a start on the student-managed KZLX while he observed Coffey from a distance. As Tritten gained experience, Coffey became a mentor and Tritten eventually joined the Bearcat Radio Network as a student sideline reporter. 
"He was always a guy that had an open door policy," Tritten said. "Anytime you wanted to come in and talk about anything – questions about play-by-play, hosting a show, anything KZLX – he was always just very open and available for students, and he still is."
People who have worked with Coffey also remark about his relentless preparation. Even after a long road trip across Missouri or Kansas, or deep into Oklahoma in more recent years as the MIAA has expanded, Coffey often is one of the first staff members inside the KXCV studio each morning.
During any given day, he takes responsibility for a 7 a.m. sportscast before getting into the daily operation of the station. The latter includes maintaining relationships with staff, underwriters and listeners as well as writing applications for the grant funding needed to help support the NPR affiliate. This past spring, Coffey's to-do list also included facilitating a purchase of two transmitters needed to power the 100,000-watt radio station.
Coffey also finds time for weekly coaches shows and an occasional tennis match with Bearcat tennis coach Mark Rosewell. As an undergraduate student, Coffey was a member of the Bearcat men's tennis team.
"There's a lot of in-depth stuff that I didn't realize until very recently he puts into it," Tritten said. "Despite all that, he still will stick around until six or seven o'clock if a student wants to break something down or talk about something."
Coffey also has earned a reputation for being fair and trustworthy with Bearcat players coaches, opposing teams and game officials.
"That sticks out more than anything else about John is that he loves the Bearcats, but he expresses it in a very professional way," Mel Tjeerdsma '77, a former Northwest football head coach and athletics director, said. "He's developed such a positive reputation amongst not just our fans but people all over."
That was exemplified after a men's basketball game last season when a fan of an opposing team approached Coffey. The fan told Coffey he hadn't realized the broadcast team's affiliation with Northwest because of the fairness they showed during the broadcast.
"I just to try to convey the tension and excitement at the game for the people that are home listening, to kind of bring them into what's taking place in the arena and make them feel like they're right there," Coffey said. "Hopefully I've been able to do that from time to time."