July 6, 2023
During a career spanning more than three decades in the broadcasting field, Carrie Huke Hibbeler '88 has developed a knack for executive producing and building partnerships that are founded in her passion for community.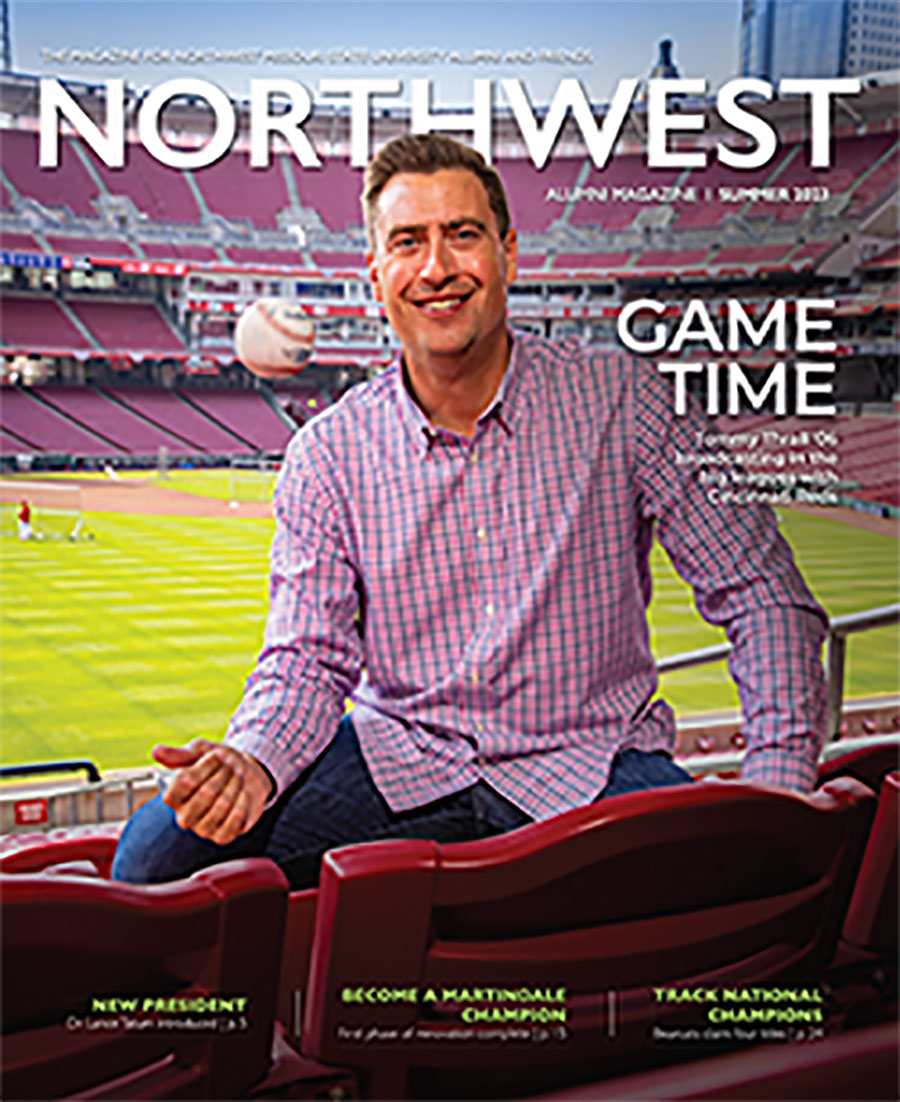 This story appears in the summer 2023 edition of the Northwest Alumni Magazine. View the print version of the magazine in its entirety here.
As a youth growing up in Kansas City's Northland in Missouri, Hibbeler wanted to be creative and held aspirations of working in the advertising industry. Today, she is executive producer and community affairs director at WDAF-TV, the Fox affiliate in Kansas City.
"I really wanted to be in advertising, but I didn't know how to describe the job that I wanted," Hibbeler said. "I wanted to be creative."
She got started after finding Northwest through an acquaintance of her older brother. During a visit to the campus, she was so impressed with the student ambassadors and the kindness of everyone she met that she enrolled. She began working for KDLX, Northwest's student-managed radio station, as well as KXCV, Northwest's National Public Radio affiliate, during her first year at the University and was hooked on broadcasting. Between coursework and radio shifts, she also was active in Phi Mu sorority and Cardinal Key, and she became president of the Student Ambassadors.
During a summer internship at KRMS, an AM radio station in Lake of the Ozarks, she was dubbed "Country Carrie" and had the distressing task during one shift of monitoring a tornado and instructing listeners to take cover as it cut through the region. Another internship in the promotions department at KMBC-TV in Kansas City helped Hibbeler solidify where she wanted to take her career.
"I learned all of these things early enough, so by the time I graduated I had a much better idea of what I wanted to do," she said. "If I had to redo it all over again, I would definitely go back to Northwest. I loved the experience. I liked that I was given the opportunity to experience areas of interest."
After beginning her career as the promotion coordinator at KSMO-TV in Kansas City, Hibbeler left television for a two-year stint as executive director of the Kansas City Radio Broadcasters Association, which allowed her to work from home and raise her family. She then spent time working part-time in marketing and promotions.
Carrie Huke Hibbeler is executive producer and community affairs director at WDAF-TV, the Fox affiliate in Kansas City. (Photo by Todd Weddle/Northwest Missouri State University)
In 2005, Hibbeler decided to return to TV and stepped into the community affairs role at WDAF. She was tasked with working with local, regional and national nonprofits to share their stories, assist with their fundraisers and connect viewers to resources. As her responsibilities expanded, she added the executive producer title and annually produces events such as School Day at the K, the Snake Saturday and St. Patrick's Day parades. She also produced the Royals' World Series championship parade in 2015 and the Chiefs' Super Bowl championship parades in 2020 and this year.
In her dual roles, Hibbeler works closely with sales staff and a creative team to develop promotions and partnerships that not only promote the TV station but community endeavors in and around Kansas City.
"We have this loud speaker to share information," she said. "Not only do we share the bad news, but we need to be able to share good news, too."
Hibbeler is passionate about promoting the Fox4 Love Fund for Children, which partners with youth advocates – such as case managers, therapists, counselors and medical care providers – to fulfill unique, unmet needs of children throughout Kansas City. She also actively works with Kansas City Chiefs players' charitable foundations, American Red Cross Disaster Relief, Salvation Army and Variety Children's Charity of Greater Kansas City, an organization committed to providing adaptive equipment and opportunities for children with developmental disabilities. Amid the COVID-19 pandemic, she helped forge a partnership with other Kansas City television stations that raised $2.5 million for community relief efforts.
But one charitable cause is especially dear to Hibbeler. In 2010, she co-founded Band of Angels with Mike Meyer of Meyer Music Company after she was inspired by a series of news segments WDAF aired about declining support for school arts programs. The pair saw a need for musical instruments in schools and organized a collection drive in the music store's  parking lot. With a goal to collect 50 used instruments, they amassed 350 that were cleaned and resold or loaned to kids who needed them.
Since then, Band of Angels has provided 3,000 instruments to students and schools. It also has awarded $275,000 in scholarships and helped send 400 students to music camps. Singer Barry Manilow has joined instrument drives, and the organization has received assistance from musicians who perform with Billy Joel and Beyoncé. Donated instruments that are beyond their usefulness are either transformed into pieces of art and sold or recycled.
For her part, Hibbeler's numerous accolades include an Excellence in Community award from the National Association of Broadcasters and a coveted Crystal Bell Award for Public Service Campaign from the National Ad Council. She also has two regional Emmy awards on her résumé for public service and interactive media, stemming from the work she and a team did to create and produce a series of weather DVDs for families. 
"I encourage students to experience as much as they possibly can because it gives insight into what they want to do for the rest of their lives," Hibbeler said. "Just by being a hugger for Special Olympics when I was a Phi Mu or doing an Easter egg hunt with Head Start kids, I realized, I really like the philanthropy piece of it. At that point, I never knew that's what I would end up doing really for most of my career."