May 16, 2023
Two Northwest Missouri State University students gained practical knowledge in the agriculture field as well as research experience this spring, culminating with a presentation April 21-22 at the Missouri Academy of Science Annual Meeting.
Nithin Batthula, a senior agriculture science major from Kahigiri, India, and Collin Schroeder, a native of Urbandale, Iowa, who graduated this spring with his bachelor's degree in agronomy with a crop science emphasis, presented their research, titled "Effect of Starter and Topdressing Fertilizer Nitrogen and Phosphorus in the Emergence and Growth of Giant Foxtail and Common Lambsquarters" in collaboration with agricultural sciences faculty Dr. Hua Bai, Stuart Sprague and Dr. Oscar Perez-Hernandez.
The research projects, which the group conducted in a greenhouse at Northwest's Horticulture Complex, provided valuable preparation for Batthula and Schroeder as they desire to advance their education and careers. 
"It's hard to overstate the importance of running these experiments," Sprague said. "The greenhouse gives us a huge opportunity to control all the environmental factors and only look at specific experimental factors. It might seem small scale, but the reality is very important and we can use this to do larger scale trials in the future."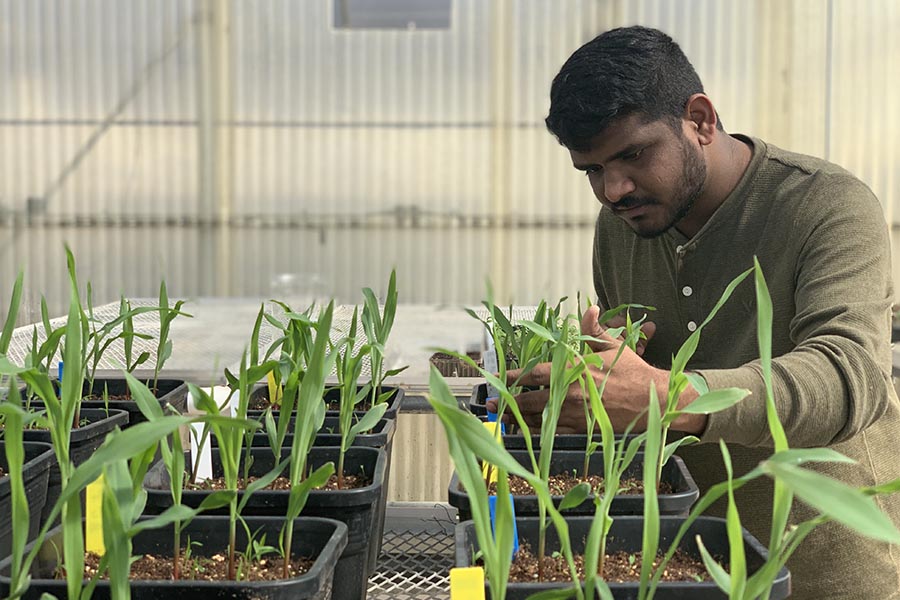 Nithin Batthula evaluates the growth of giant foxtail and common lambsquarters in pots that also were seeded with corn as part of a research project with and Collin Schroeder and agricultural sciences faculty. (Photos by Mark Hornickel/Northwest Missouri State University)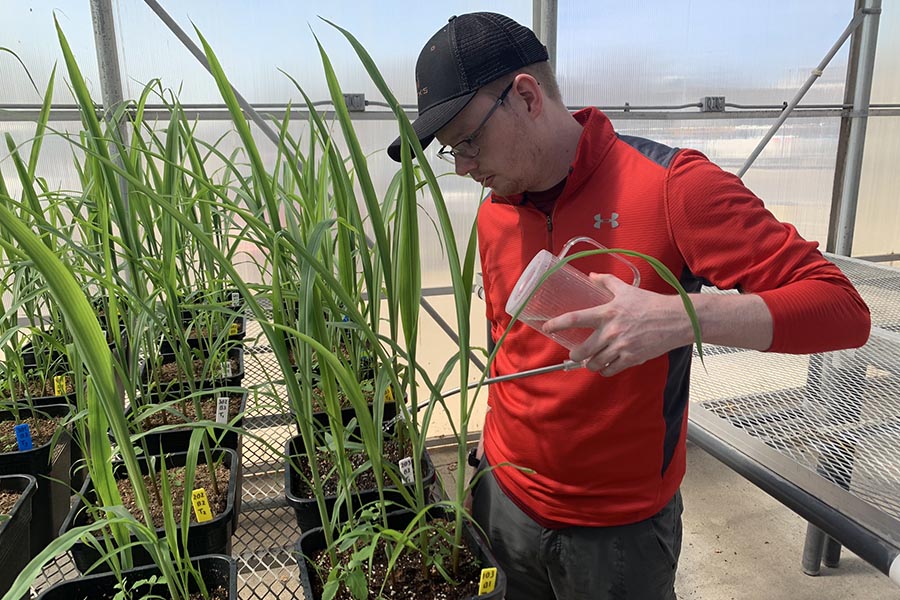 Collin Schroeder waters corn plants that were grown in Northwest's Horticulture Complex this spring.
With an estimated 90 million acres of corn crops in the United States and the knowledge that farmers in the Midwest tend to apply fertilizer in conjunction with planting corn seed, the research group sought to study the unknown effects of nitrogen and phosphorus starter and top-dress fertilizers in the emergence and growth of giant foxtail, leaving the corn to compete with the foxtail for nutrients.
"Weed ecology is competition," Perez-Hernandez said. "They are competing with the crop all the time. They compete for space, for light, nutrients, and nutrients are a big thing because of the cost to farmers to apply fertilizer."
The researchers planted giant foxtail and common lambsquarters seeds with seeded corn in pots containing a substrate made of sand and a commercial potting mix. Next, they left one set of pots without fertilizer while applying a nitrogen fertilizer to a second set of pots and a combination of nitrogen and phosphorus fertilizer to a third set of pots. Once the plants germinated, they evaluated crop and weed emergence daily and then measured their dry weight after harvesting.
Their findings showed foxtail and common lambsquarters emergence responded positively to the nitrogen-only and the nitrogen-phosphorus treatments. Compared to the emergence in the pots without fertilizer, however, results were not significant at the standard statistical threshold. Taken together, the research suggests the observed results were affected by the variability associated with unexpected uneven weed emergence, which prevented a fair treatment comparison.
It came as no surprise to the researchers that weeds feed on fertilizer. "But it's definitely interesting to see the comparisons," Schroeder said.
Schroeder will continue his education by pursuing a master's degree at the University of Missouri-Columbia. Nithin also plans to continue his education at the graduate-school level by studying weed science after completing his bachelor's degree at Northwest next year.
"It gives us that research experience for the immediate future," Schroeder said.
Funding support for the research project was provided by the Northwest Graduate School.