April 27, 2023
Seven teams of Northwest Missouri State University students and a team of students from Oak Park High School in Kansas City pitched their business ideas to a panel of business professionals April 21 in hopes of earning funding that could help launch their start-ups.
The annual New Venture Pitch Competition provides business students and entrepreneurs with an opportunity to present their ideas to small business owners and investors in a competitive setting.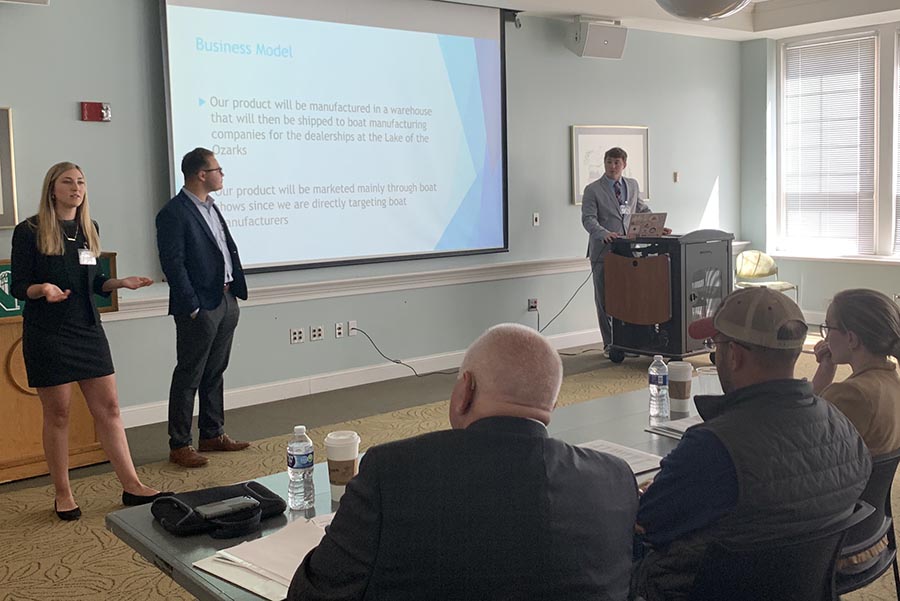 Students presented their start-up ideas to small business owners and investors in a competitive setting during Northwest's annual New Venture Pitch event. (Northwest Missouri State University photos)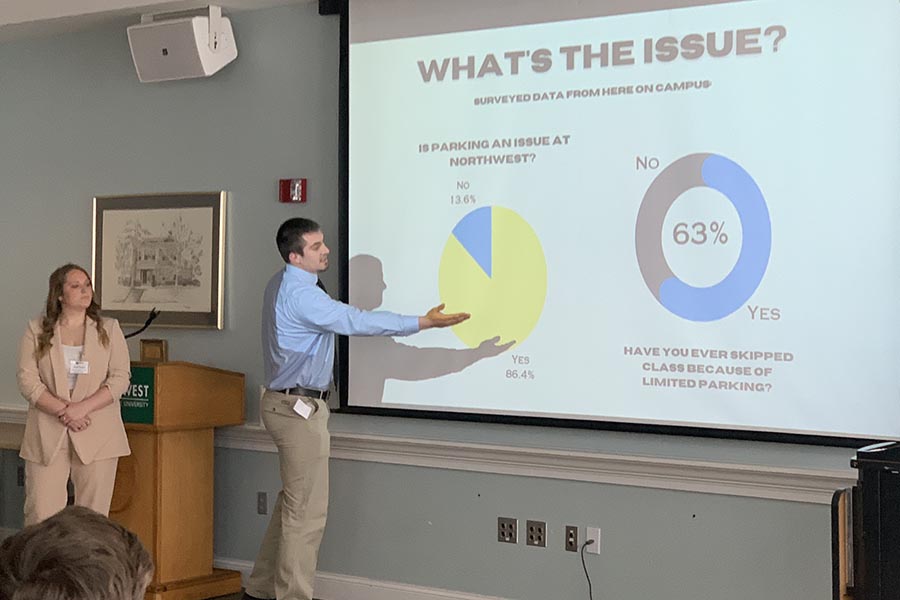 The New Venture Pitch competition challenges students to think strategically with their business planning in addition to helping students build skills related to teamwork, finance and presenting.
While participating Northwest students were enrolled this spring in the University's entrepreneurship course, a requirement for business management majors, the experience also admits external competitors and provides a valuable opportunity to network with business professionals.
"For students interested in potentially starting a business, it is an outstanding way to receive feedback and, potentially, funding to help them along that journey," Dr. Ben Blackford, the director of the Melvin D. and Valorie G. Booth School of Business, said. "Even for students who don't necessarily intend to start their own business right away, the competition provides a great opportunity to make a presentation and interact with the business professionals who serve as judges."
After three rounds of competition that involved elevator pitches, display booths and then a final 10-minute pitch with a question-answer session, Detailfy Mobile took the first-place prize of $3,000 toward costs associated with establishing their business. The team consisting of Jerzey Braden, Sidney Breyfogle, Isabelle Howayek and Drake Johnson pitched a mobile car detailing service.
"Creating a business takes a lot of strategic planning," Howayek said, noting her team altered its pricing model before the final round based on initial feedback they received from judges. "There is a lot of aspects to building a business that my team and I did not realize. It is important to know what markets are open and popular because, with that, you can know who to target with your specific service and product."
S.S. Solution, which pitched a device to improve boat safety, earned the second-place prize of $1,500, and BlockdSpot, which pitched software designed to eliminate campus parking stress, earned the third-place prize of $1,000.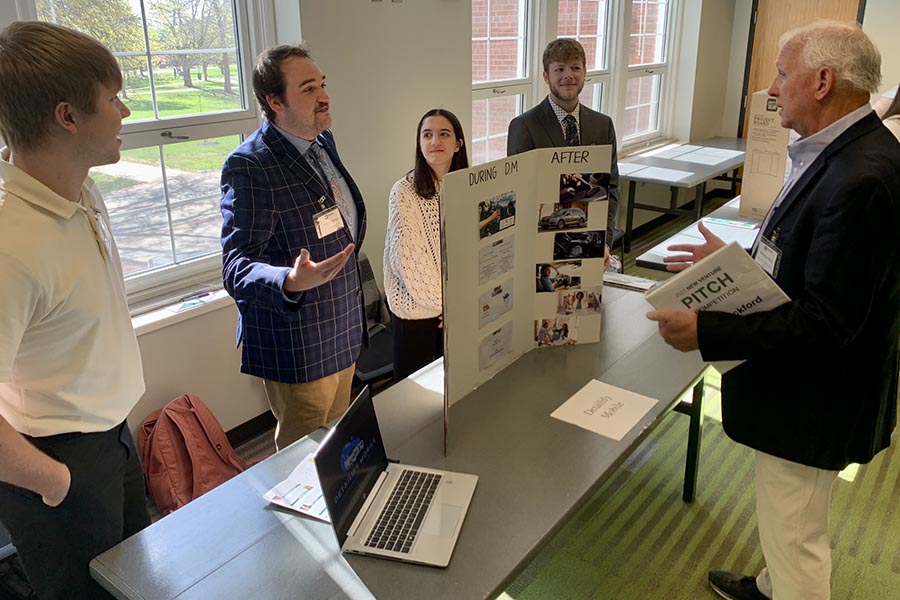 The students comprising Detailfy Mobile pitch their business idea to local businessman and New Venture Pitch judge Jim Blackford.
Along with developing a business plan and preparing their pitches, students said they enjoyed the challenge of answering judges' questions and having to think on their feet. The semester-long project also helped the students build skills related to teamwork, finance and presenting.
"This experience is one that everyone should have," Averi Action, a member of BlockdSpot, said. "Although speaking in front of a panel of judges is intimidating, it was very rewarding and beneficial. The judges were there to not only help our presentation skills, but to ask us challenging questions to help us in the long run."
The judges, who are business leaders and Northwest alumni from throughout the region, evaluated each presentation and ranked teams on the effectiveness and persuasiveness of their presentations as well as the innovation and quality in their ideas, the competitive advantage of their proposed businesses, effective discussion of financials and proposed management teams. Ultimately, judges based their final decisions on how likely they would be to invest their own money in one of the proposals.