April 7, 2023
Northwest Missouri State University Student Media representatives claimed more than 50 awards, including Best Newspaper in the state and Best Yearbook in the state, during the Missouri College Media Association (MCMA) and Missouri Broadcast Educators Convention April 1 in Cape Girardeau, Missouri.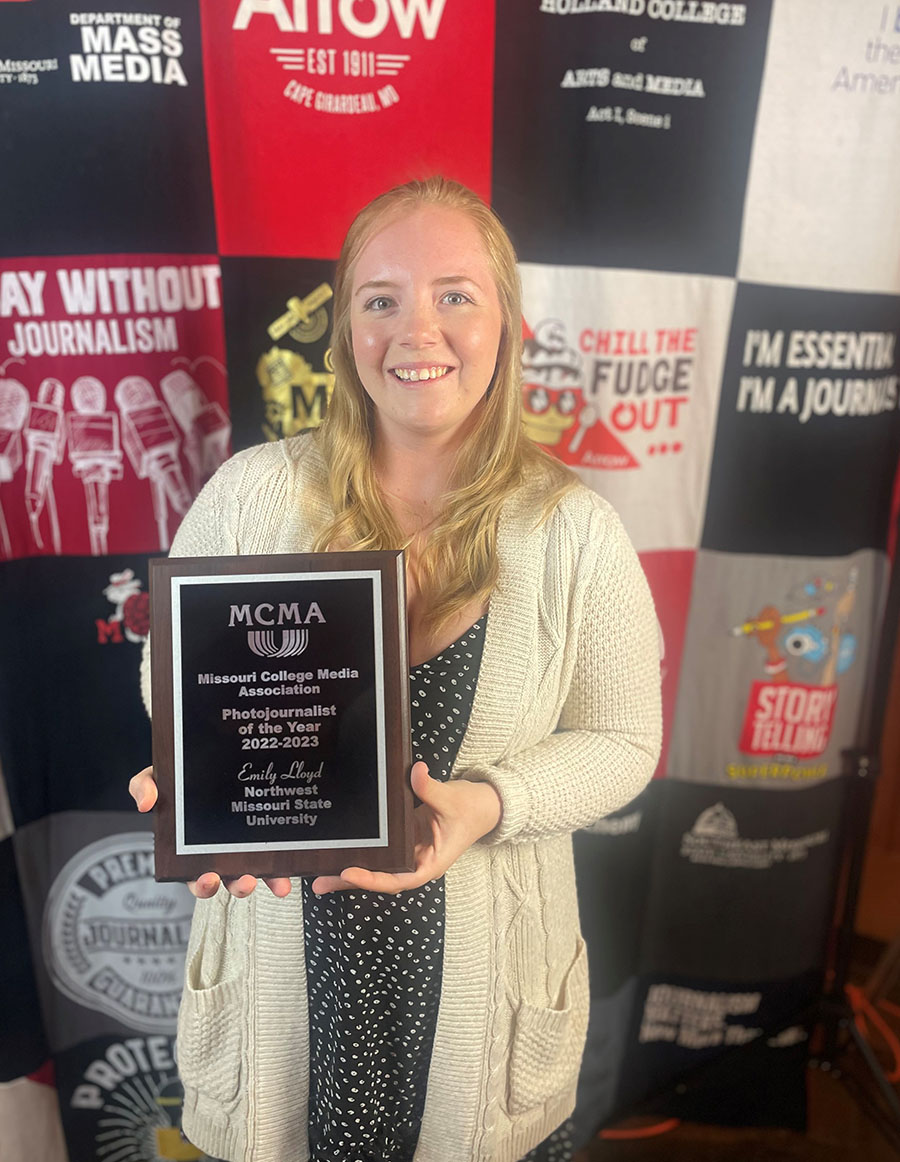 Emily Lloyd
Additionally, for the ninth time in 10 years, a Northwest student was named Photojournalist of the Year. Emily Lloyd, a photographer for Tower yearbook, received the honor this year. 
"Joining Tower Yearbook my freshman year remains to be one of the best decisions I ever made in my college career," Lloyd, a senior digital media: content strategy major, said. "I have grown not only as a photographer but as an individual who knows how to lead, how to conceptualize, how to problem-solve, and how to collaborate with others. This award is not only a result of my hard efforts put forth these past four years but also the efforts of my professors in helping me succeed and my advisor, Steven Chappell, who saw potential in me since my first day on Tower."
The 2022 Tower, which the Associated Collegiate Press recently awarded a Pacemaker as one of last year's best college yearbooks, placed in every yearbook category and topped the Overall Theme Development category, which is given to the best overall yearbook in the state.
AJ Bradbury, a 2022 Northwest graduate, was editor-in-chief of last year's edition. Emily Kunkel, a junior digital media: visual imaging major, was design editor of the 2022 book and is Tower's 2022-23 editor-in-chief.
"The awards presented remind our staff that their effort in yearbook journalism is not only noticed but esteemed and impressive compared to other schools throughout the state of Missouri," Kunkel said. "I am very proud of this staff and all our achievements and can't wait to see what more this publication and Northwest Student Media as a whole can further accomplish."
The Northwest Missourian dominated its division in the newspaper contest. MCMA recognizes four divisions by school enrollment, and Northwest competes in the contest's Division II. The Missourian took first place in its sweepstakes category by winning the most awards in its division, and it was named the best newspaper in its division. The best newspaper winners in each of the four divisions are then judged against each other for best overall college newspaper in the state, which The Missourian also won. 
The newspaper contest covers the 2022 calendar year. Kendrick Calfee, a multimedia journalism major who graduated last year, was editor-in-chief of The Missourian during spring 2022, and MaKayla Polak, a senior digital media: content strategy major, serves as editor-in-chief for the 2022-23 academic year. 
"I couldn't be more proud of our amazing team here at The Northwest Missourian," Polak said. "Bringing home the Avis Meyer Perpetual Cup for Best in State was not something we expected, but it was well deserved. We have such an amazing staff that stops at nothing to create a newspaper for our campus and community each week."
In addition to the honors won by Northwest print media staffs, KZLX, the student-run radio station, received three honors at the convention, and KNWT-TV, the student-run television station, earned five. 
A complete listing of awards received by Northwest Student Media staffs appears below.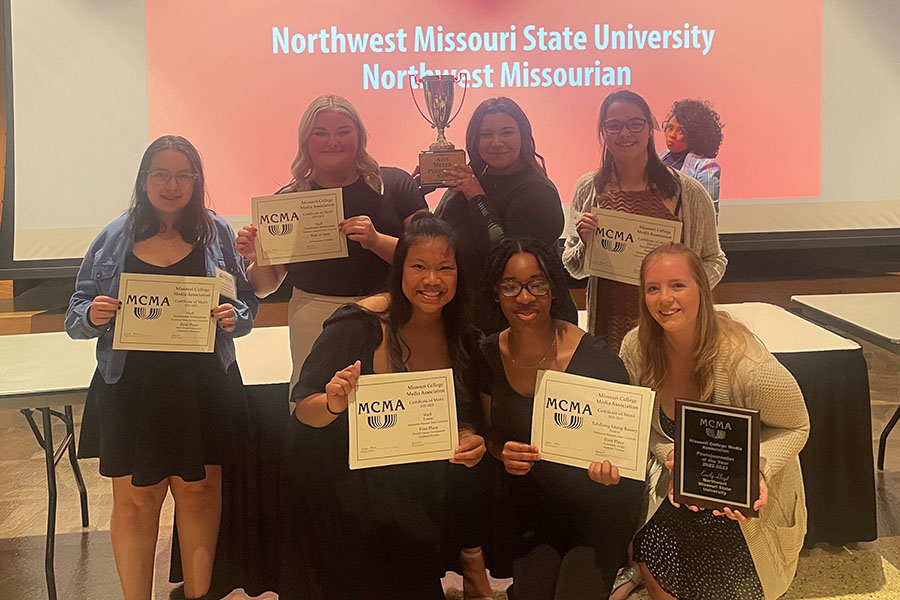 Student media members display the awards their received at the Missouri College Media Association and Missouri Broadcast Educators Convention. (Submitted photo)
MCMA awards
Photojournalist of the Year: Emily Lloyd
Advertising awards
Advertising Design
First place: Sydney Cook and Devin Jernigan, for El Maguey
Third place: Jerilynn Hoover and Vanessa Weiler, for Gray's Truck Stop
Honorable mention: Jerilynn Hoover and Vanessa Weiler, for Maryville Florists
Campus Engagement/Promotions
Second place: Grace Lohman, Jesse Kilcoyne, Vanessa Weiler and Jerilynn Hoover, for Welcome Back Special
Third place: Jerilynn Hoover, for KZLX campaign
Honorable mention: Sydney Cook and Zach McCaw, for The Writing Center
Yearbook awards
Feature photography
First place: Addalynn Bradbury, "Pick Me Up"
Second place: Addalynn Bradbury, "Aloe You Vera Much"
Third place: Addalynn Bradbury, "Run, Run, Run"
Sports photography
First place: Addalynn Bradbury, "Just the Tip"
Second place: Addalynn Bradbury, "All We Do Is Win"
Feature writing
First place: Kourtnie Stenwall, "May Your Hats Fly High"
Second place: Edidiong Idong-Bassey, "Ezra Mohn Remembered"
Personality sketch
First place: Edidiong Idong-Bassey, "Make It Green"
Second place: Caitlyn Colter, "Fight Against Drugs"
Third place: Edidiong Idong-Bassey, "A Race Around the Globe"
Student Life Design
Third place: Cecilia Nguyen, "Boomin' with the Bearcats"
Sports Design
First place: Madison Bradbury, "Cats Catch Success"
Second place: Emily Kunkel, "Women's Basketball"
Third place: Madison Bradbury, "One Racket at a Time"
Portrait Design
First place: Emily Kunkel, "Outdoor Portraits"
Second place: Emily Kunkel, "Men's Basketball"
Overall Theme Development
Newspaper awards
First place: Missourian staff, Division II Sweepstakes
First place: Missourian staff, Division II Best Overall Newspaper
Best in state: Missourian staff
News writing
First place: Sidney Lowry, "Northwest student spectates war in his home country 5,345 miles away"
Editorial writing
First place: Editorial Board, "Teaching Black history in Nodaway County is imperative"
Third place: Editorial Board, "Northwest needs to find a successor that can live up to Dr. Jasinski"
Sports writing
First place: Jon Walker, "Northwest men's basketball makes history with third straight National Championship in win over Augusta"
Second place: Wesley Miller, "Women in Northwest athletics speak on importance of Title IX, equal representation"
In-depth news reporting
Second place: Nathan English, Sidney Lowry and MaKayla Polak, "A series of stories following the dismissal of the university president and the start of the search"
News column
Third place: MaKayla Polak, "Mass shootings are still happening, more attention needs to be brought to them"
Sports column
Third place: Wesley Miller, "This is a special year for fall sports at Northwest"
Political/editorial cartoon
First place: Alexandria Mesz, "John Moore Zip Lip"
Information graphic
First place: MaKayla Polak, "Election 2022"
Second place: Sidney Lowry, "Ukraine"
Story illustration
Second place: MaKayla Polak, "No Vacancy"
Third place: MaKayla Polak, "Election 2022"
Editorial/op-ed page
First place: MaKayla Polak, "Regents Must Answer"
Second place: MaKayla Polak, "Commuter Accommodations" 
Sports page
First place: MaKayla Polak, "Postseason Pandemonium"
Third place: Savannah Athy-Sedbrook, "Bounce Back"
Special section or supplement
Second place: Missourian Staff, "Domestic Violence"
Website
First place: Missourian staff
Broadcasting awards
Audio AirCheck
Second place: BreAnna Reeve
Third place: Jessica Dobbs
Honorable mention: Jacob Coffman
Video: Documentary Film
Third place: Ben Whitney, "I Will Listen"
Video: Feature News Story
Honorable mention: Kirsten Stokes, "Make It Maryville"
Honorable mention: Katie Byrd, "Northwest Percussion Ensemble concert"
Video: News Show (Recurring)
Honorable mention: Colby Holtman, Channel 8 News
Video: Podcasts
First place: Ben Wester, "Nerdmageddon"