March 30, 2023
By Edidiong Idong-Bassey, communication assistant
Six Northwest Missouri State University recreation students recently received a total of $6,000 in scholarships from the Missouri Park and Recreation Association Charitable Trust to support them with their academic pursuits during the 2023-2024 academic year.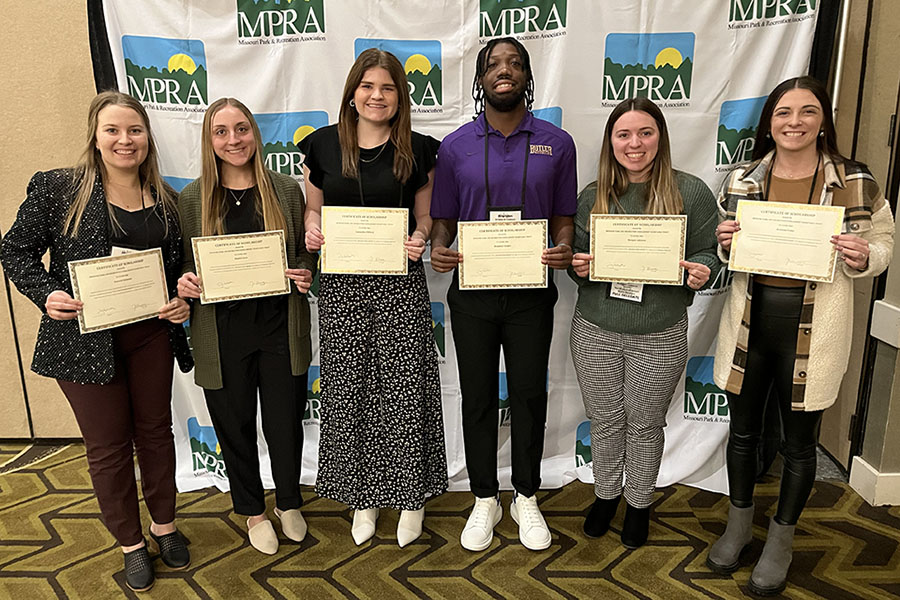 Pictured left to right are Northwest scholarship recipients Hannah Grissom, Rachel Ross, Samantha Clifford, Brandon Cooper, Morgan Johnson and Brionna Frans. (Submitted photo)
Scholarships of $1,000 each were awarded to:
Brandon Cooper, a junior from Louisburg, Kansas, with a sport management emphasis
Samantha Clifford, a junior from Diller, Nebraska, with a recreation and park management emphasis
Brionna Frans, a junior from Osborn, Missouri, with a sport management emphasis
Hannah Grissom, a junior from Kirksville, Missouri, with a therapeutic recreation emphasis
Morgan Johnson, a senior from Raytown, Missouri, with a sport management emphasis
Rachel Ross, a junior from Omaha, Nebraska, with a therapeutic recreation emphasis
Johnson is a recipient of the scholarship for the second consecutive year and was an intern last summer with the Kansas City Royals.
In addition to the monetary award, the scholarship recipients attended the Missouri Park and Recreation Association's state conference in February and were recognized at the conference banquet.
"It is always exciting rewarding students for their fantastic work in the classroom and communities in which they engage," said Dr. Tyler Tapps, Northwest's assistant vice president of health and well-being and the University's representative with the Missouri Park and Recreation Charitable Trust. "Having six students awarded $1,000 is a strong reflection of the recreation program and the commitment to student success at Northwest."
Clifford said she appreciates the financial assistance the scholarship provides and plans to apply the funds toward her tuition and fees at Northwest. She also is grateful for the opportunity to network with parks and recreation professionals at the conference.
"It was great to see everyone so passionate and into a field that I'm going to be going into, what they've accomplished and what they can do in that area and how you can affect people through that," Clifford said.  
The Missouri Park and Recreation Scholarship Charitable Trust was formalized in 1970 and provides approximately $20,000 annually in scholarships for sports and recreation majors. Schools that are accredited by the Council on Accreditation of Parks, Recreation, Tourism and Related Professions may designate one faculty member as a trustee. The trust awarded 18 scholarships this spring.
To be eligible for the scholarships, students must be enrolled full-time as a junior, senior or graduate student at a Missouri university offering accredited recreation, leisure studies, parks and sport management curriculum and exhibit a positive contribution to the field. Students also must maintain a cumulative undergraduate GPA of 2.5 or better while graduate students must have a 3.25 GPA or better on a 4.0 scale.