March 30, 2023
Do you know a Northwest Missouri State University student with several family members who are Northwest alumni? Could they benefit from a scholarship? Does that family support all things Northwest?
Northwest is now accepting nominations for its 2023 Family of the Year, a tradition of recognizing an outstanding Bearcat family during the University's annual Family Weekend in September. The Family of the Year receives an endowed $750 scholarship award and other gifts.
"Finding that student that may be a second, third or maybe fourth-generation Northwest student is wonderful, and it is an opportunity for them to show their entire family support for our University," Director of Alumni Relations Duane Harvard said. "We enjoy the chance to present this scholarship and recognize that special family bond for Northwest Missouri State University."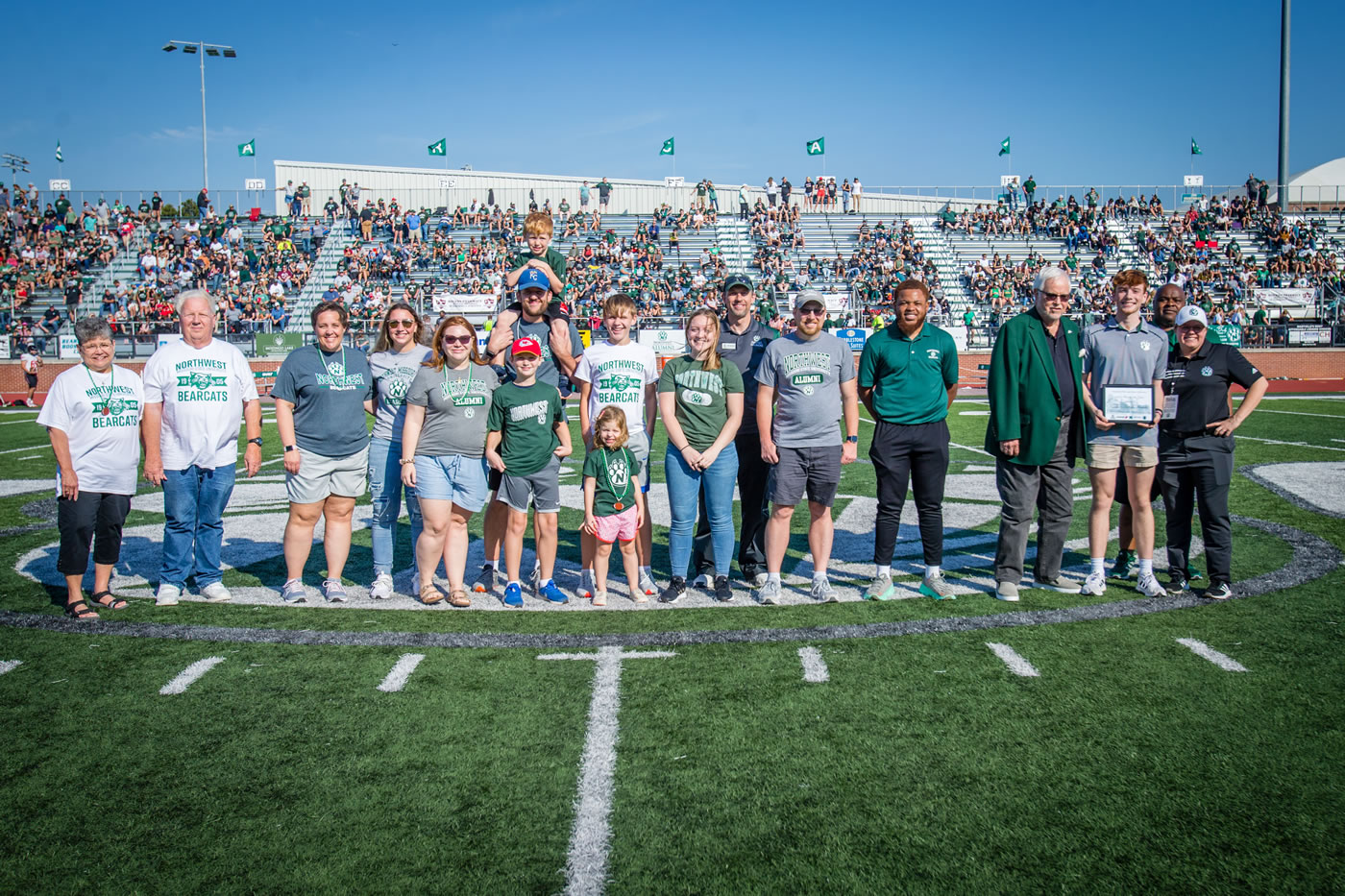 The Swink family was honored as the 2022 Northwest Family of the Year. Left to right are Sherry Swink; Arnold Swink; Jennifer Swink; Abby Swink; Kara Petrovic; John Petrovic, holding Charlie and with Jack standing in front of him; Aiden Petrovic with Lucy Petrovic standing in front of him; Anna Swink; Director of Alumni Relations Duane Havard; Brian Swink; Student Senate Executive Vice President Dami Popoola; Northwest President Emeritus Dr. Dean Hubbard; Henry Swink; Northwest Interim President Dr. Clarence Green; and Interim Director of Campus Dining Sara Tompkins.
All eligible applicants must meet the following eligibility requirements:
Current students must be classified as full-time Northwest students maintaining a cumulative 3.00 grade-point average.
Involvement outside the classroom in Northwest-sponsored student organizations and community groups, demonstrating a willingness to contribute to the improvement of the community.
Must demonstrate the family's commitment to Northwest as well as a commitment to academic success and service at the University.
To submit a nomination, complete the online form at www.nwmissouri.edu/getinvolved/familyweekend/FamilyoftheYear.htm. Nominations are due Friday, April 14.