March 3, 2023
By Edidiong Idong-Bassey, communication assistant
Northwest Missouri State University's National Public Radio affiliate, KXCV-KRNW, is inviting all people to participate in the station's fourth annual virtual 5KXCV-KRNW Run for Radio.
The 5K run/walk to support the radio station, will take place Saturday, April 15, through Saturday, April 23. Individuals are invited to participate – anytime, anywhere – by clocking their times and then sending a selfie photo and their results to helenk@nwmissouri.edu or by posting to the KXCV-KRNW Facebook page.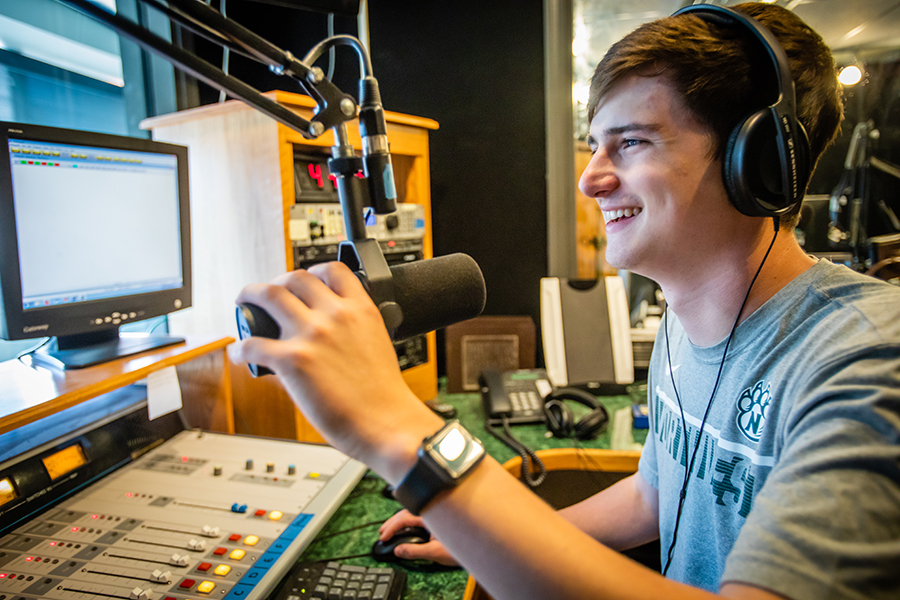 As an NPR affiliate headquartered at Northwest, KXCV-KRNW provides in-depth news and information to the region and serves as a valuable training ground to students pursuing careers in radio and broadcasting. (Photo by Todd Weddle/Northwest Missouri State University)
Registration is $25 per person, or $15 for Northwest students and should be completed online at https://www.kxcv.org/events/5K.htm by Saturday, April 1, to receive a T-shirt before the race. Registration remains open until Saturday, April 29. All proceeds go toward supporting programming on KXCV-KRNW.
Participants can begin the event with KXCV-KRNW's packet pickup event Friday, April 14, on the east side of the J.W. Jones Student Union, where they will receive T-shirts, running bibs and gift bags.
Top finishers at the end of the event will receive medals and prizes, including gift certificates to Hy-Vee and A&G Restaurant. All participants will be entered into a raffle for a chance to win other sponsor-provided prizes.
Participants interested in running or walking on the Northwest campus may access a campus map by clicking this link.
"We started this 5K as an additional way to raise funds to pay for our NPR programming, and it still helps that aspect, but we also embrace it as the unofficial start to spring," Matthew Tritten, the Run for Radio co-race director and a sales associate at the radio station, said. "The 5K is just a fun event to get active and be part of a community that stretches beyond just northwest Missouri and throughout the country with so many folks with connections back to Northwest getting registered and taking part in it."
About KXCV-KRNW
Launched in 1971 as the first full-power public radio service in Missouri, KXCV (90.5 FM), a 100,000-watt NPR affiliate, provides in-depth news and information with an alternative music format. All of KXCV's programming emanates from the Northwest campus, while a sister station, KRNW (88.9), founded in 1993, extends the radio programming across most of the northern 25 percent of Missouri.
As the flagship of the Bearcat Radio Network, KXCV produces all Northwest football and basketball broadcasts and game feeds to commercial radio affiliates throughout the four-state region.
KXCV-KRNW programming also is accessible online at www.kxcv.org and via its Bearcat Public Media App.
For information about KXCV-KRNW and supporting public radio through a membership, visit www.kxcv.org or call 660.562.1163.