Feb. 8, 2023
Updated: March 23, 2023
Northwest Missouri State University has entered into a contract with Sodexo Operations LLC to manage its campus dining program when students return for the 2023-24 academic year.
Northwest students dine in the lower level of the J.W. Jones Student Union. (Photos by Todd Weddle/Northwest Missouri State University)
The announcement concludes a year-long process that involved Northwest engaging an external consultant to evaluate best practices in college and university dining and benchmark peer institutions. In creating the University's Request for Proposal (RFP), leaders representing Northwest's Office of Student Affairs focused on quality, value, price and opportunities to draw community members to the campus for exciting dining and programming.
A Northwest committee of employees and students selected Sodexo after receiving four proposals from national companies interested in managing campus dining. The University and Sodexo agreed to a seven-year contract with an optional two-year renewal.
"The process was successful because of the inputs gained during feedback sessions with students, faculty, staff and community members last spring," Dr. Matt Baker, Northwest's vice president of student affairs, said. "The RFP review team consisted of students and campus leaders working to provide the best experience possible for current and future students."
Most notably, the agreement includes a change in dining contract options for residential and commuter students, resulting in a 17 percent reduction in meal plan prices. Residential students may purchase dining options that include an all-access plan, 14 swipes per week and 10 swipes per week with dining dollars at a lower cost than previous years. Off-campus meal plans will offer a "build-your-own" model to create meal plans for every need.
Chick-fil-A will continue to operate in the J.W. Jones Student Union while adding breakfast options.
The dining agreement also includes plans to update campus retail venues. Starbucks will remain in the B.D. Owens Library, and Chick-fil-A will continue in the J.W. Jones Student Union while adding breakfast options. Mooyah, located in The Station, will close at the conclusion of the spring semester and be replaced with the opening of Buffalo Wild Wings To-Go in 2024.
On the second floor of the Student Union, McAlister's Deli will replace Einstein Bros. Bagels and offer sandwiches, wraps, soups, salads and large baked potatoes as well as breakfast options. Additionally, Qdoba will replace Zen.
A "ghost kitchen" on the lower floor of the Student Union will allow customers to order meals from retail venues such as MrBeast Burger, using a mobile dining app, and pick up orders at a central location or request delivery by autonomous robots known as Kiwibots.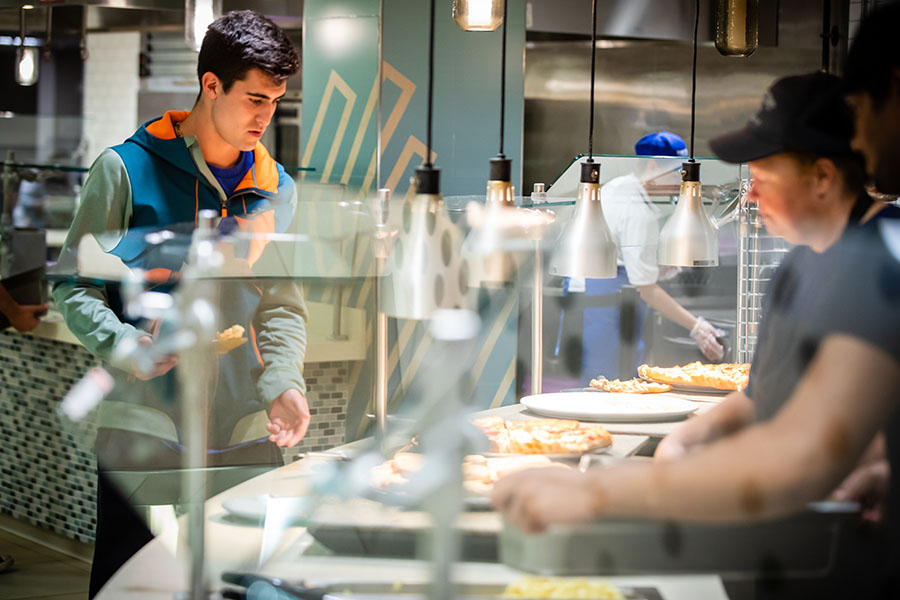 Bearcat Commons in the Student Union features a variety of concepts and food stations.
In Bearcat Commons, located in the lower level of the Student Union, Mongolian Grill will transform this summer to UCook Kitchen as a catalyst to explore culinary and wellness curriculum while offering patrons the option to prepare their own meals and participate in cooking classes. Another new concept, Simple Servings, will address common food allergies safely.
Tuk Tuk food trucks will be added to the campus dining fleet to support catering and special events on campus. Additionally, Sodexo will provide catering and vending services and enhanced concession options at Bearcat athletics events.
Campus dining concepts will rotate throughout the term of the contract, which also includes plans to offer a Coffee Club subscription program.
"I am very excited to see new retail options, Kiwibots, the UCook Kitchen, a robust mobile ordering app and lower meal plan prices for students while continuing to work with our current on-ground team," Dr. Rose Viau, Northwest's assistant vice president of student affairs for residential and auxiliary services, said.
Northwest has partnered with Aramark to provide campus dining services for more than 40 years, and the current agreement sunsets May 15. Campus community members must use all meal swipes and dining dollars before that date. Current Aramark employees have the opportunity to transition their work to Sodexo.