Feb. 7, 2023
The former colleagues and students of a respected and beloved Northwest Missouri State University faculty member have established a scholarship in his memory.
The Dan Smith Memorial Scholarship celebrates the legacy and impacts of Smith who died of cancer May 2, 2022, at the age of 59. He had been a member of the Northwest faculty for 23 years, specializing in pre-law and political science in the University's Department of Humanities and Social Sciences.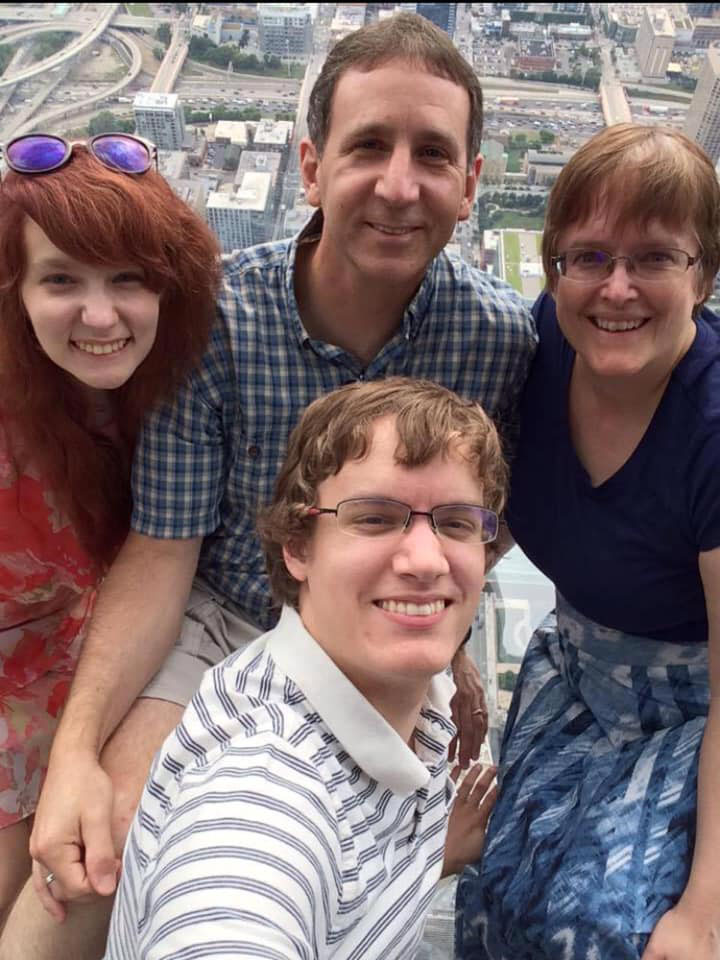 The Smith family captured this favorite family photo during a vacation in Chicago. Clockwise from the top are Dan, Sue, and their children Benjamin and Fitz.
"I don't think he realized what an effect he had on his students until he got sick," said his wife of 34 years, Sue, who is employed at Northwest as a registrar services specialist. "He used to say to me, 'You know, I didn't realize how much support I had,' and it's a shame to have to find out that way, but there was such an outpouring from former students."
After Smith's passing, Dr. Bob Dewhirst and Dr. Dave McLaughlin – who were faculty colleagues, mentors and friends to him at Northwest – led the establishment of the memorial scholarship.
The $500 scholarship will be awarded annually to a full-time Northwest student who is in their junior year and has an interest in pursuing a career in law. Recipients will be determined by a selection committee of faculty in the Department of Humanities and Social Sciences, and the scholarship may be renewed for the recipient's senior year at Northwest.
"We've got lawyers all over the world that were mentored and tutored by him," said McLaughlin, who retired from Northwest in 2011 as an associate professor of history, humanities, philosophy and political science. "Our students can graduate and go to law school and compete with anybody."
Dewhirst, who retired from Northwest in 2016 as a professor of political science, said the scholarship is a fitting tribute to Smith, who was known for his dedication to teaching and preparing students for law school while instilling confidence in them, too.
"He was exactly what you want with a college teacher," Dewhirst said. "He thoroughly knew his subject matter. He went to a top-10 law school and his goal was to teach."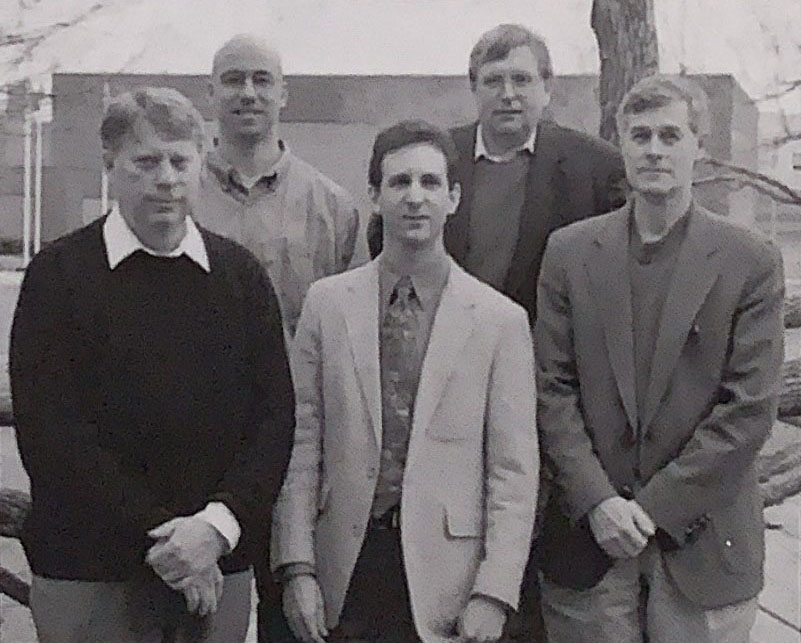 Dan Smith joined the Northwest faculty in the fall of 1999 and remained with the University until his death in 2022. The faculty comprising Northwest's political science department during the 1999-2000 academic year were, clockwise from top left, Dr. Kevin Buterbaugh, Dr. Dave McLaughlin, Dr. Richard Fulton, Smith and Dr. Bob Dewhirst. (2000 Tower yearbook photo)
Smith joined the Northwest faculty in 1999 after a decade of practicing law in Washington, D.C. There, he specialized in communication law and had Western Wireless Corporation – known today as T-Mobile – as one of his most prominent clients. Smith earned a bachelor's degree from The College of William and Mary, and he advanced his education at The University of Virginia School of Law and Rutgers University. 
With those credentials, McLaughlin and Dewhirst initially weren't sure Northwest could successfully lure Smith from the East Coast to fill a faculty vacancy. But Dr. Richard Fulton, who was then the chair of the University's political science department, and McLaughlin were optimistic after meeting Smith at a national political science conference.
"He says, 'All I want is a place where I can go teach and have a white picket fence, and I can walk to and from campus,'" McLaughlin remembers. "I looked at Fulton and I said, 'Well, we can give you that.'"
In fact, Smith had determined he didn't want to continue his career as a lawyer and wanted instead to pursue teaching with a desire to help prepare future attorneys. After interviewing for the faculty opening and spending a day on the Northwest campus, the search committee offered Smith the job, and he accepted it.
"He liked that it wasn't a research institution and it was more of a student-focused institution," Sue said. "He had a lot more interaction with the students, and I think that's what he liked most."
Through his teaching emphasis in law and civil liberties, Smith was passionate about sharing his expertise and preparing Northwest students for future careers in the law field. Additionally, Smith saw the value of preparing students through profession-based experiences outside of the traditional classroom. He served as an advisor for the pre-law program, Pre-Law Society and Student Senate. He also oversaw the University's legislative internship program, which places students in the offices of Missouri lawmakers each spring.
"He would always tell his students, 'You're better than what you think you are. You can do this,'" Sue said. "He was always trying to encourage them, and I think that's why he had a high success rate."
As the coach of Northwest's Mock Trial Team, he developed it into a leading competitive organization that provided students with supplemental law training and experience in courtroom scenarios. He regularly invited team members to his home for meals and, until the COVID-19 pandemic limited campus activities, organized an annual tournament at Northwest that drew alumni to assist and volunteer as judges.
For his devotion to students, Smith received the Northwest Student Senate's Tower Service Faculty Award in 2020. Additionally, in 2015, he was among five "high impact" faculty honored during a Northwest ceremony where Andrew Dufour, a 2008 graduate and attorney, reflected on Smith's keen ability to prepare students for law school and the law field.
"Dan was the type of professor who was always available to his students," Dufour said that day. "If he had free time, he was in his office, and his door was open. I was in his office a lot. … I think it was because of those conversations and because of the time I had with him as a professor that I am who I am today."
Although Smith appeared introverted to some, colleagues and students who knew him well recognized that he could carry lengthy conversations on subjects and issues that interested him. He was known to enjoy a good political debate, and media members often called upon him to provide commentary, particularly during election seasons, related to political topics and voting trends.
He relished those interactions, which inspired confidence in students as well as the relationships he maintained with colleagues. As an advisor to pre-law students, he succeeded in helping nearly all of the students with whom he worked secure law school placements. 
"We'd sometimes leave at six o'clock or later," Dewhirst recalled. "Often he would be down there talking to a student, and he would give them advice on placement, where to apply to law school, how to apply. He would review their application letters and he would carry that around with him, like his batting average. He wanted to make sure they all got into law school, and if one had some trouble, he would really worry about it."
Knowing Smith to be a fan of the Washington Nationals baseball team, some of Smith's students showed their admiration for him before his passing by gifting him a Nationals jersey with his name on it, among other mementos.
"I would like him to be remembered for those connections that he could make with students and how he helped put them on a successful path," Sue said.
The Dan Smith Memorial Scholarship remains open to accept future contributions from donors. To contribute to the scholarship, or give to other Northwest initiatives, visit www.nwmissouri.edu/giveonline or contact Northwest's Office of University Advancement at 660.562.1248.