Jan. 10, 2023
As the calendar transitions to a new year, the Missouri Small Business Development Center (SBDC) affiliated with Northwest Missouri State University continues to serve the region and provide professional assistance to existing or aspiring business owners, as it has done for more than 40 years.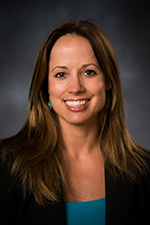 Rebecca Lobina
The Northwest SBDC is located inside the St. Joseph Chamber of Commerce and funded, in part, by a grant through the U.S. Small Business Administration (SBA). The funding ensures business owners receive Fortune 500 resources and expertise at no charge to them.
Rebecca Lobina, regional director of the Northwest SBDC, has been with the organization for 15 years and recognizes its mission to educate entrepreneurs, business owners and the workforce to realize success.
"I want to see each person that walks through my door become a success in their business endeavors," Lobina said. "With my experience, I can help them do that. It may mean challenging them on their business idea or referring them to one of our experts, or even being the messenger that gives them realistic expectations based on their specific circumstances at that point in time. I will always provide assistance and hope."
The SBDC is a resource that often is overlooked, Lobina says, because it must follow specific regulations, including absolute confidentiality, and restrictions that prohibit SBA program funds from being used for marketing, which makes it challenging to promote services. SBDC services include everything from start-up to growth and exporting to selling a business.
The Northwest SBDC offers assistance with all things related to starting a business, including comprehensive business plans, finding funding and financing, creating financial projections, strategic planning, targeted and in-depth market research, government contracting, purchasing a business and succession planning. Additionally, due to the SBDC's nationwide reach, organizations partner with regional centers to offer exclusive discounts to clients, such as QuickBooks memberships and Constant Contact email subscriptions.
Organizations such as the Missouri Department of Elementary and Secondary Education, the Missouri Department of Transportation, and the Missouri Department of Economic Development have partnered with the Missouri SBDC previously to offer training or technical assistance to business owners.
The Northwest SBDC requires the highest standards in both professionalism and ethics. It is an accredited center through the ASBDC accrediting body, receiving annual audits by the SBA and requiring business professionals be certified to assist small to mid-size companies.
About the Northwest SBDC
The Northwest SBDC is under the direction of Northwest Missouri State University and sponsored by the SBA. The Northwest SBDC covers the nine counties of Atchison, Nodaway, Worth, Gentry, Holt, DeKalb, Clinton, Andrew and Buchanan. The main office in the region is located in St. Joseph, although services also are offered via video chat or teleconference.
Consulting services are offered at no charge, subsidized by the SBA and the University to help grow the region's economy.
For more information about the Northwest SBDC, visit www.nwmissouri.edu/services/sbdc  or call 816.364.4105.