Dec. 5, 2022
Northwest Missouri State University students brought some local history to life Nov. 30 as the conclusion to a semester-long project.
The students in Northwest's history practicum course spent the fall semester researching historical figures in Nodaway County and portrayed them during a "History Alive!" event at the Nodaway County Historical Society Museum. Wearing clothing their figures might have worn while living in Nodaway County, the students interacted with patrons and answered questions, based on their research, from the point-of-view of the individuals they were portraying.
"Doing something that initially sounds really scary ends up not being so scary," said Dr. Elyssa Ford, an associate professor of history who teaches the course, which in recent years has taken on projects including a Smithsonian exhibit highlighting hometown teams and another explaining some of the county's "difficult history."
"By the time we got to the event, they know their people so well because they did research papers on them," Ford said.
In planning and executing the living history experience, students took on the task of researching and writing about people such as musician Alma Nash, inventor Elizabeth Howell and horse breeder Emma Prather. The students then transformed their research into scripts and poster presentations.
Along the way, with funding support from a Missouri Humanities Council grant, students received lessons in script writing from Northwest Associate Professor of Theatre Kat Bilbo; took in a presentation by Kathleen Boswell, a living history performer with the Missouri Speakers Bureau; and participated in a  costuming workshop with Northwest Associate Professor of Theatre Stephanie Jorandby. Students tested their presentations with other faculty and at Northwest's annual PBL Palooza event showcasing student research and projects.
Students in Northwest's history practicum course viewed a presentation by Kathleen Boswell as they learned how to prepare a living history exhibit featuring Nodaway County figures. Boswell portrayed Mildred Whiteman Rogers, an aunt of George Allison Whiteman, who was killed in the Dec. 7, 1941, attack on Pearl Harbor, the first American pilot casualty of World War II. (Photo by Abigayle Rush/Northwest Missouri State University)
Students participated in a costume workshop and selected period clothing to wear during their portrayals of Nodaway County historical figures. (Photo by Abigayle Rush/Northwest Missouri State University)
Through it all, students gained an understanding of the value of living history projects and all of the pieces that bring them to life, from building online components to selecting the costumes and scripting their presentations.
"That is profession-based learning at its best, where you're literally doing the things that an interpreter does," Ford said. "That's one of the most important things in preparing for professional life because you're constantly going to have to be doing things that you don't know how to do, and you have to learn how to do them and be comfortable with being uncomfortable."
Samantha Statham, a senior history major from Smithville, Missouri, played Byron Dunn, who came to Maryville in 1870 to become the superintendent of its school system, ran one of the city's newspapers and attempted multiple political runs for state offices without ever winning. Dunn, a Michigan native, also fought for the Union Army in the Civil War and suffered a crippling arm injury that he lived with the rest of his life.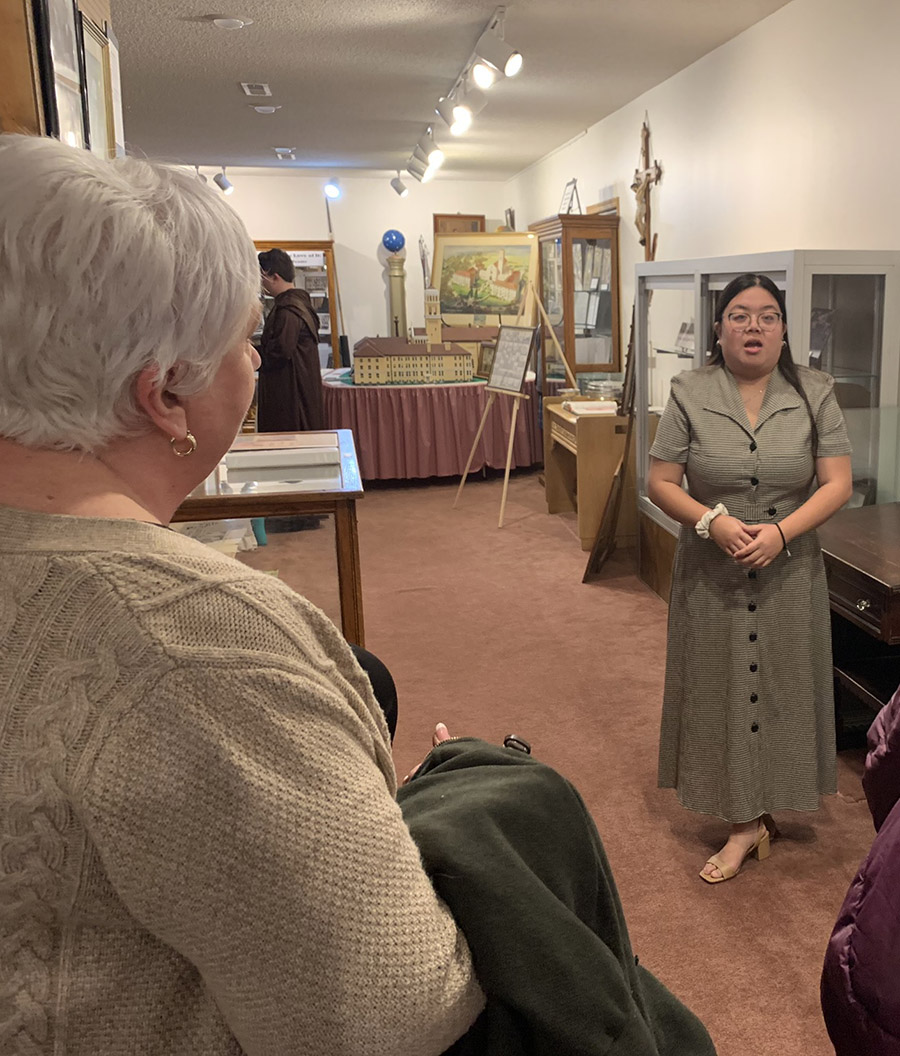 Mary Do portraying Olive DeLuce (Northwest Missouri State University photo)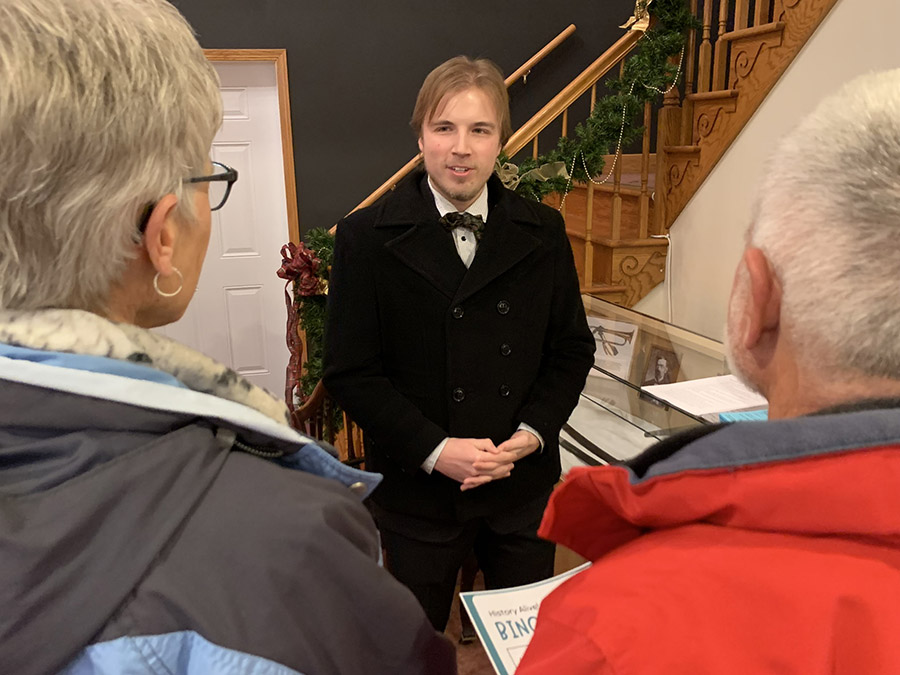 Ryan Moore portraying Nathaniel Sisson (Northwest Missouri State University photo)
For Dunn, Statham wore a large-collared coat with a wide leather belt. She colored her chin and cheeks with white eyeliner to give the illusion of Dunn's full beard and covered her hair with baby powder to turn it white.
"It's pretty interesting," Statham, who wants to work in museums after completing her bachelor's degree at Northwest, said. "It's definitely way far out of my comfort zone in terms of anything I've ever done before, but that's a good thing, and I think it gives me something that's important to how I'll be able to do my job later on. If I become the director of a museum someday, this is something I'd be like, 'Oh, that was cool. We could do that.' It gives me more experience."
Mary Do, a junior marine biology major from Kansas City, Missouri, portrayed Olive DeLuce, a founding faculty member of what is Northwest's Department of Fine and Performing Arts today.
"I read the biography for Olive DeLuce and I just thought it was so cool to see someone be the founder of a department," Do said. "I loved the drive and the perseverance that she had. Founding an entire department is not easy, especially in the time that she did, which was 1915, and teaching through the Great Depression, the two world wars. That takes a lot of passion, not just as an educator but as a woman at that time."
Do reviewed newspaper archives for articles about DeLuce in addition to accessing the Department of Fine and Performing Arts' archives, which include the Percival DeLuce Collection.  
"I've been able to learn the importance of keeping local history alive," said Do, who aspires to work in an aquarium and use her experience as a public history and museum studies minor in that capacity. "Before I started this class, I would've never thought that there is so much out there. I'm so glad there's classes and museums like this that are able to keep archives."
Ryan Moore, a senior history major from Lee's Summit, Missouri, took on Nathaniel Sisson. A native of Ohio, Sisson was a bugler with the 18th Volunteer Cavalry of West Virginia during the Civil War and has the distinction of blowing the war's last bugle charge. His bugle is displayed at West Point, and his cavalry sword can be seen at the Nodaway County Historical Society Museum.
After arriving in Nodaway County, Sisson began work for a land and title company and was a prominent advocate for the Fifth District Normal School, which came to be in 1905 and evolved into Northwest Missouri State University.
In addition to speaking with a West Virginia drawl, Moore dressed the part wearing a bow tie and heavy double-breasted coat. He became familiar with Sisson's story by working as an intern at the museum.
"I've always watched the Civil War reenactments and think that looks so cool," he said. "So having the experience where you're more than just being the guy with guns shooting the other guy, it's the actual character. I think that's going to be really helpful down the road. I think it gives you more opportunities."
Marinda Headlee, a sophomore human resource management major from Omaha, Nebraska, portrayed Jean Jennings Bartik, a Northwest alumna who grew up nearby in Stanberry, Missouri, and went on to help program the world's first computer during World War II.
"She's definitely a cool lady and I like that I'm able to bring her story to life," Headlee said.
She hopes to become a museum director and said she enjoyed gaining experience in the behind-the-scenes work that goes into preparing a history presentation.
"It's really cool to do a different way of talking about history because you don't see it a lot, and I haven't been to a place that's done it before," Headlee said. "It's cool to have people come in and talk to us about it and learn how to develop that character."