Nov. 4, 2022
Northwest Missouri State University Student Media received numerous accolades Oct. 26-30 at MediaFest22, a national media convention sponsored by Associated Collegiate Press (ACP), College Media Association (CMA) and the Society of Professional Journalists (SPJ), in Washington, D.C.
KNWT Channel 8, The Northwest Missourian student newspaper and Tower yearbook were recognized with CMA Pinnacle Awards, representing the best in the nation in student media, in nine different categories, including three first-place honors.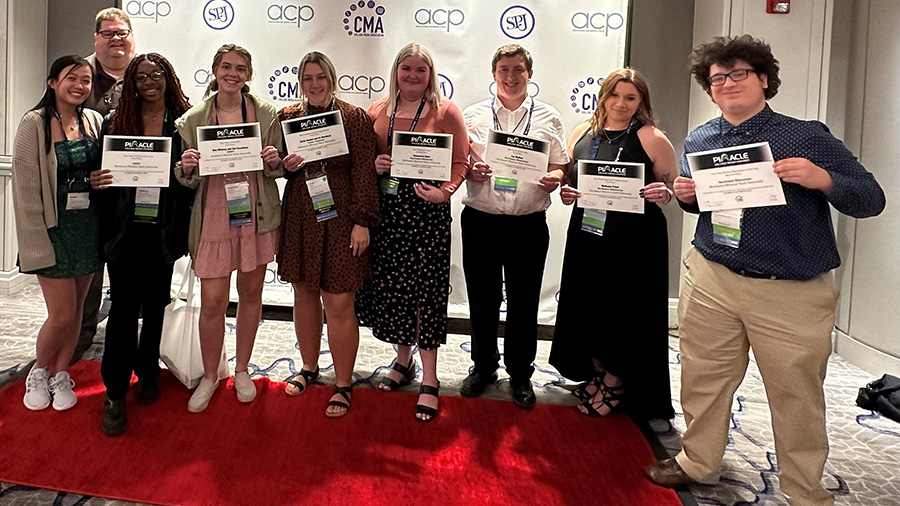 Students involved in Northwest student media display their awards at MediaFest22. (submitted photos)
Kendrick Calfee, who graduated from Northwest in July, was editor-in-chief of the 2021-22 Missourian that earned honors at the conference. MaKayla Polak, a senior digital media major from Valparaiso, Nebraska, is The Missourian's editor-in-chief for 2022-23.
"As a leader, it brings so much enjoyment watching my staff succeed," Polak said. "Whether it is a small goal that they made for the week or it's an award like this, I'm so grateful for these awards and I know The Missourian staff is just as honored."
The Missourian and Tower also received numerous ACP Best in Show honors presented to schools attending the convention, including third place for best weekly newspaper and second place for best yearbook.
Emily Kunkel, a junior digital media major from Linneus, Missouri, is Tower's 2022-23 editor-in-chief. She was design editor and AJ Bradbury, who graduated from Northwest in May, was editor-in-chief of the 2021-22 Tower that received honors.
"The staff of Tower works hard year-round to create accomplished works such as what was recognized by CMA and ACP," Kunkel said. "The awards presented remind our staff that their effort in yearbook journalism is not only noticed but esteemed and impressive compared to schools throughout the United States."
Tower also was recognized by ACP as one of the top 100 student publications in the country at its Pacemaker 100 event. Tower received the honor in recognition of its multiple placements in ACP's Pacemaker Awards during the last 100 years.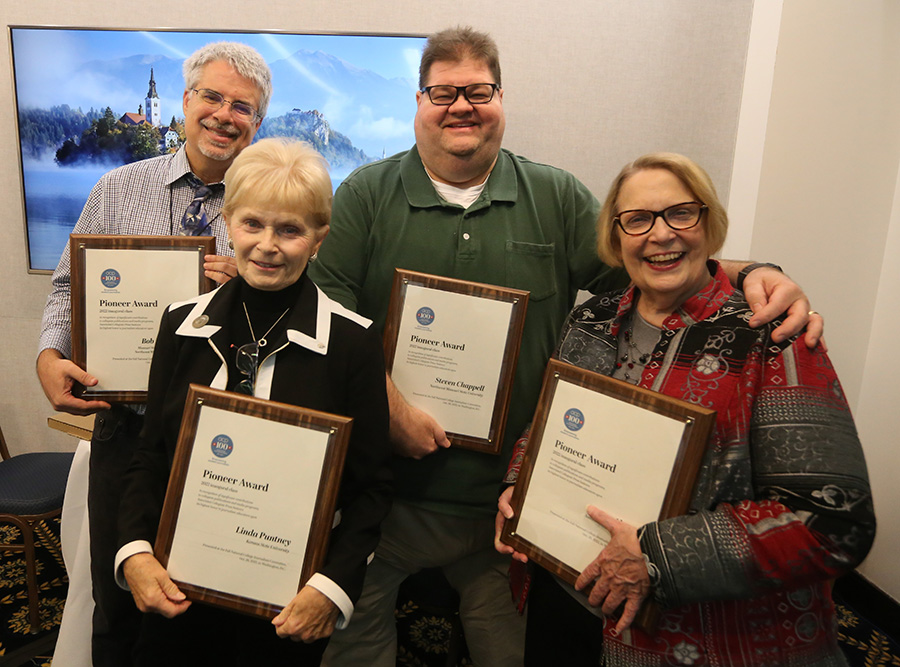 Left to right are Dr. Bob Bergland, Dr. Linda Puntney, Steven Chappell and Laura Widmer.
Additionally, four current and former Northwest mass media faculty members were inducted into the ACP Pioneer 100 Hall of Fame, which recognized college media educators and advocates for their lifetime of service to the betterment of college student media. Dr. Bob Bergland, who joined Northwest in 2019 as an associate professor of mass media and has been connected to the journalism field since 1983; Steven Chappell, who has served as Northwest's director of student publications since 2012 and has more than 25 years of college newspaper advising experience; Dr. Linda Puntney, who was advisor of the Tower yearbook from 1976 to 1978 and is an emeritus assistant professor at Kansas State University; and Laura Widmer, the director of Northwest student publications from 1983 to 2012 and now ACP's executive director; received the honor.
"The fact we had four people with ties to our campus inducted into this hall of fame just speaks so highly of how long the standards have been high at Northwest for student media and journalism education," said Chappell, who also received a CMA board citation for his years of meritorious service as its treasurer. "It was an honor to be among such distinguished inductees, many of whom also taught me how to be a media adviser and educator."
A complete listing of awards received by Northwest student media organizations and individual staff members is provided below.
Pinnacle Awards, presented Oct. 27 at MediaFest22 in Washington, D.C.
First Place, Best Video Promo/PSA: KNWT, Ben Whitney and Sid Chaudhary
First Place, Best Newspaper Sports Page/Spread: The Northwest Missourian, "Season's Greetings," MaKayla Polak
First Place, Best Sports Game Story: The Northwest Missourian, "Northwest basketball makes history," Jon Walker
Second Place, Four-Year Weekly Newspaper of the Year: The Northwest Missourian
Second Place, Best Editorial Cartoon: The Northwest Missourian, "Board of Regents Zip Lip," Alexandria Mesz
Third Place, Four-Year TV Station of the Year: KNWT 8
Third Place, Best Yearbook Division Page/Spread: Tower, Emily Kunkel and AJ Bradbury
Best in Show Awards, presented Oct. 30 at MediaFest22 in Washington, D.C.
Second Place, Best Yearbook, 300 pages or more: Tower
Third Place, Best Newspaper, 15,000 or fewer students: The Northwest Missourian
Third Place, Best Advertisement: "Gray's Truck Stop," Jerilynn Hoover, The Northwest Missourian
Seventh Place, Advertising Special Newspaper Section: "Cats Guide," The Northwest Missourian
Eighth Place, Digital Newsletter: "The Lead," The Northwest Missourian
Ninth Place, Best Print Design: "Never Forget," Savannah Athy-Sedbrook, The Northwest Missourian