Oct. 26, 2022
Throughout their long affiliation with Northwest Missouri State University and the Maryville community, Clarence and Chelli Green haven't often viewed themselves as leaders. That is changing, though, as they become more reflective on their professional success and the abilities they have to leave a positive impact on others. 
Dr. Clarence and Chelli Green (Photo by Lauren Adams/Northwest Missouri State University)
One way the couple is doing that is by establishing The Green Family Scholarship through a recent $28,000 cash gift to the Northwest Foundation. The scholarship fund, which is open to receive additional contributions, will award annual scholarships of no less than $1,000 to incoming Northwest freshmen, sophomores, juniors or seniors who indicate an interest in pursuing a law enforcement career. Preference for the scholarships will be given to Black students, particularly females. 
As a veteran of law enforcement, Clarence is passionate about supporting individuals who are interested in entering the field and increasing its diversity. He notes that data shows that college-educated law enforcement officers generate fewer citizen complaints, are less likely to be terminated for misconduct and are less likely to use force. At the same time, law enforcement agencies are being challenged to enhance diversity and increase the number of women in their ranks.
"Policing has been a great profession and is really in need of women and diverse candidates, so I really wanted to put my money where my mouth is to influence folks to make an easier path for them to enter into policing," Clarence said. "Having worked in a diverse department, I think it's very important to get better and richer ideas, to communicate and just work better with all people."
With nearly 30 years of law enforcement experience on his résumé, Clarence is serving as Northwest's interim president during the 2022-23 academic year and has served the University in numerous capacities since joining the institution in 1996. Previously, he served as vice president of culture, which has oversight of the Office of Human Resources, the Office of Institutional Research and Effectiveness, and the University Police Department, for which he had served as chief since 1997. He also has led Northwest teams responsible for strategic planning and crisis management and served on implementation teams for student success, inclusive excellence and behavioral intervention.
Dr. Clarence Green is serving as Northwest's interim president during the 2022-23 academic year. (Photo by Lauren Adams/Northwest Missouri State University)
For a long time, Clarence says, he didn't see himself as a person who was influential or could inspire others. Over time, though, his wealth of experiences in law enforcement and at Northwest – particularly the racial unrest that affected the University and parts of the country during the summer of 2020 after the murder of George Floyd – have changed that.
"I learned that I probably did have influence – after reflecting on it," Green said. "I would like to inspire people to give to the institution that I know helped them. It helped me and my family. If we can inspire folks to give, we can build a lot together as a team."
Similarly, Chelli, a science teacher at Maryville Middle School, has dedicated herself to sparking students' interests in learning and bettering themselves.
"I've tried to always instill the love of learning and being a lifelong learner in kids," Chelli said. "So any way that we can help out students and give them a little extra support so they're able to do that, I'm excited about it."
The Greens began supporting Northwest early in their careers by gifting small amounts of money. Over time they have increased their gifts to support a variety of causes.
"If you can give $10 or $20, that starts a snowball and that's the way we started giving," Clarence said. "We would give what we could. A lot of times, we gave just of our time. Then, when we had more resources, we were able to give $10 and $20 and move to $100."
For both Chelli and Clarence Northwest holds special meaning as the place where they met, earned college degrees and have watched their family grow. All of their children – Kelsi, Kaylee, Brooklyn and Elijah as well as a son-in-law, Adam McNairy – have attended Northwest, too.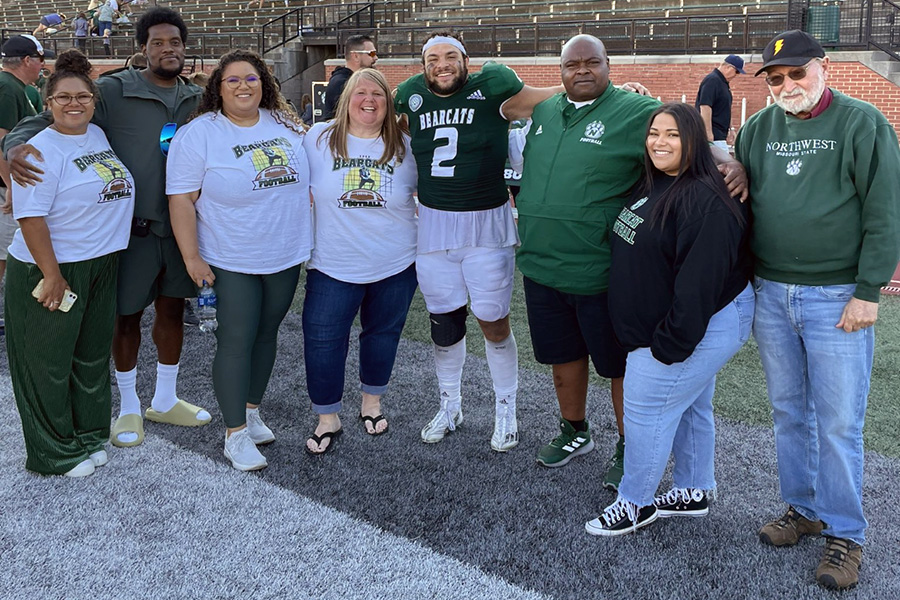 The Green family is pictured after a Northwest football game. Left to right are Kelsi, Adam McNairy, Kaylee, Chelli, Elijah, Clarence and Brooklyn with Dr. Roger Neustadter, a retired Northwest professor and mentor of Dr. Clarence Green. (Submitted photo)
Chelli arrived at the University from Tabor, Iowa, as an early childhood education major and eventually added majors in elementary education and middle school education with a science education minor, graduating in 1993. She completed a master's degree at Northwest in science education in 2003.
Clarence graduated from Northwest in 1994 with a bachelor's degree in sociology and earned a master's degree in higher education leadership from Northwest in 2010. He completed a doctorate degree in educational leadership and policy analysis at the University of Missouri-Columbia in 2018. 
Having grown up in East St. Louis, Illinois, Clarence was inspired to follow the path of a family friend who had served as a police chief and had a positive influence on him. Among numerous other influencers in his life, Clarence credits former Maryville Public Safety director Keith Wood, current police director Ron Christian, Nodaway County Sheriff Randy Strong and longtime Northwest staff member Dr. Bob Bush for mentoring him as a young officer and helping him develop the leadership skills he needed to be successful as a leader.
"They always mentored me and gave me good, sound information about how to improve my skill set," Clarence said. "I didn't know at the time that it was about being a leader. I thought it was just more about being a better police officer, but they really gave me great leadership."
Likewise, Chelli is grateful for the late Dr. Betty Bush, a longtime faculty member in Northwest's teacher preparation program, who nurtured her love for teaching science.
"Northwest has always felt like home, and I always felt like my professors and mentors and advisor, Dr. Bush, all truly cared about me as if I were their child," Chelli said. "I think that sparked in me wanting to do that for other students because that was done for me at Northwest."
For more information about The Green Family Scholarship or to make a gift to support Northwest, contact the Northwest Foundation at 660.562.1248 or visit www.nwmissouri.edu/GiveOnline.