Oct. 19, 2022
A decision to pursue her passion for physical education at Northwest Missouri State University has Abagale Lingle taking on leadership roles she hadn't imagined previously, and now she's representing the University and her field at a national level.
The Society of Health and Physical Educators (SHAPE) honored Lingle as its Major of the Year during the organization's 136th National Convention and Expo last spring in New Orleans, Louisiana. The award celebrates outstanding undergraduate students in the health, physical education, recreation and dance professions who are nominated by faculty.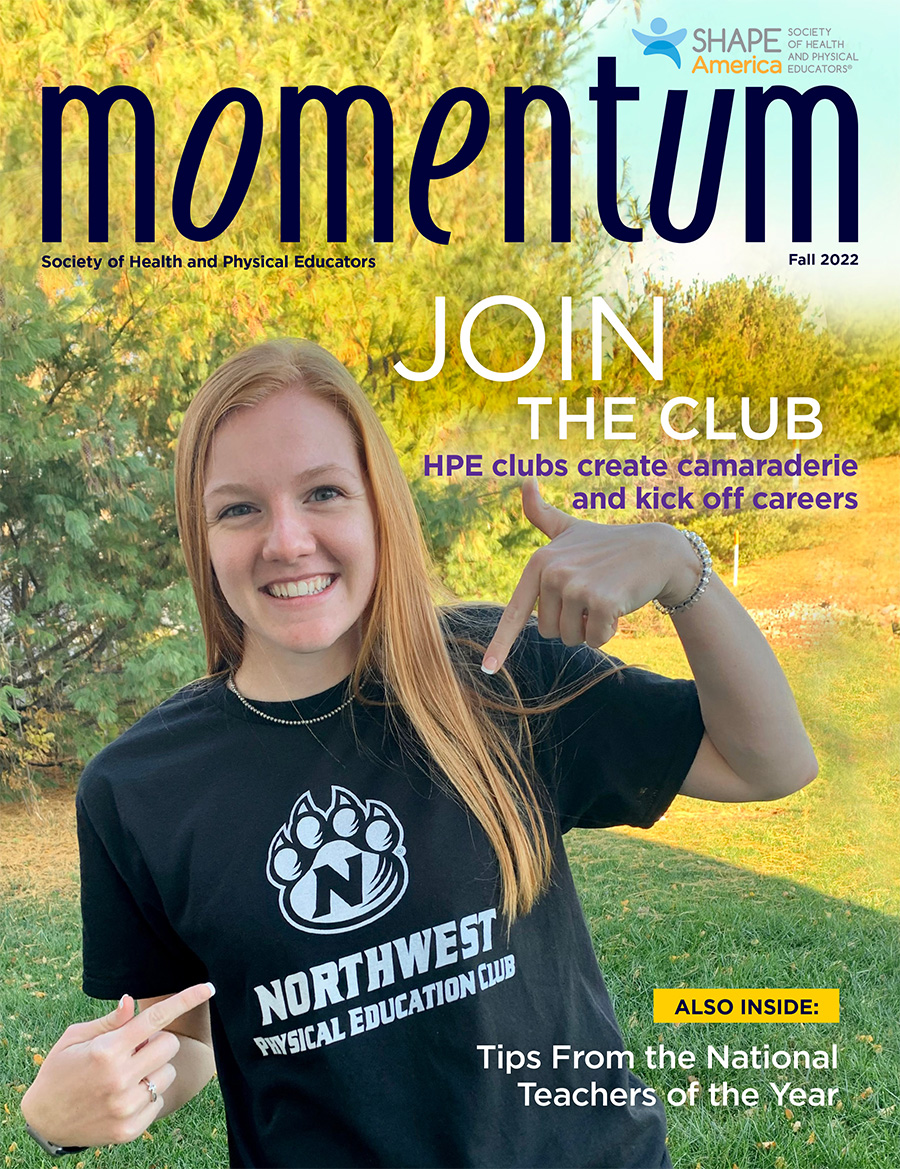 Abagale Lingle on the cover of the fall issue of SHAPE's magazine, Momentum
And this fall, she appears on the cover of the latest issue of SHAPE's magazine, Momentum, sporting a Northwest Physical Education Club T-shirt with the Bearcat paw.
"Being nominated by my professors at Northwest Missouri State was a huge honor by itself, but being selected to receive this award has been mind-blowing," Lingle said. "I have only been in this major and organization for two years. Yet, the amount of support I have received and personal connections I have built from being involved in this amazing group has helped guide me toward becoming a quality educator for the physical education profession."
After transferring to Northwest in 2020, Lingle quickly joined the Physical Education Club and was elected its president in 2021. She organized "fun nights" for the club members to socialize, information meetings to improve group communication and a fundraising committee to increase financial support for the club.
Simultaneously, she joined the SHAPE America Undergraduate Student Leadership and Network (USLN) to learn more about physical education and open doors to additional opportunity and networks. At the state level, she was selected as a student leader, elected as MOSHAPE future professional president-elect and awarded the MOSHAPE Outstanding Major of the Year. To help promote MOSHAPE, she also joined its social media team.
Additionally, she is the afterschool activity coordinator at Horace Mann Laboratory School on the Northwest campus. There, Lingle is gaining profession-based teaching experience by creating lesson plans that she implements in the afterschool program.  
"There's so much more to PE than games," Lingle said. "It's connecting kids to both sides of their body, getting their brain to work. The things we do in the gym transfer over to helping them with their reading or their math."
Thanks to the opportunities offered at Northwest, Lingle's résumé already shows years of teaching and leadership experience, in addition to a summer camp internship.
"I got hands-on experience doing behavior management and activities for kids all summer," she said. "My résumé is just filled with experiences with kids, and it's all because of Northwest."
Lingle, who plans to graduate next year with a bachelor's degree in K-12 physical education from Northwest, is preparing herself for a teaching career in that field.
"Abagale Lingle is an outstanding physical education major and leader," Dr. Jodie Leiss, an associate professor of health and physical education in Northwest's School of Health Science and Wellness, said. "Abagale serves as a positive role model epitomizing personal health and enjoyment of physical activity. She displays distinctive leadership to the profession as well as exhibits meritorious service to the profession at the University, state and national levels. Abagale continues to participate in professional development opportunities to further her knowledge beyond the classroom. She will be an outstanding physical educator."
About SHAPE America
The Society of Health and Physical Educators is the nation's largest membership organization of health and physical education professionals. Since its founding in 1885, the organization has defined excellence in physical education with its national standards for K-12 physical education serving as the foundation for well-designed physical education programs across the country. The organization provide programs, resources and advocacy to support health and physical educators at every level, from preschool to university graduate programs. For more information, visit www.shapeamerica.org.