Oct. 11, 2022
By Kourtnie Stenwall, communication assistant
Northwest Missouri State University's Office of Diversity and Inclusion introduced the Jump Start program this fall to give historically underrepresented students a chance to learn more about campus resources and better prepare them for their first year of college.
Through an application process, the Jump Start program allows underrepresented students to move into Northwest residence halls three days before the University's traditional move-in day. The program helps students acclimate to campus life and establish a sense of belonging while learning about personal, academic and social resources available to them on campus and within the local community.
Malcolm Anthony, a freshman mass media major from Kansas City, Kansas, greets Northwest Interim President Dr. Clarence Green after the University's convocation for first-year students in August. Anthony was one of nine students to participate in Northwest's inaugural Jump Start program this fall. (Photo by Abigayle Rush/Northwest Missouri State University)
Dr. Justin Mallett, Northwest's assistant vice president of diversity and inclusion, developed the program based on his previous experience with another university. The program is funded through a $30,000 grant from the Missouri College and Career Attainment Network.
Nine students participated in the inaugural program this fall, and Mallet says those students have benefited from the head start.
"Jump Start students are very involved in other parts of campus," Mallett said. "We have students who are involved in Student Senate, Bearcat Marching Band and other extracurricular activities on campus. We're seeing success academically with those students. It's very early in the process, but hopefully we'll be able to see not only high retention from this group but also graduation in the future."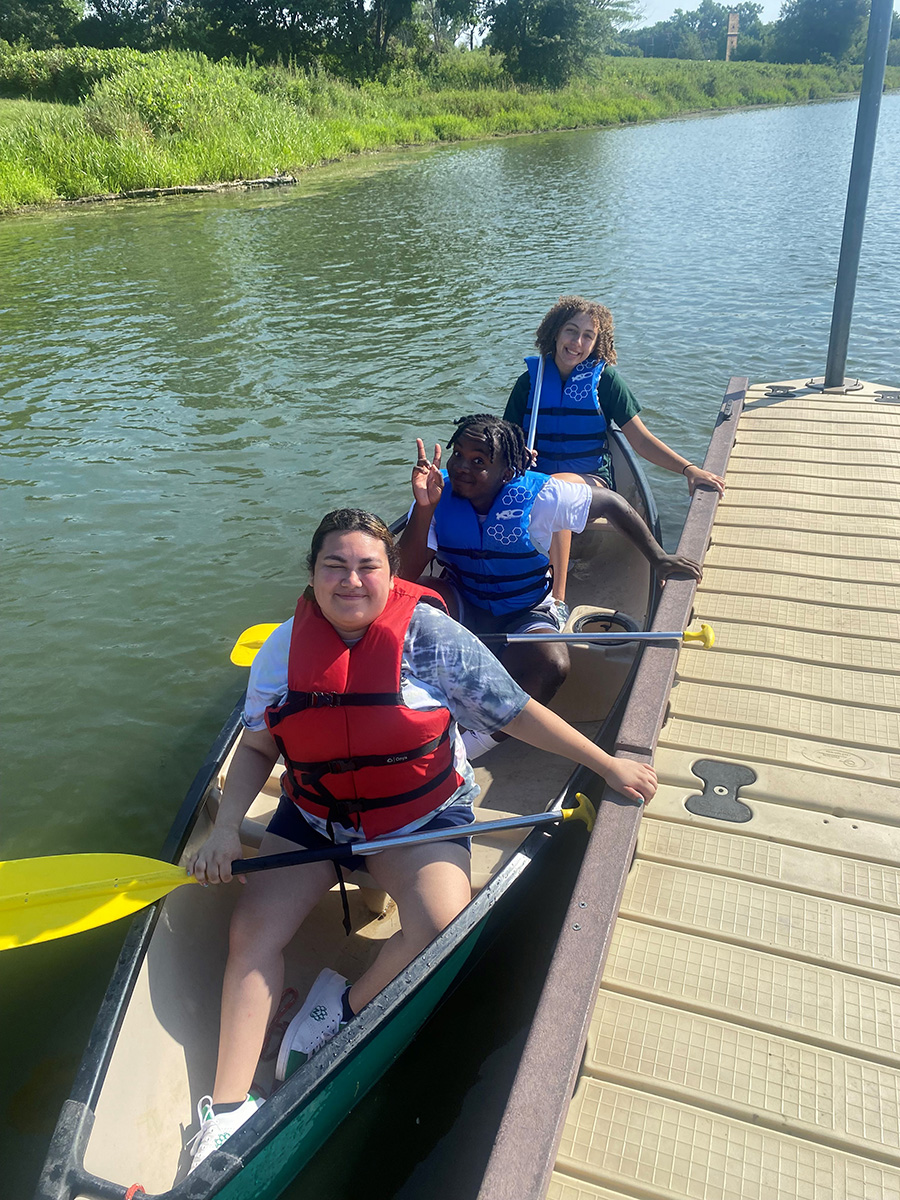 First-year students Emma Barbosa, Nate Lee and Amaira Peterson enjoyed canoeing at Mozingo Lake as part of Jump Start activities this fall. (Submitted photo)
Amaira Peterson, a freshman international business major from Platte City, Missouri, appreciated the opportunity to move on to campus early.
"It was really awesome," Peterson said. "I got to meet some amazing faculty members and get inside information that I wouldn't have normally gotten unless I was in the Jump Start program. I also met all of my friends that I have now through the Jump Start program."
Brittany Hicks, a freshman marketing major from Republic, Missouri, said Jump Start program is an opportunity to get a head start on school and connect with students who were in a similar position as her.
"I truly couldn't have asked for a better way to start off the school year," Hicks said. "My favorite part of the program was being able to hang out with everyone at the end of the day, whether it was going to see a movie, bowling or hanging out at Mozingo."
Applications for the program open during the spring semester, and Mallett hopes to grow and enhance the program in future years.
"We have seen some strong results initially, and our hope is to provide this information and make it stronger with the addition of student mentorship," Mallett said.
For more information about the Jump Start program, contact Mallett at 660.562.1517 or jmallett@nwmissouri.edu or Diversity and Inclusion Coordinator Brittany Roberts at 660.562.1747 or broberts@nwmissouri.edu.