Oct. 5, 2022
Growing up, Abigail Starr was told she had a talent in writing and journalism – a talent she honed and which eventually led her to Northwest Missouri State University's School of Communication and Mass Media.
Starr knew about Northwest's widely recognized teacher preparation program and had intentions of following in her mother's footsteps to a career in teaching. But after discovering her interest in writing and working on her high school's newspaper, she changed her focus to Northwest's mass media programs.
"I obviously knew that the (mass media) department had won awards," Starr said. "I liked to tell people who asked me about Northwest that the communication school is their hidden gem because everyone thinks education, but there's so much success in that department too."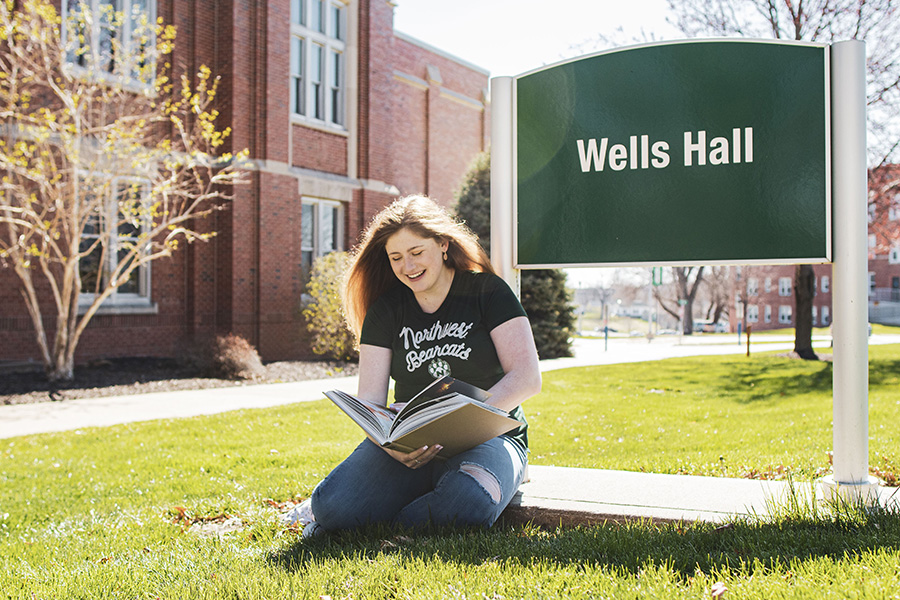 Abigail Starr in front of Wells Hall, the home of Northwest's School of Communication and Mass Media (submitted photo)
Starr spent her first two years of college at Metropolitan Community College, completing her general education courses. However, she never took her eyes off Northwest, transferring to the University as a junior to major in mass media broadcast production.
"Looking back, I feel like it was totally worth it because the two years I've spent (at Northwest), I was just immersed in media," Starr said. "I feel like everything I spent my tuition money on, I really got the mass media stuff."
Starr started as a news writer for The Northwest Missourian and a reporter for Tower yearbook. She eventually found a passion for production, working for KXCV-KRNW and KZLX radio stations. She spent her senior year as managing editor of Tower.
She received awards for her work, too. At the 2021 Associated College Press convention, her campus organization feature for Tower placed second in feature writing, and a student feature story placed third in personality sketch. The Missouri Broadcast Educators Association (MBEA) also awarded Starr for her work with KZLX, presenting her with first place in talk-set and second place in audio station promotion. She also received a MBEA student award for excellence for a radio advertisement she created for KZLX.
"Northwest prepared me by offering all the activities I was in," Starr said. "Those are huge because then I get to put more on my résumé than just a bachelor's in broadcast production. I get to list that I was actually employed, and people relied on me to execute a task or multiple tasks. To take those pieces of work and put them in a portfolio was huge."
During the summer of 2021, Starr used her experience to apply for an internship as a copywriter at Eversana InTouch Solution, a pharmaceutical marketing agency. Her work focused on short-form writing, client relations and intern projects. After graduating from Northwest last May, she began her post-graduation career as an associate copywriter with the agency.
"The experience I gained at Northwest helped me gain the hard skills of following writing and editing guidelines, doing research, asking the right questions and thinking about things creatively," Starr said. "More importantly, I gained the soft skills of interacting with colleagues, improving client relationships, investing in my growth and strong communication. I am forever grateful for the people who taught me at Northwest."