Sept. 28, 2022
Fifteen Northwest Missouri State University students, led by two faculty, spent part of their summer learning about communication, mass media and research during an 18-day, seven-country study abroad experience in Europe.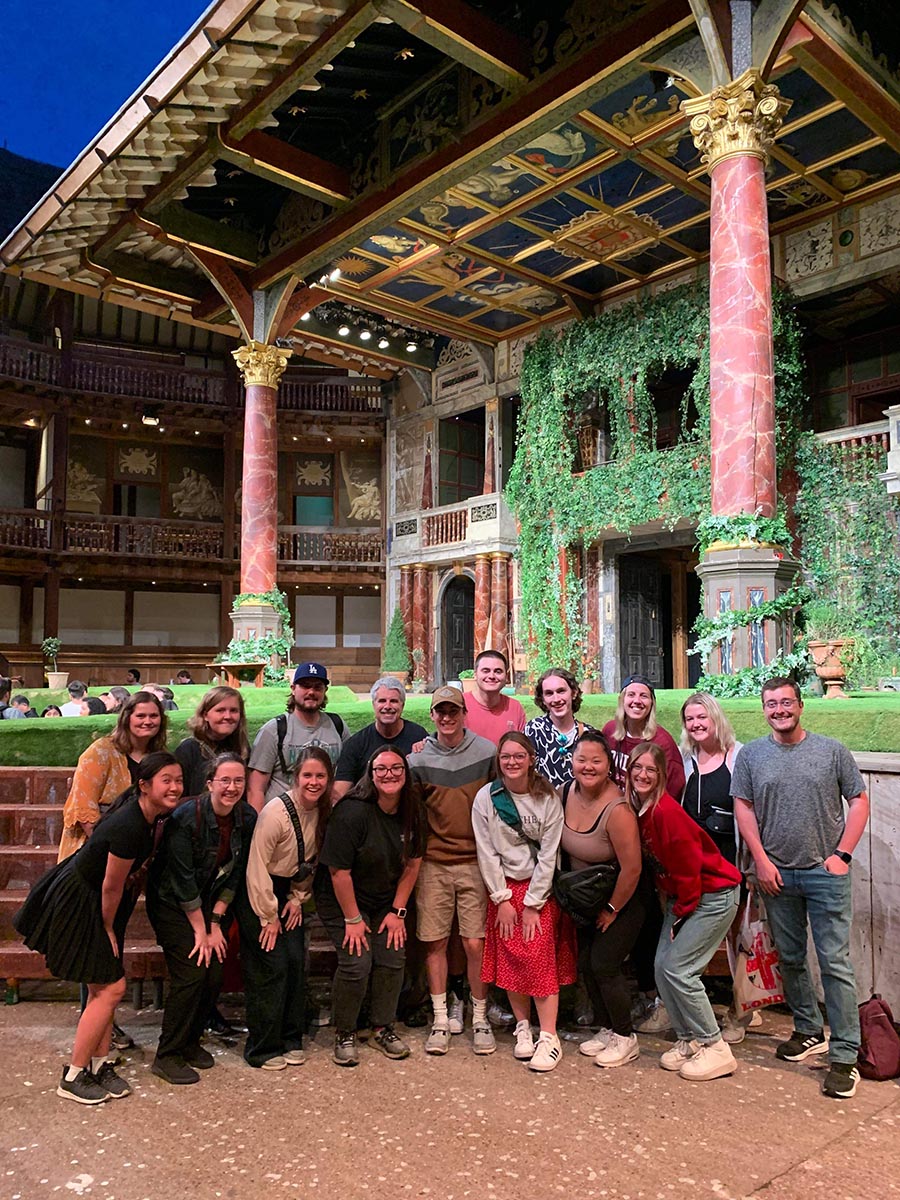 Northwest students and faculty members posed for picture at Shakespeare's Globe theater, where they attended a production of "Much Ado About Nothing" during an 18-day study abroad experience in Europe. (Submitted photo)
The study abroad program led by mass media faculty Dr. Bob Bergland and Adam Bochart gave students firsthand experience with European culture, history, art and architecture while earning academic credit. The group visited historic sites, museums and attractions in Athens, Rome, Venice, Budapest, Vienna, Munich and London.
"I naturally hoped that the students came away from this trip with a better understanding of issues in international mass media, going beyond just their U.S.-based perspectives, in addition to different research methodologies in the field," Bergland said. "In broader perspectives, I wanted them to come away as better, more well-rounded people. A trip like this teaches you a whole lot about other countries and cultures. In so doing, you learn so much and get a different perspective on your own country, you own culture and, most importantly, yourself."
As part of their analysis before, during and after the study abroad experience, students researched and presented about the cities they visited. They also kept a daily blog, shared their activities and impressions on social media, and produced a photographic book recapping their experiences.
As a central activity, the students attended the International Conference on Communication and Mass Media in Athens, Greece, which featured scholars from throughout the world.
Two students, Elizabeth Brightwell and Kendrick Calfee, teamed with Bergland to present their research at the conference about the impacts of COVID-19 and declining advertising revenue on student newspapers. They conducted a survey of college newspapers affiliated with the College Media Association.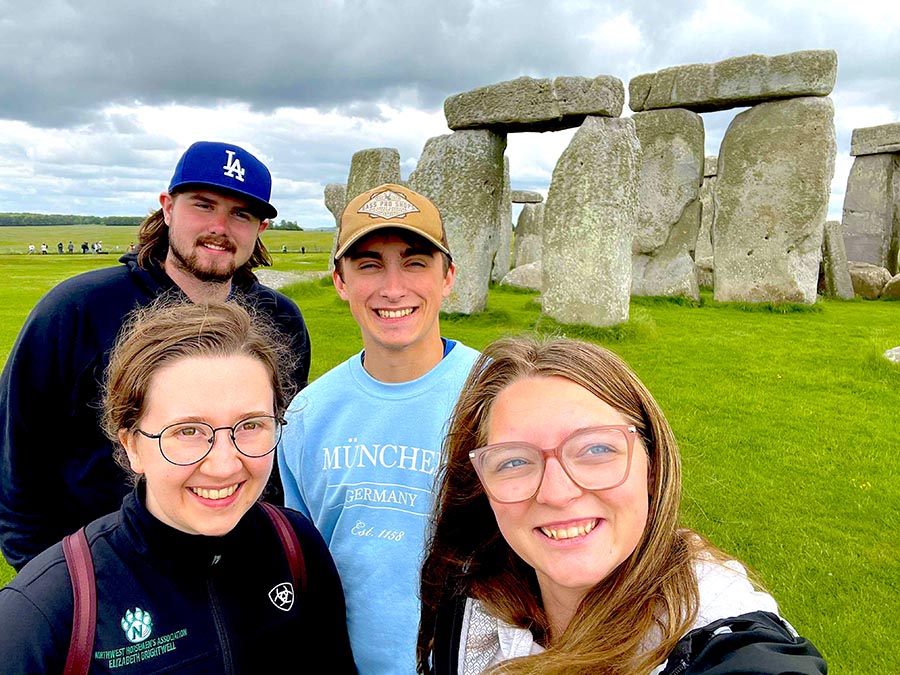 Clockwise from bottom left, Elizabeth Brightwell, Kendrick Calfee, Jonah Dotson and Kiersten Helm are pictured at the famed Stonehenge monument in England during their study abroad experience in Europe. (Submitted photo)
Calfee, who graduated from Northwest during the summer with a bachelor's degree in multimedia journalism, said the opportunity to conduct research and present findings at an international conference attracted him to the study abroad opportunity and inspired him to advance his education.
The research Bergland, Brightwell and Calfee conducted of college newspapers aligned with previous findings related to commercial newspapers.
"By and large, print circulation has gone down, and then COVID has had a significant impact on that for college newspapers," Calfee said. "A lot of weekly papers went online only during COVID, part of that being because they weren't physically at the school to do anything or just advertising revenue going way down. There were a conglomerate of factors that contributed to that. The largest was ad sales revenue and not being present on campus."
In addition to the conference, the group visited a photojournalism exhibit at the Victoria and Albert Museum in London and attended a production of "Much Ado About Nothing" at Shakespeare's Globe.
Calfee said some of his favorite memories of the experience are rooted in the connections he made with students outside of his major.
"You can learn about Greek mythology; you can learn about World War II, the Holocaust," Calfee said. "But if you walk through the halls of those concentration camps, if you walk in the Sistine Chapel, look up at the ceiling and feel that presence instead of just reading about Michelangelo – when you really experience those things, it's a whole new level."