Sept. 20, 2022
By Edidiong Idong-Bassey, communication assistant
Northwest Missouri State University students Dakota Weaver, Camdyn Rucker and Brionna Frans are recipients of Erin L. Hook Fellowship of Christian Athletes Scholarship funds from the St. Joseph Mustangs Baseball Organization as a reward for their diligence and outstanding work ethics during the summer.
Each student received a scholarship of $250 to support their academic interests in sport management and sports journalism. Among 15 interns, they were recognized as the 2022 Interns of the Year prior to the Mustangs' last game of the season. The Mustangs organization is a member of a summer collegiate baseball league that includes teams from Missouri, Iowa, Nebraska and Kansas.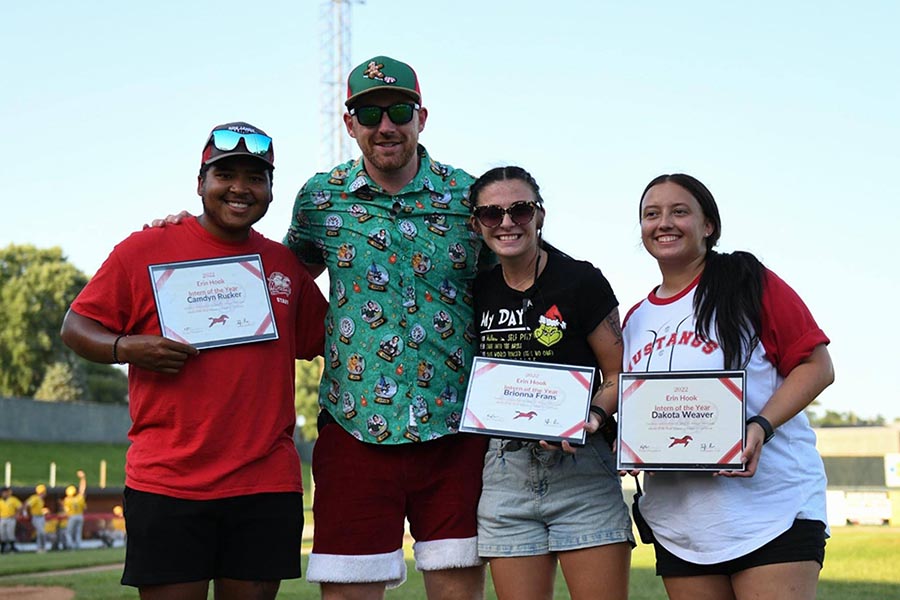 Left to right are Camdyn Rucker, Ky Turner, Brionna Frans and Dakota Weaver. Turner, the owner of the St. Joseph Mustangs Baseball Organization and MO Family Sports, recognized the Northwest students as interns of the year at the conclusion of the Mustangs' baseball season. (Submitted photo)
At the end annual internship cycle, Ky Turner, the owner of the St. Joseph Mustangs Baseball Organization and MO Family Sports, selects one outstanding intern for the recognition. This year, however, Weaver, Rucker and Frans made his decision difficult because of their hard work and commitment to the Mustangs' success.
"I really struggled at the last couple of weeks with separating the three of them," Turner said. "They separated themselves from the rest of the pack. All three of them had done some stuff on their own merits that stood out and were absolutely deserving of the award."
Weaver, a senior sports media major from Osage Beach, Missouri, said she was overwhelmed with emotions when Turner announced she was one of interns of the year.
"It was hard not to cry because I really wanted it a lot," Weaver said. "Even in the beginning, that was my goal. The fact that we got it together was just amazing."
Frans added, "Dakota and I carpooled, so we talked about it all the time. Whenever (Ky) said that he couldn't just pick one of us, I was like 'This is awesome because compared to the rest of the interns we did a lot.' It was super exciting that not only did Dakota and I get it, but Cam also got it. We all deserved it for different reasons."
Weaver facilitated promoting the organization's sponsors through field games and game day announcements. The internship taught her the importance of team building and networking with other interns.
"The biggest thing I've learned is patience," Weaver said. "Going in there thinking that I was going to do one thing, but I didn't always get to do that. I had to be patient and just realize that either way this is going to help further on in my career."
Additionally, Weaver leveraged technical skills she gained in her sports photography and social media strategies coursework at Northwest to create multimedia content for the Mustangs' social media platforms.
"I feel like I've grown a lot being at Northwest," Weaver said. "Getting to step out of my box helped me because, although I came in thinking I was going to do one thing, I did a totally different thing most of the time. So it was nice to see what a different major would be like."
For Frans, a junior sport management major from Osborn, Missouri, working with the Mustangs was an invaluable experience that provided clarity in the pursuit of her career in sport management.
"I wasn't 100 percent sure if this is what I wanted to do going into it," Frans said. "It was a test to dip my toes in that general direction, and I absolutely loved it. It confirmed that's what I want to do."
Frans led a team of interns to facilitate on-field contests, distribute promotional coupons and coordinate little league games. She gained knowledge about the structure of a sport organization and the importance of delegating responsibilities.
"I would try and do every little thing that I could and not ask for help, which was very overwhelming at the beginning of this season," Frans said. "I started letting other people help me do some stuff while I was doing other things, and it took a lot of weight off my shoulders."
Rucker, a junior sport management major, grew up in St. Joseph, Missouri, knowing about the Mustangs and worked as the organization's operations intern. His responsibilities included repairing equipment, setting up and clearing the ballpark after games, and maintaining the stadium.
When he was chosen as one of the organization's interns of the year, he felt assured that his efforts were adding to value to the operations team.
"It felt great knowing all the work and amount of hours that I put in was being rewarded." Rucker said.
Rucker said he benefitted from Northwest courses like recreation operations, which prepared him to incorporate activities and promotions, such as a military appreciation night, into game day schedules.
At the end of his internship, Rucker was offered a part-time position as a supervisor for the St. Joseph Mustangs and MO Family Sports organization.
"I chose to study recreation sport management because, growing up, I loved to play all kinds of sports," Rucker, who aspires to become an athletics director, said. "I always heard good things about Northwest, so I decided to come here and find something I liked. When Northwest started offering this degree after my freshman year, I thought it would be a perfect fit, considering the large role sports played in my childhood."
Frans credits faculty in the School of Health Science and Wellness – especially Dr. Susan Myllykangas' recreational programing course – for teaching foundational knowledge and skills necessary to be an effective promotions intern.
"They've helped me get where I am today," Frans said. "My advisor sent me this internship for the Mustangs and sent me an internship last fall to work with Northwest athletics. They definitely help you once you get your mind set on something. They're like, 'We're going to help you do everything in our ability to get you to where you want to be with your career.'"