Sept. 20, 2022
By Kourtnie Stenwall, communication assistant
A pre-vet student is the first recipient of Northwest Missouri State University's Triumph Foods—Morgan Miller Bearcat Builder Scholarship.
The Bearcat Builder scholarship program was established by the Northwest Foundation last year and encourages companies to recognize a Northwest graduate who is employed or associated with the organization by naming a scholarship in their honor for a year.
Triumph Foods in St. Joseph, Missouri, funded the inaugural scholarship, naming Morgan Martin Miller as its namesake for the 2022-23 academic year. Miller has been employed at Triumph Foods since graduating from Northwest in 2017 with her bachelor's degree in animal science and biochemistry.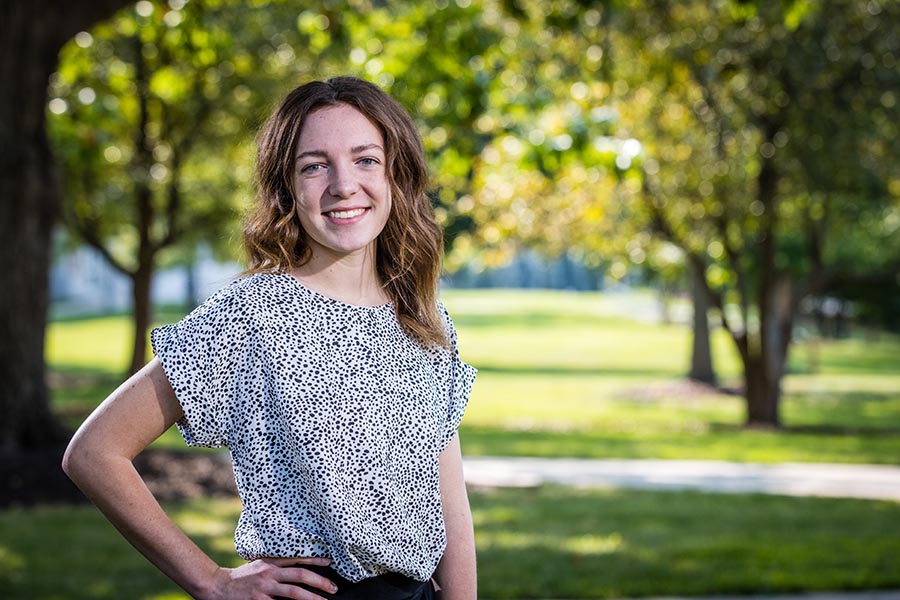 Morgan Blessing (Photo by Lauren Adams/Northwest Missouri State University)
The scholarship recipient, Morgan Blessing, a junior from Memphis, Missouri, is an animal science major who plans to attend a veterinary school after graduating from Northwest. She is a member of the Sigma Alpha professional ag sorority, pre-vet club and collegiate FFA. She also works as a resident assistant in Tower Suites, an office assistant for the Department of Natural Sciences and a teaching assistant with a chemistry lab.
The $1,000 scholarship recognizes a student who demonstrates high campus engagement in a discipline of the donor's choosing.
"It definitely meant a lot to me to know that they felt like my education was a worthy investment and to know that they have that faith in me," Blessing said.
As the daughter of Northwest alumni, Blessing grew up attending Bearcat football games. When the time came for her to choose a college, she liked the atmosphere and the people she met on her tour of Northwest, deciding to pursue her degree at the University
"I think Northwest prepares you really well by giving you hands-on experience," Blessing said. "I'm only in my second year, but I've already had so much hands-on experience going to the (R.T. Wright) Farm and working with animals."
About the Bearcat Builder Scholarship
By donating $1,000 to Northwest's Bearcat Builder scholarship fund, business and organizations provide a scholarship to a Northwest student who demonstrates high campus engagement in a discipline of the donor's choosing while honoring a Northwest graduate they employ.
In addition to helping business and organizations celebrate and retain employees who are Northwest alumni, the program provides Northwest students with a valuable opportunity to network with other employees.
For more information about the Bearcat Builder scholarship program, contact Jill Brown, Northwest's director of corporate relations, at jillb@nwmissouri.edu or 660.562.1642.