Sept. 18, 2022
The Swink family of Maryville is Northwest Missouri State University's 2022 Family of the Year, a recognition bestowed each fall during the University's Family Weekend festivities on a family who best represents the "Bearcat family" and demonstrates a strong commitment to the University.
"I wasn't really expecting to get it, but it's cool that we did," said Henry Swink, a sophomore international business major who nominated his family for the honor.
Sponsored by Campus Dining, the recognition comes with a $750 scholarship and other prizes, including an introduction during halftime of the Family Weekend football game.
With eight members of their family having a connection to Northwest, this year was not the first time the Swinks tried for the recognition. But – much like the Northwest crowd that waited through Saturday's 90-minute rain delay to see a Bearcat football victory – the Swinks said it was worth the wait.
"This has been a dream for so many years," Brian Swink, Henry's father and a senior instructor of mathematics and statistics, said as he recalled visiting Northwest and attending Bearcat football games with his older brother, Doug, during the early 1990s. "We bleed green. There's no other way to say it. We're just connected all the way."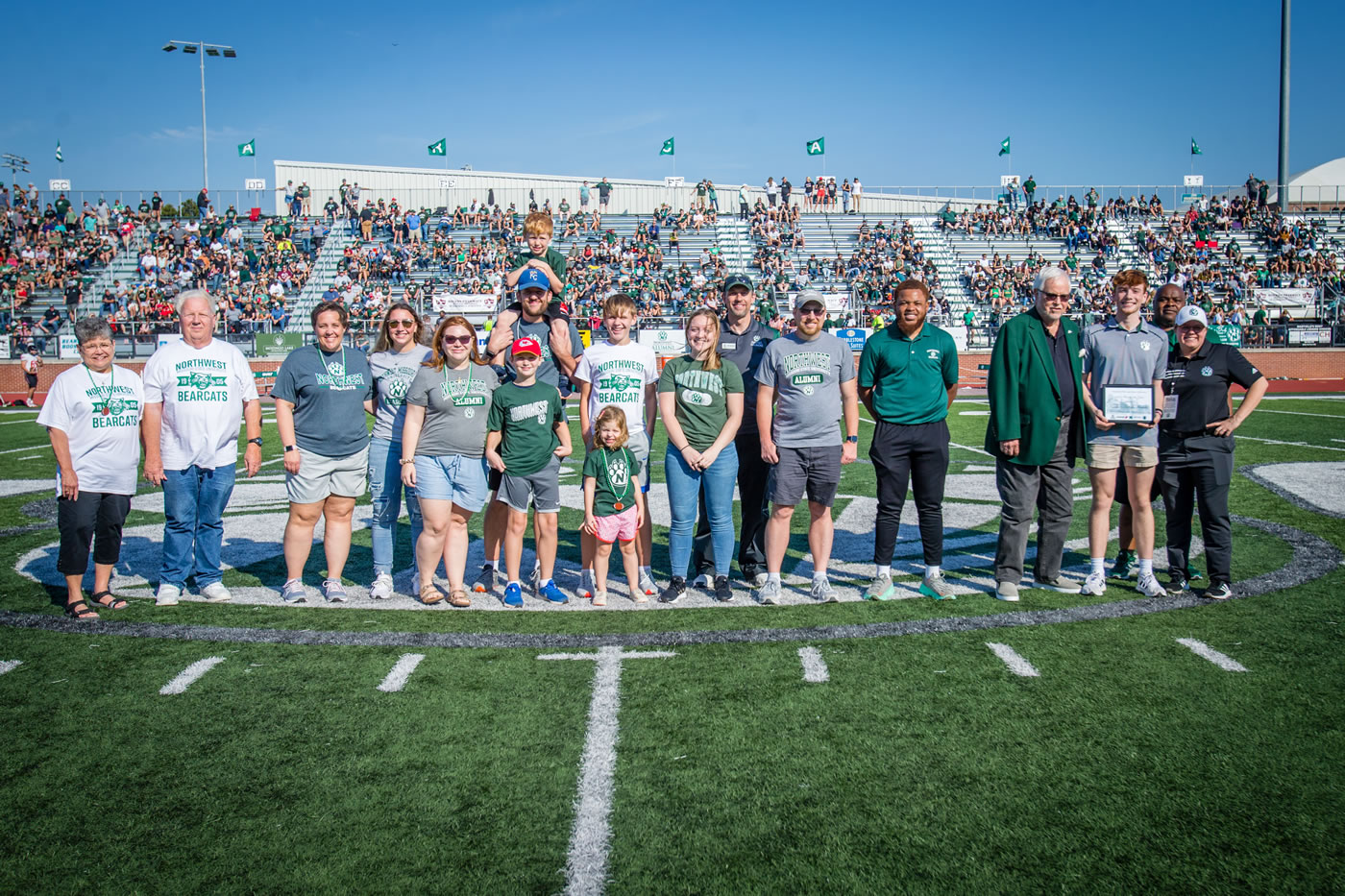 The Swink family was honored during Saturday's Bearcat football game as the Northwest Family of the Year. Left to right are Sherry Swink; Arnold Swink; Jennifer Swink; Abby Swink; Kara Petrovic; John Petrovic, holding Charlie and with Jack standing in front of him; Aiden Petrovic with Lucy Petrovic standing in front of him; Anna Swink; Director of Alumni Relations Duane Havard; Brian Swink; Student Senate Executive Vice President Dami Popoola; Northwest President Emeritus Dr. Dean Hubbard; Henry Swink; Northwest Interim President Dr. Clarence Green; and Interim Director of Campus Dining Sara Tompkins.
Henry, whose Northwest campus involvement includes working as a student manager for the Bearcat volleyball team, is the son of Brian and Jennifer Morris Swink, who is employed as a Title I math teacher at Eugene Field Elementary School in Maryville.
Brian earned his bachelor's degree in elementary education at Northwest in 2001 and added a master's degree in education in 2015, while Jennifer earned a bachelor's degree in elementary education in 2001 and a master's degree in education in 2019.
Brian worked as a library assistant at the B.D. Owens Library, and, in 2001, he received the Tower Service Award and was named Northwest's Student Employee of the Year. Both Brian and Jennifer were members of the Student Missouri State Teachers Association as undergraduate students at the Northwest.
"We worked in town and eventually found a house that's close to campus," said Brian, who taught for 14 years at Eugene Field Elementary School before joining the Northwest faculty. "We began bringing our family once we got out of school. We've still been on campus, riding bikes, coming around. It's a beautiful place, so I felt very privileged when it turned into a chance to work here, too. It's been a great opportunity."
In addition to Henry, Brian and Jennifer have two other children, Anna, a 2021 alumna and the advertising and business manager for Northwest's School of Communication and Mass Media, and Abby, a senior at Maryville High School.
Anna, who earned her bachelor's degree in multimedia journalism, was a member of the Pre-Dental Club, Sigma Society, Resident Hall Council and the Tower yearbook, for which she served as a reporter, sports editor and social media editor. She also was a marketing intern in the Department of Athletics and a social media intern in the Office of University Marketing and Communication, and she served as a University Seminar peer advisor.
The family also includes Doug Swink, Ryan Gove, Kara Swink Petrovic and John Petrovic.
Doug, who earned his bachelor's degree in geography at Northwest in 1995, was a peer leader, residential assistant, president of Phi Theta Kappa and Homecoming king. He also was a member of the Geo Club, Phi Theta Kappa honor society and Alpha Chi honor society. Doug's husband, Ryan, worked as a hall director at Northwest from 1997 to 2000.
Kara, who completed her bachelor's degree in journalism in 2005 at Northwest, was active with Student Media, serving as a reporter and university news editor with The Northwest Missourian student newspaper as well as a managing editor and editor-in-chief with the Tower yearbook. Kara's husband, John, earned his bachelor's degree in journalism at Northwest in 2001 and was a photographer for The Northwest Missourian and Tower yearbook.
"Northwest gave us so many opportunities – unlike going to a D-1 school – that you're just not going to get anywhere else," Kara said. "To come in as freshmen and get started in the majors we wanted, we were career ready. That experience really helped us all go out and be really well educated adults in the fields that we're in."
The Family of the Year is selected from submitted applications and announced during Family Weekend activities at the University. Student recipients shall maintain a 3.00 GPA, be involved in at least one student organization at Northwest and a second organization in the community, and demonstrate a family legacy through generations of involvement with Northwest.
For more information about the Family of the Year award and to nominate a family for future consideration, click here.