July 19, 2022
By Edidiong Idong-Bassey, communication assistant
The untimely death of a Northwest Missouri State University alumna propelled her family to establish a scholarship in honor of her dedication to music education.
David and Janelle Groteluschen recently established the Sarah Groteluschen Memorial Music Scholarship in memory of their daughter with funds willed to them after her passing. Sarah graduated from Northwest in 2012 with a bachelor's degree in instrumental music education and died unexpectedly Nov. 16, 2020, as the result of an ascending aortic aneurysm.
The Groteluschen family set up the scholarship with a hope that Sarah's memory helps other students with the same passion for music education.
"It continues the music education for other individuals that she didn't get to teach," David said. "We took that money and set it up in a scholarship for other youth and people to get into music."
One $2,000 award will be given annually to assist a Northwest music education student. Recipients of the scholarship will be full-time Northwest students with a grade-point average of 3.25 or higher. Recipients also must be a member of an instrumental music performing group at the University with a preference for woodwind instruments.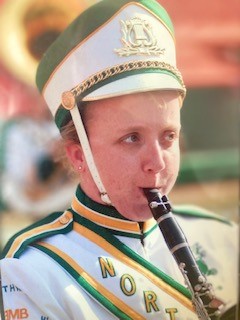 Sarah Groteluschen
According to her parents, Sarah appreciated the hands-on learning opportunities she had at Northwest and applying practices to help her music students be successful. The bachelor's degree Sarah earned at Northwest was her second, after earning a bachelor's degree in psychology at the University of Nebraska, where she also played in the marching band. 
"Ever since she was a very young girl, I took her to some Nebraska football games," David said. "She saw the University of Nebraska marching band, and she said that someday she wanted to march in that marching band."
At Northwest, Sarah was a member of the Bearcat Marching Band, the Kappa Kappa Psi national honorary band fraternity, Sigma Alpha Iota international music fraternity and the University's Wind Symphony.
Prior to her passing, Sarah worked as a music teacher in the West Nodaway R-I School District. Additionally, she was part of the National Association for Music Education and the Missouri Music Educators Association as well as a president of the Northwest Alumni Association's Band Alumni Chapter.
In Sarah's hometown of Columbus, Nebraska, she performed at Christmas concerts and was active at her church, where she taught children how to play bells and played clarinet in a praise band.
"A dedicated teacher and friend, she was a behind-the-scenes person who helped make things run efficiently," Northwest Professor of Music Dr. William Richardson said. "We all miss her very much, and the Sarah Groteluschen Memorial Music Scholarship is a fitting tribute to her supportive nature and promotion of all things music education. We owe her family a great deal – not only for establishing the scholarship fund but for sharing their daughter with us as an undergraduate student, a valued graduate and as a music teacher in northwest Missouri."
David and Janelle Groteluschen have a copy of one of Sarah's teaching applications, for which she wrote, "I was always interested in music. I wanted to help other students develop their interest and appreciation and music. Teachers are the ones who help students to develop and become the best versions of themselves."
For more information about the Sarah Groteluschen Memorial Music Scholarship or to make a gift to support Northwest, contact the Office of University Advancement at 660.562.1248 or advance@nwmissouri.edu, or visit www.nwmissouri.edu/GiveOnline.