April 27, 2022
By Patrick Glenn, communication assistant
Four Northwest Missouri State University students recently received a total of $4,600 in scholarships from the Missouri Park and Recreation Association Charitable Trust to assist them with their education pursuits during the 2021-2022 academic year.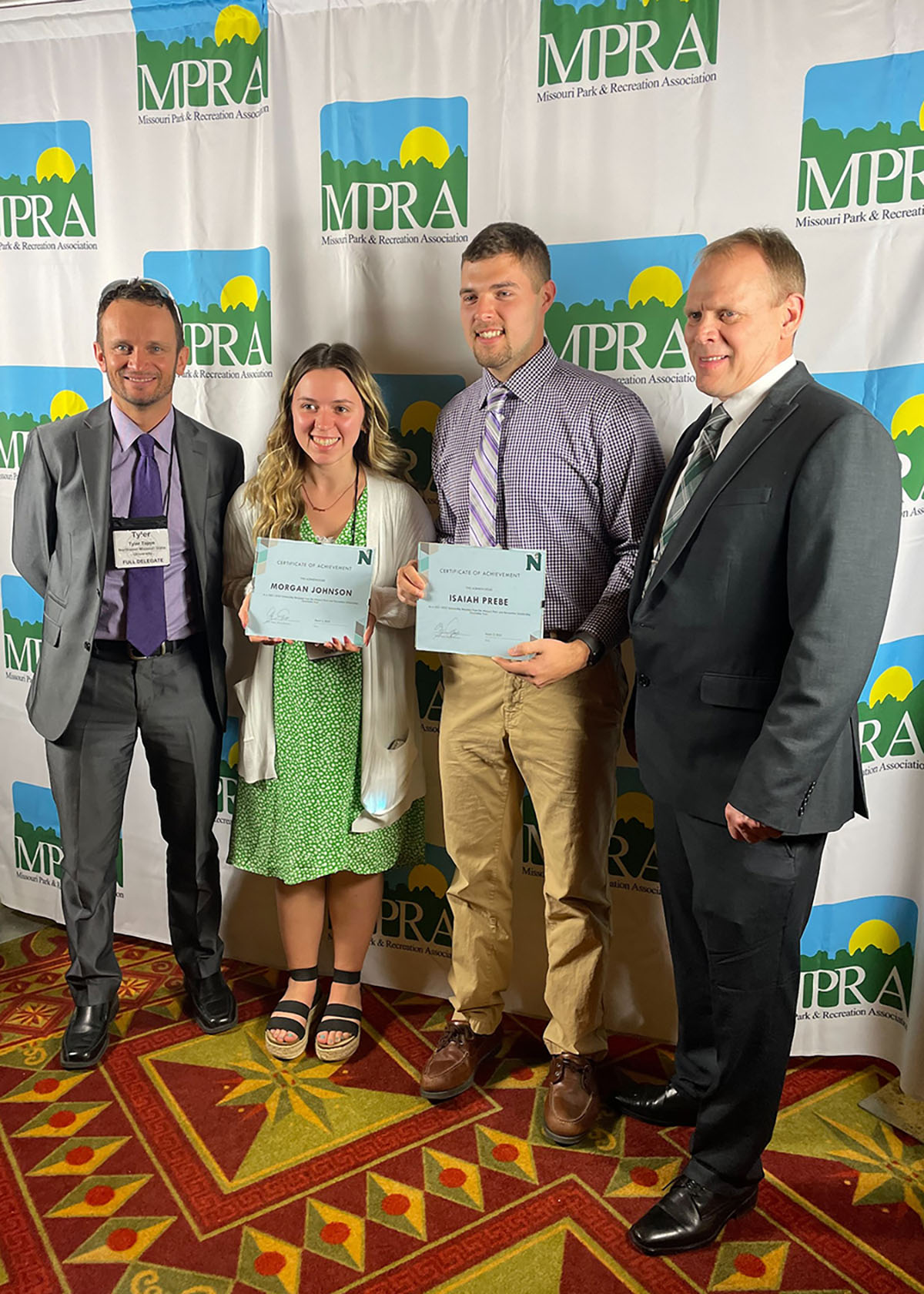 Pictured, left to right, are Associate Professor of Recreation Dr. Tyler Tapps, Morgan Johnson, Isaiah Prebe and Dr. Terry Long, the director of Northwest's School of Health Science and Wellness, as Johnson and Prebe accepted undergraduate scholarship awards from the Missouri Park and Recreation Association Charitable Trust. (Submitted photo)
Scholarships of $1,750 each were awarded to senior sport management majors Morgan Johnson, of Raytown, Missouri, and Isaiah Prebe, of Edina, Missouri. Additionally, Northwest Online students studying therapeutic recreation, Stephanie Quirke, of Middle Sackville, Nova Scotia, and Karina Tapia, of Las Vegas, Nevada, received $550 each.
"These funds are significant," Dr. Tyler Tapps, an associate professor of recreation at Northwest who serves as the University's representative with the Missouri Park and Recreation Charitable Trust and helps determine the endorsements, based on completed applications, said. "Students use this money for tuition, fees and subsidizing costs for getting to and from internships."
Johnson plans to apply the scholarship funds to her summer field experience as a member of the Kansas City Royals Game Crew to assist with pregame ceremonies and in-game promotional activities.
"The scholarship means a lot to me," Johnson said. "It shows that a big organization like Missouri Park and Recreation supports students that are working so hard to go into all these different areas of recreation."
Prebe will apply his scholarship funding toward expenses associated with a summer internship with the City of Columbia Parks and Recreation. He attributes his success with obtaining multiple summer internships to resume feedback and mock interview activities offered by Northwest Career Services.
"Receiving the scholarship meant a lot to me," Prebe said. "It was an honor representing Northwest Missouri State in front of well-respected parks and recreation professionals."
Quirke plans to use the scholarship to finance expenses associated with a summer internship with a long-term care facility near her hometown. She credits Northwest for providing her with foundational knowledge and skills necessary to be an effective certified therapeutic recreation specialist.
"I am honored to accept this scholarship from the Missouri Parks and Recreation Department," Quirke said. "I appreciate that the Board of Trustees recognized my continued success and effort."
Tapia said she appreciates the financial assistance the scholarship provides and plans to use the funds to purchase materials she needs for coursework.
"It has not been easy being in an intensive graduate program while working full-time," Tapia said. "There have been times where I've felt burnt out and overwhelmed. The Northwest Missouri University graduate program has been tremendously helpful. The staff have been amazing and are understanding of everyone's situations. I wouldn't have been given the opportunity to pursue the career I wanted. For that, I am very thankful."
The Missouri Park and Recreation Scholarship Charitable Trust was formalized in 1970 and provides approximately $20,000 annually in scholarships for sports and recreation majors. Schools with COAPRT accreditation may designate one faculty member as a trustee. The trust awarded 18 scholarships this spring.
To be eligible for the scholarships, students must be enrolled full-time as a junior, senior or graduate student at a Missouri university offering accredited recreation, leisure studies, parks and sport management curriculum and exhibit a positive contribution to the field. Students must also maintain a cumulative undergraduate GPA of 2.5 or better while graduate students must have a 3.25 GPA or better on a 4.0 scale.