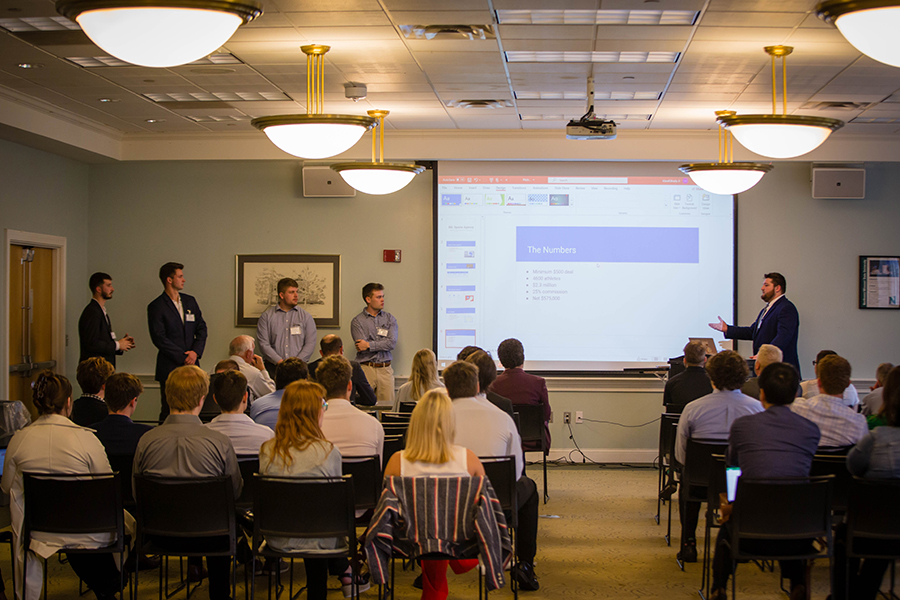 Students in Northwest's entrepreneurship course pitched their business ideas Friday during the New Venture Pitch Competition. (Northwest Missouri State University photos)
April 22, 2022
Six teams comprised of Northwest Missouri State University students pitched their business ideas to a panel of business professionals Friday in hopes of earning funding that could help launch their start-ups.
The New Venture Pitch Competition, which returned to Northwest this spring after a two-year hiatus during the COVID-19 pandemic, provides business students and entrepreneurs with an opportunity to present their ideas to small business owners and investors in a competitive setting.
While participating students were enrolled this spring in entrepreneurship, a required course for Northwest management majors, the experience also provides a valuable opportunity to network with other business professionals.
"By developing a business plan and coming up with a completely new business, you have to consider marketing and human resources and operations and finance and economics – all of that goes into it," Dr. Ben Blackford, the director of the Melvin D. and Valorie G. Booth School of Business, said. "Secondly, even if they don't plan on starting a business, they're getting a great presentation opportunity because the judges are wonderful alumni and members of the community that have agreed to help, and they are the people who will be their bosses, their clients and their coworkers once they graduate."
After three rounds of competition that involved elevator pitches, display booths and then a final 10-minute pitch with a question-answer session, "Uniquely Eco" took the first-place prize of $2,500 toward costs associated with establishing their business.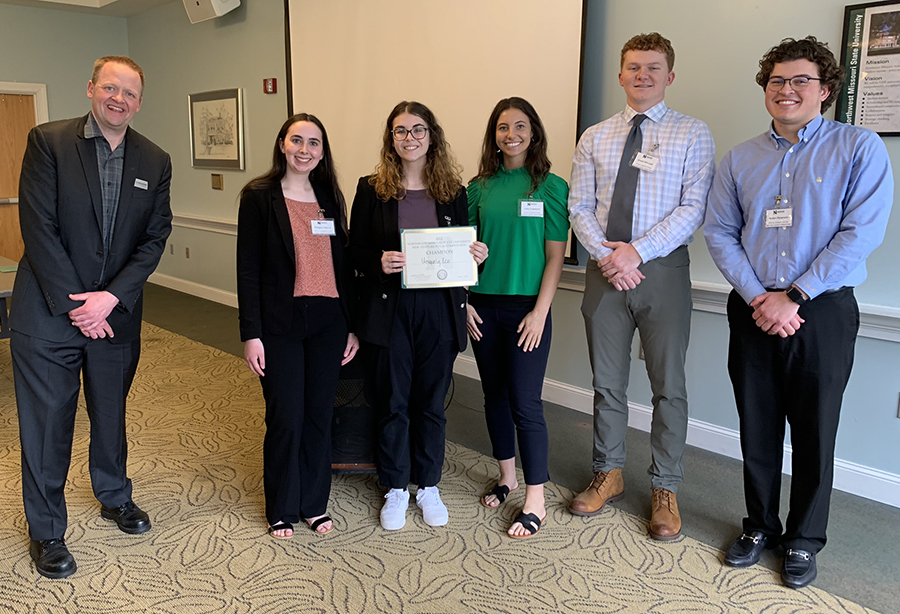 Pictured above with Dr. Ben Blackford (left), the winning team consisted of Megan Harris, a junior marketing and management major from Kansas City, Missouri; Payton Schomburg, a senior human resource management major from Rock Port, Missouri; Cady Crawford, a junior marketing and management major from Osceola, Iowa; Grant Atwood, a senior business management major from Leon, Iowa; and Aiden Peterson, a junior business management major from Underwood, Iowa.
With an interest in sustainability and upcycling materials, their business idea involved establishing a secondhand store where customers could purchase refurbished furniture.
"It was nice to see the validation that what we've been working on all semester turned out to produce a good result," Harris said.
Along with developing a business plan and preparing their pitch, the students said they enjoyed the challenge of answering judges' questions and having to think on their feet. The semester-long project also helped the students build teamwork and collaborative skills.
"I think probably the biggest challenge was the financial part of it – just figuring out the cost of everything and how profitable we actually could be once the business took off," said Atwood, who has secured work as a land acquisition specialist after he graduates this spring. "It's a good experience for the future."
A judging panel of business leaders and alumni from throughout the region evaluated each presentation and ranked teams on the effectiveness and persuasiveness of their presentations, the innovation and quality in their ideas, the competitive advantage of their proposed businesses, effective discussion of financials and proposed management teams. Ultimately, judges based their final decisions on how likely they would be to invest their own money in one of the proposals.