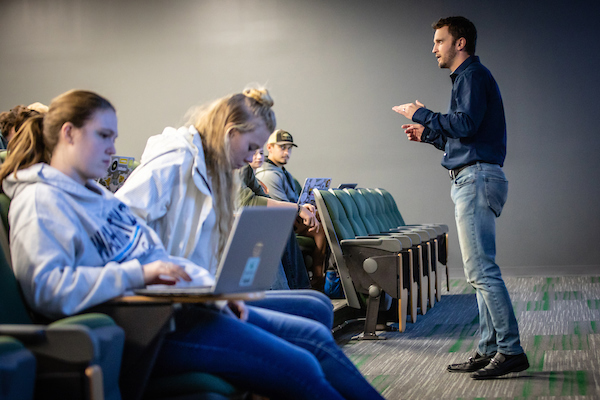 Dr. Tyler Tapps, an associate professor of recreation in the School of Health Science and Wellness, teaches a recreation operations management course. Tapps recently co-edited a textbook about dimensions of leisure. (Photo by Todd Weddle/Northwest Missouri State University)
Dr. Tyler Tapps, an associate professor of recreation in the School of Health Science and Wellness at Northwest Missouri State University, recently co-edited a textbook, titled "Dimensions of Leisure for Life."
Based on Tapps' extensive career and background in leisure, wellness and recreation, the book provides readers with an expanded definition of leisure as a multidisciplinary field from an individual and societal perspective.
"Mental health, free time and relaxation are a key driver for fitness and taking time for yourself," Tapps said. "This book is very good at making sure that we get across the information to people to understand that your lifestyle is more than just waking up and going to work."
Tapps said the book will help students connect leisure to life and better understand its impact from a sociological perspective.
"Leisure, free time, recreation or sports have a deeper impact than just killing time or fulfilling boredom," Tapps said. "It does have a significant impact on who we become and how we see the world."
The book is available through HKPropel Access.
Tapps, who joined the Northwest faculty in 2014, also serves as a fellow for strategy and is the assistant director of the School of Health Science and Wellness. He obtained his Ph.D. in health, leisure and human performance at Oklahoma State University, and he holds a master's degree in recreation and bachelor's degree in corporate recreation and wellness, both from Northwest. In 2020, he became a research fellow for the Oklahoma Association for Health, Physical Education, Recreation and Dance's Board and Council, from which he received the Betty Abercrombie Scholar Award.