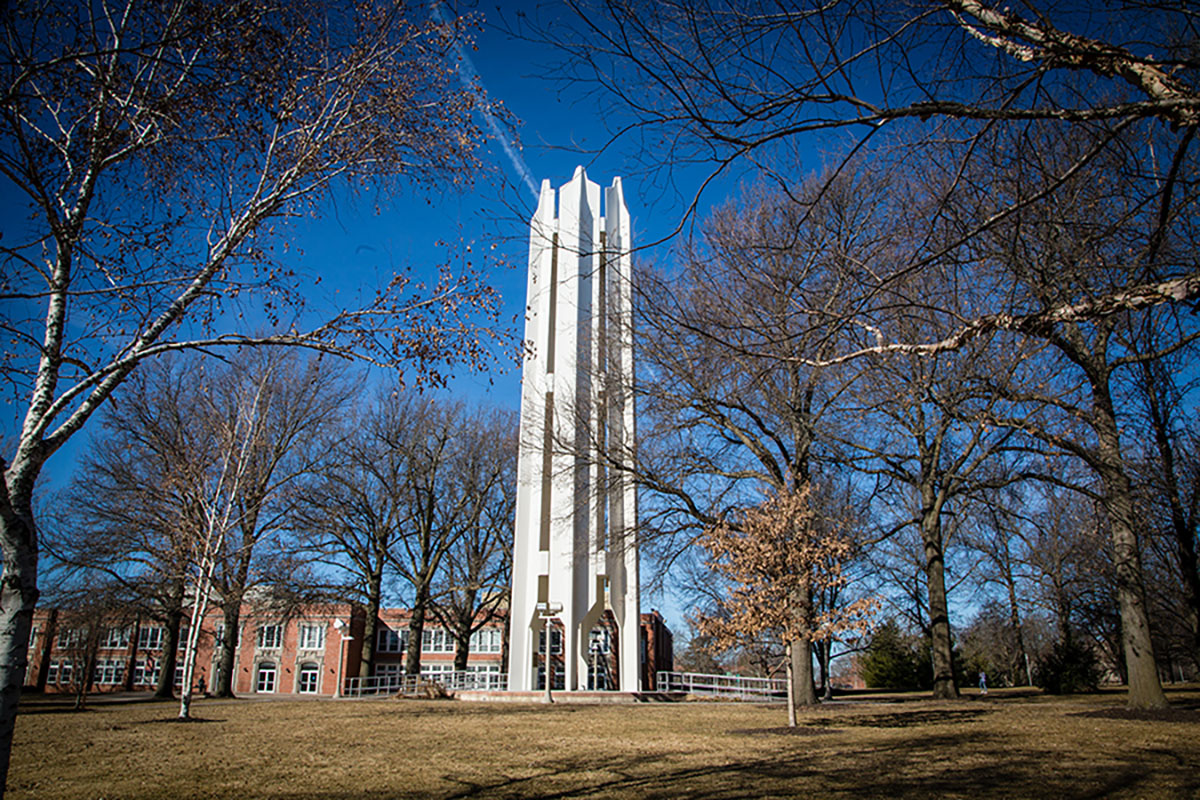 The Northwest campus in Maryville, with the Memorial Bell Tower as a centerpiece, is the Missouri Arboretum. (Photos by Abigayle Rush/Northwest Missouri State University)
April 20, 2022
Northwest Missouri State University will mark Earth Day 2022 with an information session on its campus, which is the home of the Missouri Arboretum.
Staff representing Northwest's Office of Energy and Sustainability, in cooperation with Facility Services, will be stationed from 8 a.m. to 4 p.m. Friday, April 22, on the east side of the J.W. Jones Student Union. The come-and-go event will provide students, employees and local residents with an opportunity to learn information and strategies that help care for the planet.
Staff will present information related to waste reduction at work, planting and creating green spaces, water conservation in your every day, energy initiatives for the Earth and news for the planet.
In case of inclement weather, the information session will take place inside the Student Union's second floor.
In addition to visiting the Northwest campus, Troy Brady, energy and sustainability manager at Northwest, invites individuals to reflect on the significance of Earth Day.
"Use this day, and as many as your schedule can spare, to think about our impact on the world around us," Brady said. "What actions can you take to improve the Earth? What commitments can you, your friends and family make to take care of the planet? We can all make changes, which may seem small in our day-to-day activities, that can have a huge impact on the Earth."
For more information, contact Brady, energy and sustainability manager at Northwest, at tbrady@nwmissouri.edu or 660.562.1183.
Sustainability and recycling at Northwest
Northwest is a leader in recycling efforts in the Maryville community and beyond. Since 2016, Northwest's recycling revenue has offset landfill costs with annual collection averages amounting to 1.6 million pounds of cardboard; 300,000 pounds of paper; 208,500 pounds of organics; 115,000 pounds of plastic and 4,500 pounds of aluminum.
Northwest also diverts 46 percent of recycled materials away from local landfills. Last year, the Northwest Recycling Center diverted 1.8 million pounds of trash from landfills while saving the University $113,000 that was redirected to landscape services and the Office of Sustainability.
Northwest is a three-time winner of the Missouri State Recycling Program's Annual Recycling Award, claiming the honor in 2011, 2013 and 2014.
For more information about Sustainability and recycling at Northwest, visit www.nwmissouri.edu/services/sustainability/.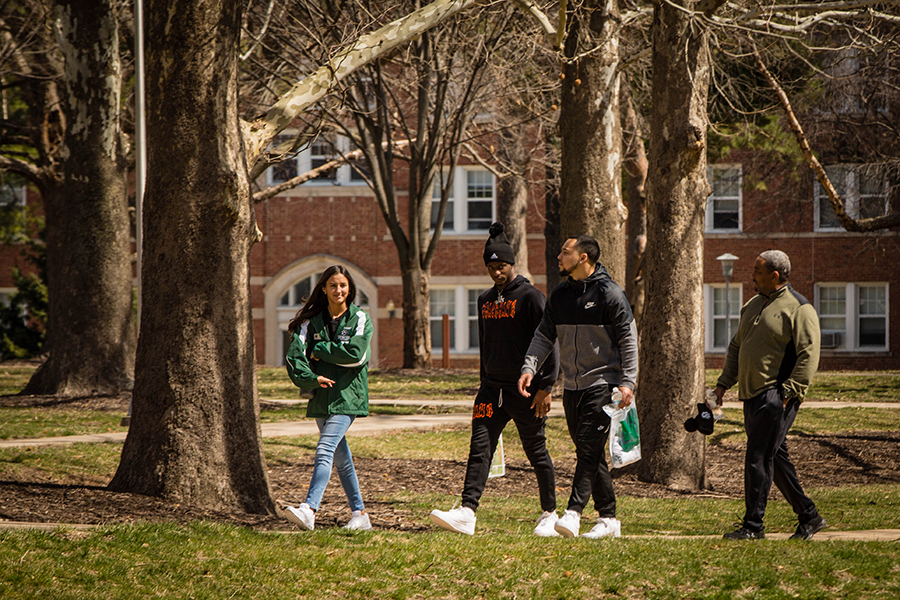 Visitors walk the campus this month with a Northwest Ambassador.
About the Missouri Arboretum
The Missouri Arboretum, established by the Missouri State Legislature in 1993, is located on the Northwest campus in Maryville and is dedicated to promoting the understanding and appreciation of botanical diversity. It is home to more than 1,700 trees and more than 160 species while providing an environment that is both beautiful and conducive to teaching and research.
In 2018, the ArbNet Arboretum Accreditation Program awarded the Missouri Arboretum at Northwest a Level II accreditation. In 2015, the campus was named one of the "50 Most Amazing University Botanical Gardens and Arboretums in the U.S." by BestCollegesOnline.org.
For more information about the Missouri Arboretum, visit www.nwmissouri.edu/arboretum/.