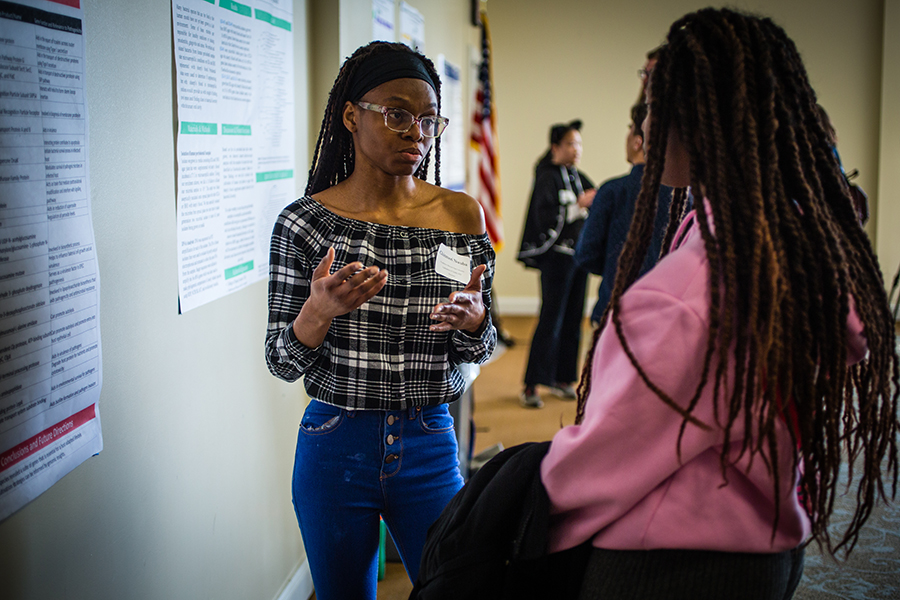 Northwest students conversed Friday at the annual Celebration of Quality, an interdisciplinary academic symposium spotlighting exceptional student work throughout campus. (Photos by Andrew Bowman/Northwest Missouri State University)
April 14, 2022
Northwest Missouri State University students representing an array of academic areas presented their work April 8 as the Society of President's Scholars sponsored its annual Celebration of Quality.
Posters and displays filled the perimeter of the J.W. Jones Student Union Ballroom as students provided oral presentations during themed sessions in Student Union meeting rooms. The poster and oral presentations centered on topics within disciplines including art, theater, agriculture, political science, media design, biology, economy, literature and writing.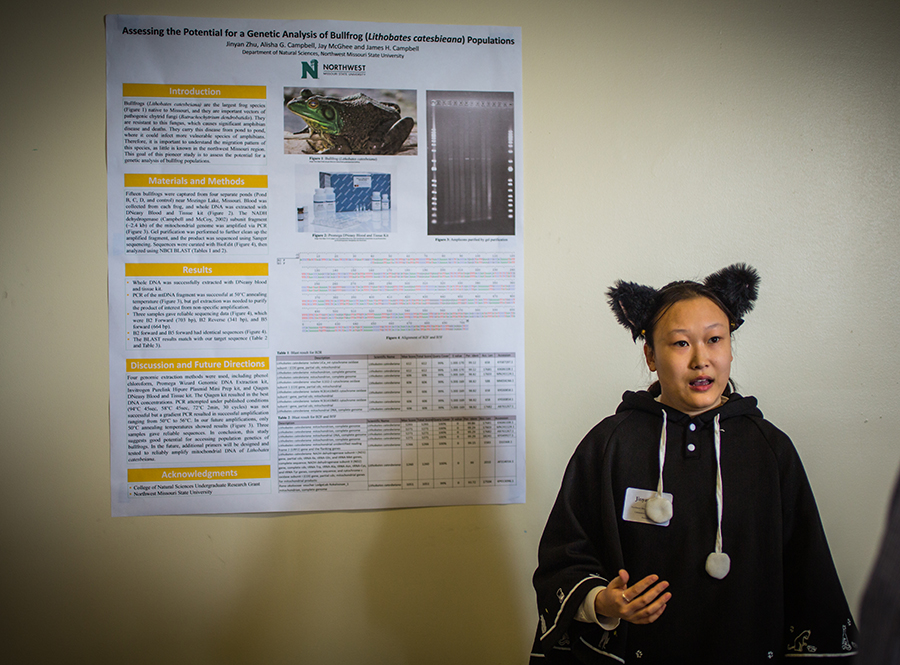 A Northwest student presents a poster, titled "Assessing the Potential for a Genetic Analysis of Bullfrog (Lithobates catesbieana) Populations."
"The symposium gives the University community a chance to see the work students are completing across disciplines, and it gives participating students an audience beyond the classroom," Dr. Mohammed Meziani, a professor of chemistry and the sponsor of Northwest's Honors Program, said. "This is also a great experience and wonderful practice, especially for students interested in graduate school or going into a field where they must engage in public presentations and speaking engagements. With this type of event, the students also sharpen their knowledge and skills, gain new ideas and best practices, and learn about the latest innovations and insights."
A panel of judges awarded a total of $800 to presenters based on the quality of students' work, their ability to explain the project and its value to people within and outside the field of study. 
Sponsored jointly by the Society of President's Scholars and the Office of the Provost, the Celebration of Quality annually invites Northwest students to submit their best work completed any time during the previous year.
The interdisciplinary symposium gives the Northwest community a chance to view student work and places it in front of an audience beyond the classroom. Submissions are accepted from all students at the University.
The 2022 Celebration of Quality award winners are listed below.
Poster and display presentations
First place: Chinmeri Nwuba, " Comparative Genomics and Phylogenetic Relationships of Synergistota Species from the Human Mouth," sponsored by Dr. Alisha Campbell
Second place: Mackenzie Wilcoxson, "Altarpiece: Scenes from the Life of Christ Pod-cast," sponsored by Dr. Karen Britt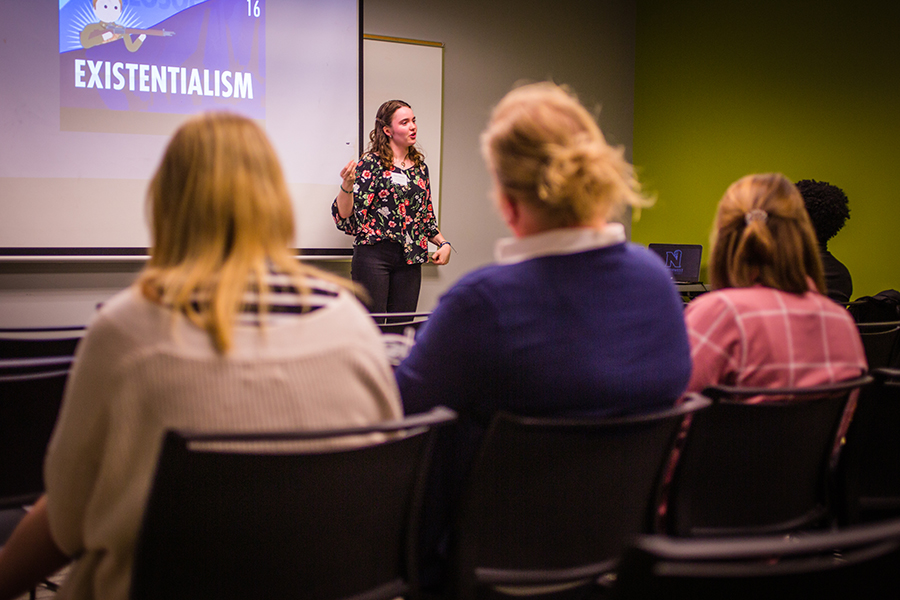 Grace Garrigan discusses her work as a dramaturg for Theatre Northwest's recent production of "No Exit."
Oral presentations
First place: Shital Nasam, "CERT IOS Mobile Application," sponsored by Dr. Aziz Fellah
Second place: Grace Garrigan, "No Exit Dramaturgy Presentation," sponsored by Dr. Theophil Ross