March 30, 2022
By Patrick Glenn, communication assistant
A Northwest Missouri State University student is now a published illustrator after collaborating with an author on her personal story about battling cancer.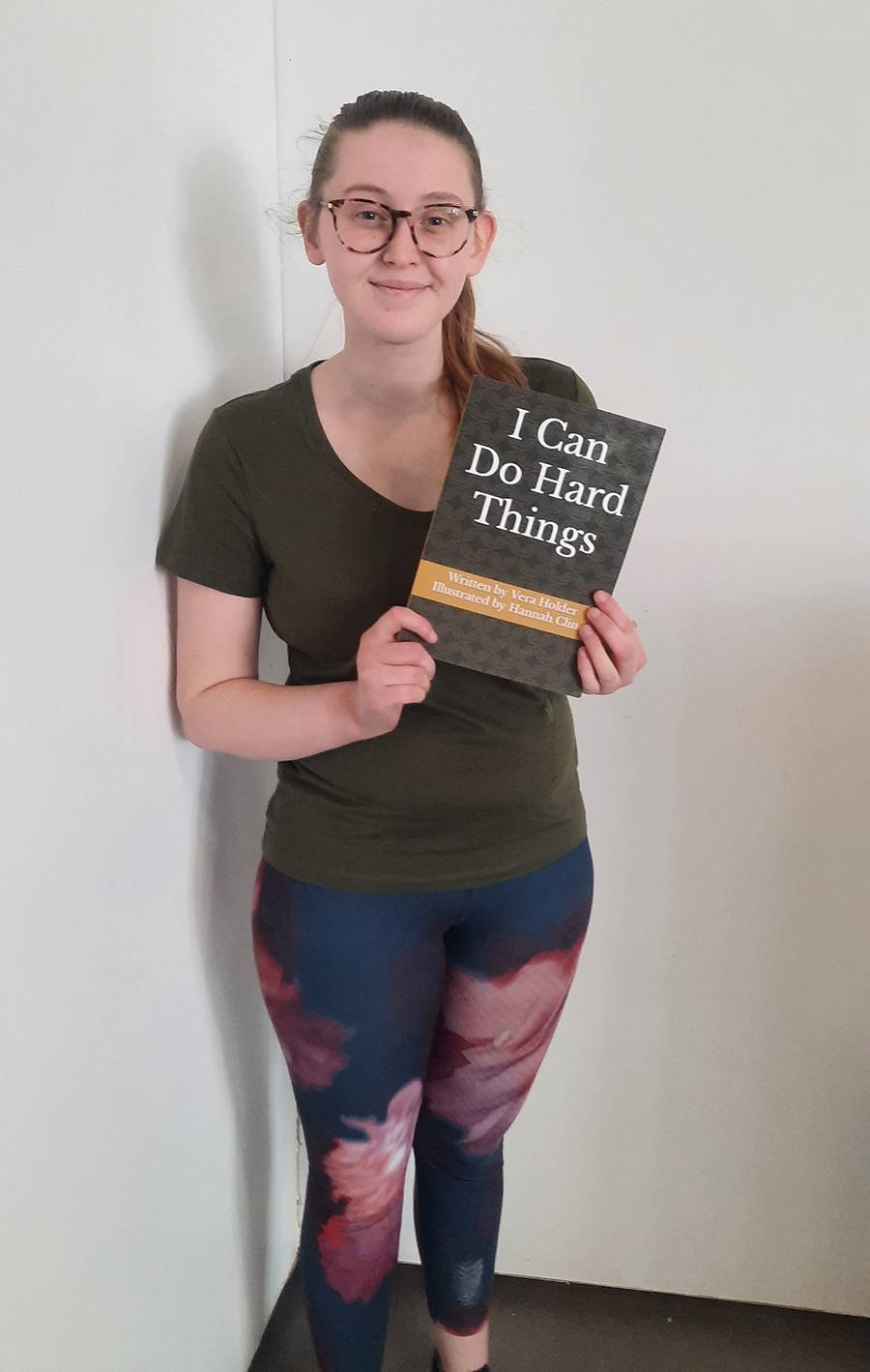 Hannah Cline with a the book she illustrated, titled "I Can Do Hard Things."
Hannah Cline, a senior graphic design major from Smithville, Missouri, collaborated with local author Vera Holder by creating the illustrations for the short story, "I Can Do Hard Things," which was published in January. The book, based on Holder's life, depicts a high-school-aged son with special needs and how he and his mother navigate the challenges they face after she is diagnosed with cancer.
"All of my art classes have really prepared me for this along with all of my amazing professors," Cline said.
Cline became aware of the opportunity to illustrate the book after Holder sought help from Northwest's Department of Fine and Performing Arts. After reviewing the email inquiry from Holder, Cline replied with some sketches.
Eventually, Holder and Cline began meeting at the Maryville Public Library, where Cline received the manuscript in exchange for a few preliminary sketches. Holder identified 15 illustrations she wanted Cline to complete.
Cline created both colorized and black-and-white digital versions of her illustrations with her iPad's Procreate app. After starting the process last November, the author and illustrator met in January, and Cline presented Holder with all of her illustrations.
Cline was unsure when the book would be published and waited for communication from Holder with news. Unfortunately, Cline would not receive that message as Holder died Feb. 5.
"The experience with Vera was incredible," Cline said. "I actually did not think it was going to be published. One day I was just like 'Let's check,' because I knew it was going to be published on Amazon, and it was there. I really hope she got the chance to see her book published."
The finished book includes 12 illustrations – all drawn by Cline.
"One is of cows in a pasture, because the narrator felt like he was drowning and wondered if the cows ever felt that way, too," Cline said. "I also have one of a dog's food and water bowl since the narrator had to take over more chores in the house to help his mom."
As a third-generation Bearcat, Cline was drawn to Northwest through her family ties. Cline's maternal grandparents, Richard Partlow '68 and Judith (Clark) Partlow '69; parents, Christopher Cline '97 and Sarah (Partlow) Cline '98; and numerous aunts and uncles attended Northwest. In addition, her sister, Madelyn, and cousin, Case Moermond, are students.
"It's a family school," Cline said. "I was wearing Bearcat green before I was born."
In part, Cline cites her coursework at Northwest for her success. She appreciates the ways Northwest structures upper-division art courses to simulate real-life client work.
"The art classes at Northwest helped in expanding my skills by doing what the school's motto claims to do, make us career ready by day one," Cline said. "I had a lot to learn coming into Northwest as an art student who had barely done art before. The art program makes sure that everyone, no matter their incoming level of art, is adequately taught the building block information before going onto higher classes."
Among her favorite course projects, Cline chose a local bakery for a brand redesign project in an advanced graphic design course.
"It was really taking the brand from the beginning and starting from scratch all the way to being able to have multiple assets for it," Cline said. "I had billboards. I made a donut box."
On campus, Cline serves as the Art Club treasurer and has helped plan fundraisers and field trips. After graduating from Northwest, Cline will work full-time as a junior graphic designer at Rapid Elite in Maryville.