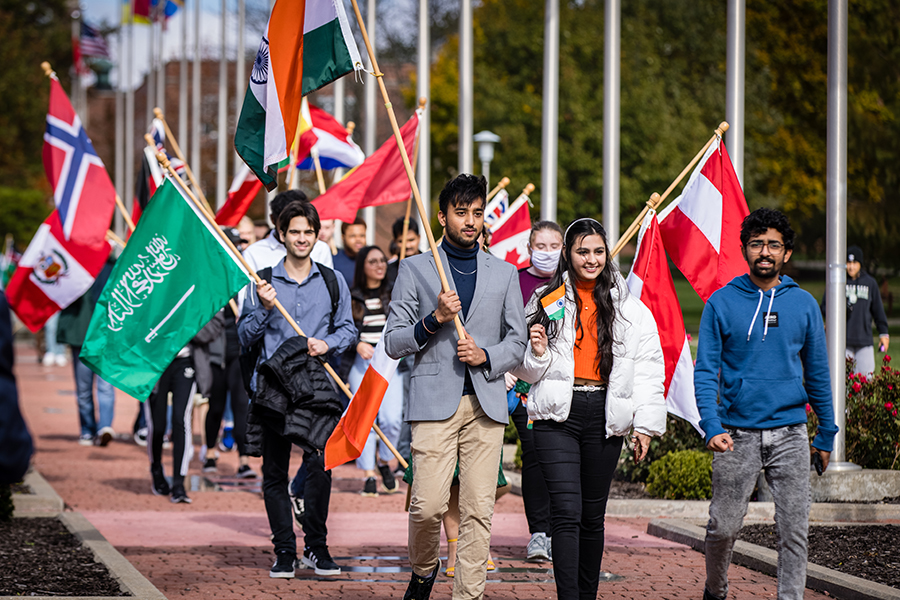 International students carry the flags of their home countries across campus each fall as part of the University's annual International Flag-Raising Ceremony. On Friday, the International Student Organization hosts its annual dinner. (Photo by Todd Weddle/Northwest Missouri State University)
Northwest Missouri State University's International Student Organization (ISO) will host its annual dinner Friday, April 1, giving community members an opportunity to taste foods from throughout the world while supporting children of Ukraine.
Tickets are $8 and may be purchased by clicking here. All proceeds from the ticket sales will be directed to Save the Children to support children and families impacted by the Russia-Ukraine war.
The dinner begins at 6 p.m. in the J.W. Jones Student Union Ballroom.
Dating back more than 30 years, the ISO dinner, which is sponsored this year by ISO and the Student Senate's Inclusion Committee, is an annual event that features culture and foods from throughout the world to benefit the student group.
The menu consists of main courses, sides and desserts, including chicken biryani, enchiladas, African Jollof rice, dumplings and apple strudel.
For more information, contact ISO Secretary Martina Pascuzzo at s537040@nwmissouri.edu.