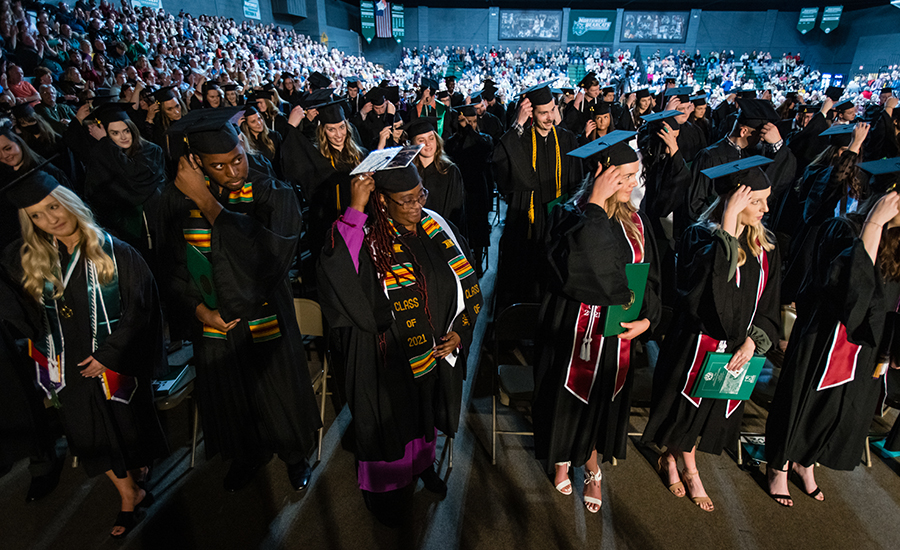 Northwest graduates turn their tassels to celebrate the conferral of their degrees during a December commencement ceremony. Northwest will celebrate its spring and summer graduates May 6-7. (Photos by Todd Weddle/Northwest Missouri State University)
March 22, 2022
Northwest Missouri State University will celebrate the achievements of its latest class of graduating students during spring commencement ceremonies May 6-7 in Bearcat Arena.
Northwest will host four ceremonies at 2 and 6 p.m. Friday, May 6, and 9 a.m. and 1 p.m. Saturday, May 7. The ceremonies will honor University students completing degrees during the spring semester as well as students completing degrees during the institution's summer session.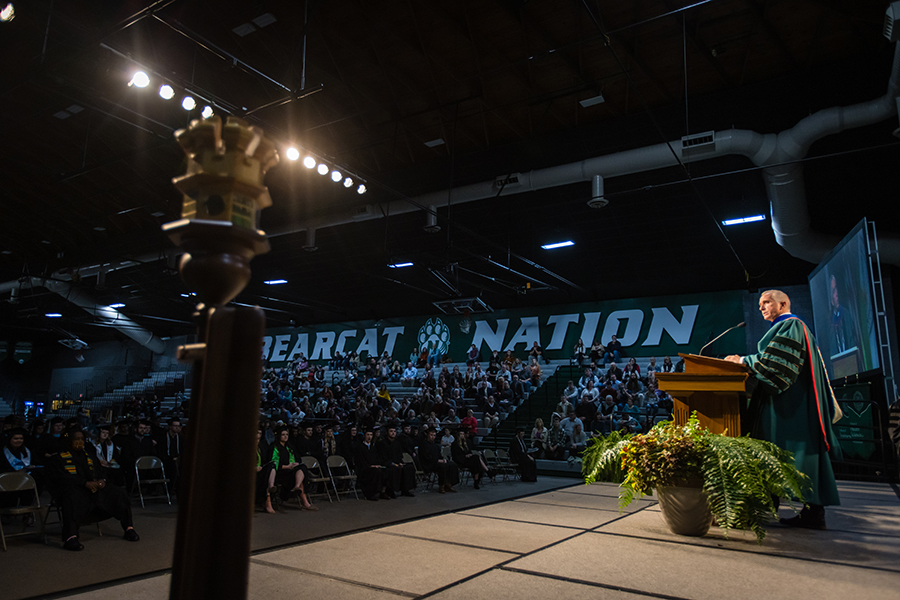 Northwest President Dr. John Jasinski addresses graduates and their families during a spring commencement ceremony.
"We are proud to host commencement ceremonies celebrating our graduates' accomplishments and the support of their loved ones," Northwest President Dr. John Jasinski said. "Our students have worked so hard throughout their academic careers, which includes persisting through a global pandemic. Commencement marks a culminating event but also a beginning as our graduates enter the next phase of their lives, and we look forward to honoring their perseverance and achievements."
Nearly 1,500 students are expected to complete degrees at the University this spring, with about 760 earning bachelor's degrees, more than 560 receiving master's degrees and at least 150 earning education specialist degrees. Elementary education is the most common bachelor's degree among the spring graduates, and education leadership in K-12 is the most common master's degree.
Graduates participating in spring commencement ceremonies may pick up caps and gowns between 9 a.m. and 4 p.m. Monday, May 2, through Wednesday, May 4, or between 9 a.m. and noon Thursday, May 5, on the first floor of the Administration Building. Caps and gowns also will be available at Northwest-Kansas City in Gladstone by emailing a request to commencement@nwmissouri.edu and one hour prior to each ceremony in the Student Rec Center at Lamkin Activity Center.
To accommodate guests who cannot attend, Northwest is offering a live online stream of each ceremony at www.nwmissouri.edu/live. Northwest encourages graduates, families and friends to interact with Northwest social media before, during and after the commencement ceremonies by using the hashtag #NWGrad.
For more details about commencement ceremonies at Northwest, visit www.nwmissouri.edu/graduation/.