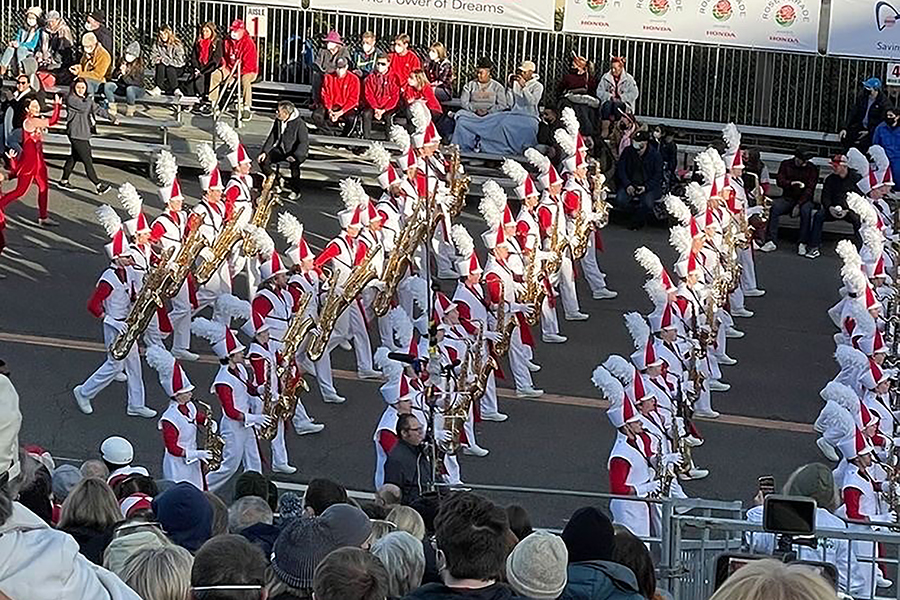 The Bands of America (BOA) Tournament of Roses Honor Band marched in the Rose Parade on New Year's Day in Los Angeles, and this year's ensemble included two Northwest students, Alex Done and Brooklyn Ellis. (Submitted photos)
Jan. 25, 2022
By Patrick Glenn, communication assistant
Two Northwest Missouri State University students celebrated their new year by sharing their passion for marching band and participating in a world-famous parade.
Freshmen music education majors Alex Done, of St. Peters, Missouri, and Brooklyn Ellis, of Bethany, Missouri, performed in the Tournament of Roses Parade on New Year's Day. The Bearcat Marching Band members represented Missouri alongside 300 performers from 38 other states in the Bands of America (BOA) Tournament of Roses Honor Band through Music for All.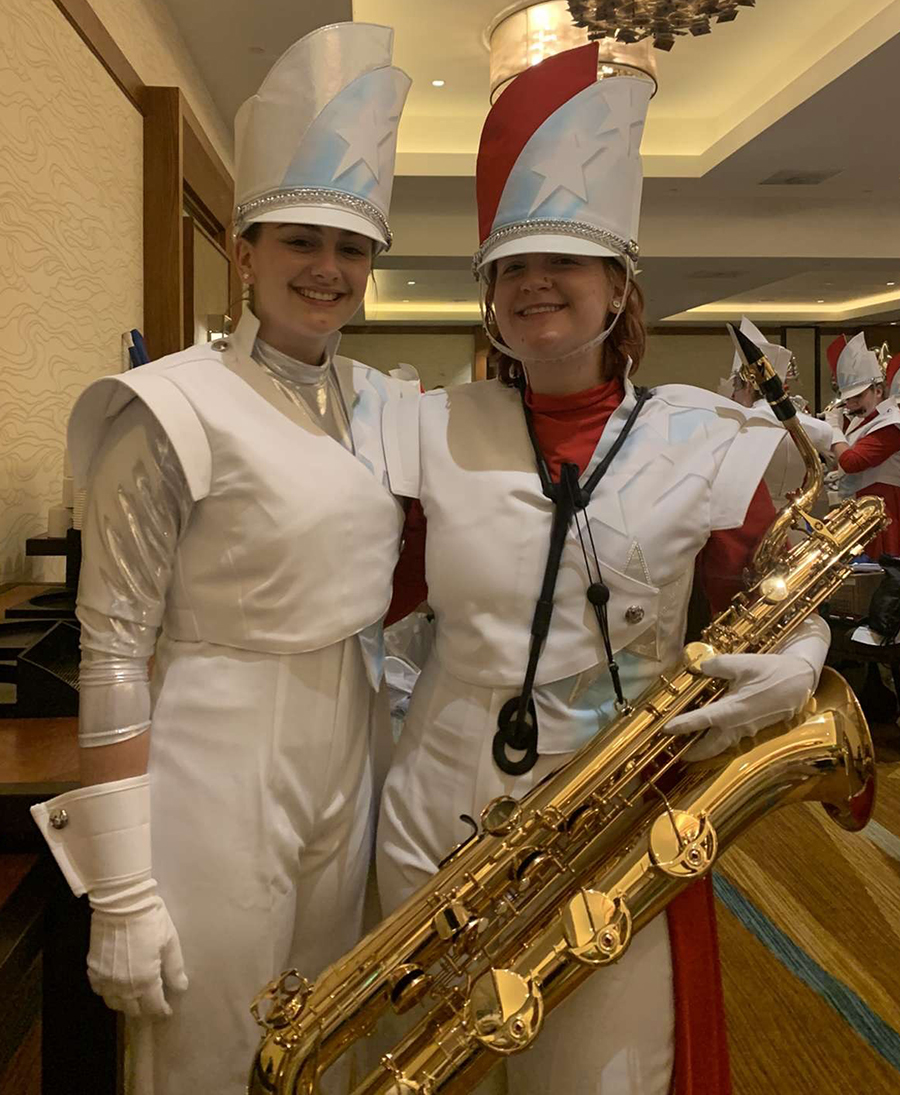 Bearcat Marching Band members Brooklyn Ellis (left) and Alex Done posed for this photo prior to a performance with the Bands of America (BOA) Tournament of Roses Honor Band.
Thousands of spectators gather every year to watch a variety of floats and marching bands pass down Colorado Boulevard in Los Angeles prior to the Rose Bowl football game.
"It was honestly one of the coolest experiences I've ever been in," Done said. "It was amazing. I have no words for how excited I truly was when it came to actually marching in the parade."
The musicians auditioned as high school students, but the COVID-19 pandemic delayed their opportunity to perform with the band. Done auditioned and was selected for baritone saxophone, while Ellis initially was selected on her primary instrument of alto saxophone and then as a drum major after a second audition.
Done and Ellis said the 300-member BOA ensemble seemed massive compared to their high school bands, although being members of the Bearcat Marching Band helped the musicians feel more comfortable and confident participating in the parade.
"Getting up in front of them was intimidating, but it was also super cool, not to mention they were some of the best musicians in the country," Ellis said. "The sound that they produced was very overwhelming and just really awesome."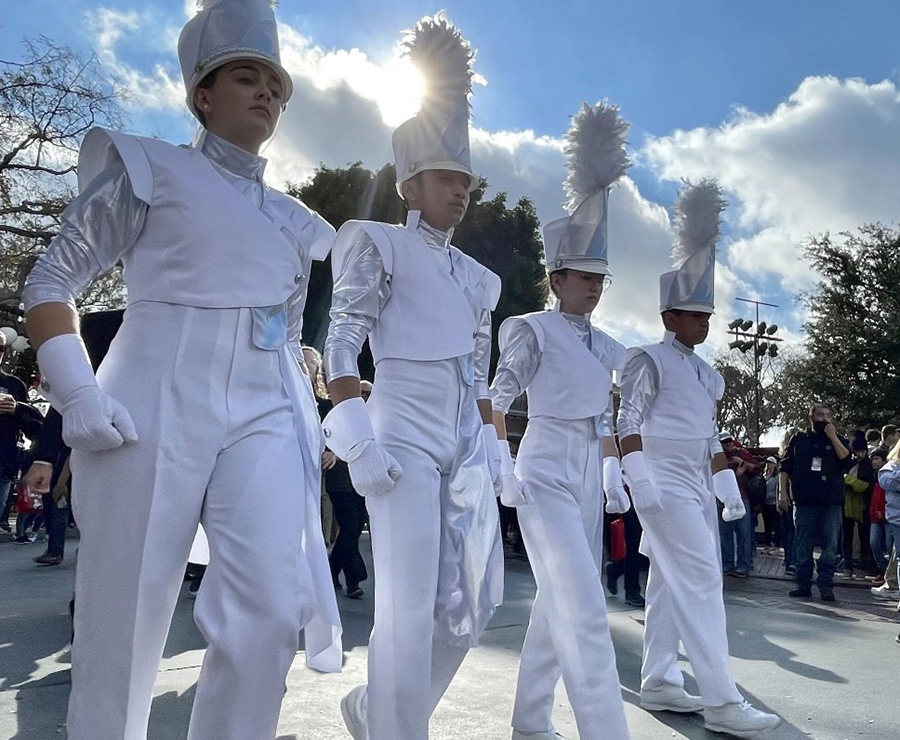 Brooklyn Ellis (left) participated with the Bands of America (BOA) Tournament of Roses Honor Band as a drum major.
As a drum major, Ellis said she especially enjoyed watching the band during rehearsals and took advantage of the opportunity to observe music leaders from throughout the country teach others.
"I think it hit me, the magnitude of what I was doing, when we rounded what they call TV corner," Ellis said. "It's where all of the cranes are with all the cameras, and we rounded that corner and there's all these grandstands, just chock-full of people and all these cameras everywhere. The band is playing behind me, and I'm conducting in front of them. That was when it hit me," she said.
In conjunction with their performance in the Tournament of Roses Parade, the band members spent eight days in California. They also performed at Disneyland, visited Santa Monica Pier and were treated to a private screening of "Spider-Man: No Way Home."
Dr. Katy Strickland, the director of the Bearcat Marching Band and chair of the Department of Fine and Performing Arts, said marching in the Rose Parade is a once-in-a-lifetime opportunity, and she was thrilled Done and Ellis could participate.
"In addition to the experience of the parade itself, to interact with some of the leaders in our field and see how they put together a high-quality musical and marching package in such a short timeframe is professional development at its finest — not just talking about 'the thing' but actually taking part in making it happen," Strickland said. "As future music teachers and leaders, I'm proud of them for putting themselves out there to audition for the group and doing the work to make it happen."
Through their selection to the BOA, Done and Ellis became friends at Northwest prior to sharing their Rose Parade experience together.
Music is central to both their lives, and both were attracted to Northwest for its music education program. Ellis met with faculty members during a visit to the campus and was entranced by their expertise. Done added that conversations with music faculty members Dr. Robert Pippin, Dr. William Richardson and Dr. Joseph Tomaso also influenced their decision to choose Northwest.
Continuing their love for music education and performing, Done wants to explore music composition as a career, and Ellis hopes to become a high school band director or college instructor.