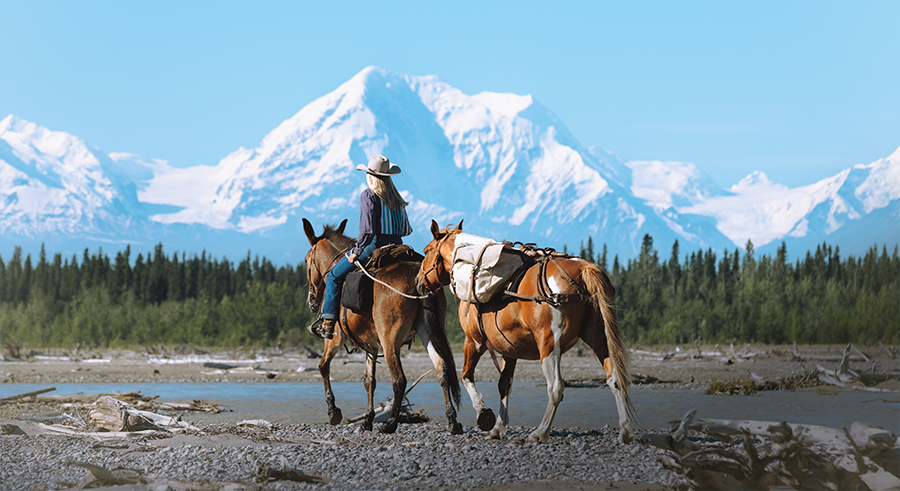 Monica Thornburg works as a ranch hand in Alaska while promoting agriculture and advocating for increasing food security within the state. (Photos by Emmie Sperandeo/Steady Rein Productions)
Jan. 10, 2022
Monica Thornburg '20 had completed her bachelor's degree in agricultural science at Northwest and was looking forward to launching her career in the field. But few businesses were hiring during the summer of 2020 as the world navigated the COVID-19 pandemic. Thornburg had a part-time job at a hardware store and was growing anxious with her search for full-time work.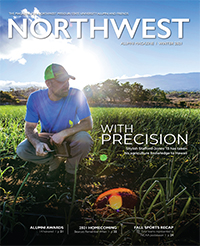 This story appears in the winter 2021 edition of the Northwest Alumni Magazine. To view the print version of the magazine in its entirety, click here.
Then, she spotted an opening for a ranch hand at an Alaskan cattle ranch. Intrigued, she applied without considering what such a move might mean for her. During a subsequent phone call with the hiring supervisor, Scott Mugrage, she learned about his involvement with agriculture in Alaska, both as an advocate and president of the Alaska Farm Bureau.
"He told me about how agriculture has so much potential to expand and develop," Thornburg said. "I was just intrigued by it, and when he called me and gave me the job, I was like, 'Oh shoot, I have to tell my parents I'm going to move to Alaska."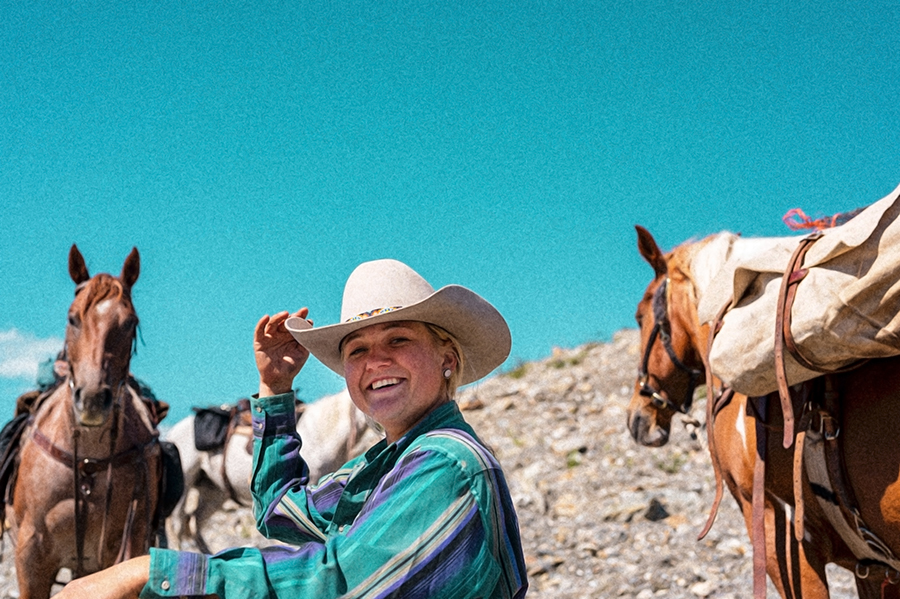 A native of Wellington, Missouri, about 35 minutes east of Kansas City, Thornburg grew up baling hay and driving cattle on her grandfather's century farm.
A year and a half later, Thornburg says she has no regrets about her decision and is having the time of life as she works the ranch, promotes Alaskan agriculture and advocates for increasing food security within the state.
"This has been the most challenging and beneficial time in my life," she said. "I've grown up so much. I've learned so much about agriculture and the inner workings of it."
A native of Wellington, Missouri, about 35 minutes east of Kansas City, Thornburg grew up baling hay and driving cattle on her grandfather's century farm. 
"I just saw my grandpa's passion for agriculture and it just fueled me," she said. "I love being outside. I love living off the land, and I chose it as a career because I love it. I may not be fit for production agriculture, but I have a voice and I love being able to advocate for it and just tell people the ins and outs of agriculture."
Thornburg says she decided to pursue her college degree at Northwest because of the University's outstanding agriculture program, and she stayed for its affordable tuition and quality faculty who care about seeing students succeed.
"That's something that I think a lot of Northwest students take for granted," she said. "Being able to see your professor in the hallway, and they recognize you and actually care for you – that's awesome."
Thornburg also was active with the Sigma Alpha ag sorority and found value in the profession-based experiences Northwest's School of Agricultural Sciences offers.
"It's one thing to watch my uncle and my grandpa do it, but to actually do it myself and understand why – the why is a big thing," Thornburg said, adding that her Northwest education gives her credibility to inject knowledge into her discussions with ag professionals in Alaska.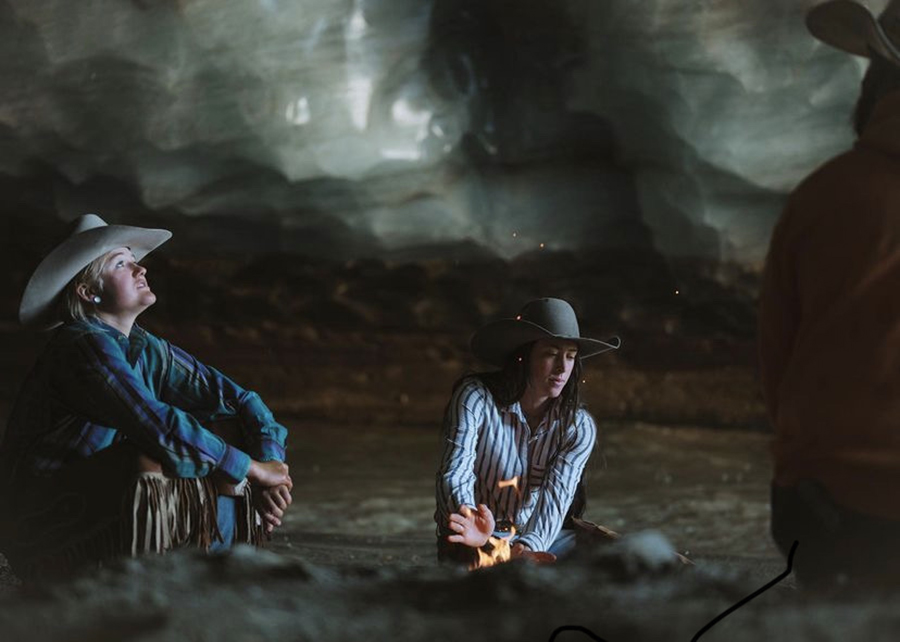 Thornburg has experienced camping under starry night skies and bitter cold days while driving cattle across Alaska.
When she arrived in Delta Junction, Alaska, in August 2020, Thornburg eagerly learned what it takes to operate Mugrage Hay and Cattle. She happily assists with morning chores and other projects on the ranch. She has experienced camping under starry Alaskan night skies and bitter cold days when temperatures dropped to -35 degrees Fahrenheit – causing a bout of frostbite on her feet and equipment breakdowns.
Her work also includes developing the ranch's marketing strategy and social media presence in conjunction with planning and promoting The Great Alaskan Cattle Drive, an agritourism event designed to advocate for sustainable agriculture in Alaska. Thornburg, working as its chief operations officer along with Mugrage's team, spent the last year planning the inaugural event, which invites adventurous souls to join them next summer as they drive cattle through the Alaskan wilderness.
Participants will be actively involved in tending a cattle herd and everything between – from saddling horses to collecting firewood for campfires.
"A lot of people don't realize there's more to Alaska than polar bears and ice," Thornburg said. "We have a large cattle operation, and we have proven time and time again that you can produce animals here. It's a little bit harder, but there's a lot of farmers willing to teach you how to make things work in Alaska."
And Thornburg isn't stopping at Alaska's border. In November, she participated in the Women's Communications Boot Camp, sponsored by the American Farm Bureau Federation, in Washington, D.C. She also has begun a dialogue about agriculture needs with Alaska Gov. Mike Dunleavy.
As she drives cattle takes across Alaska, Thornburg can't help but notice the viable, affordable farmland that is going untouched and the potential to expand agriculture in Alaska.
"We have the ability to adapt to new technologies that maybe the lower 48 farmers wouldn't necessarily be willing to adapt," Thornburg said. "I really like just how much agriculture potential is up here, and they're making it work. It's not perfect, but it's very cool to see."