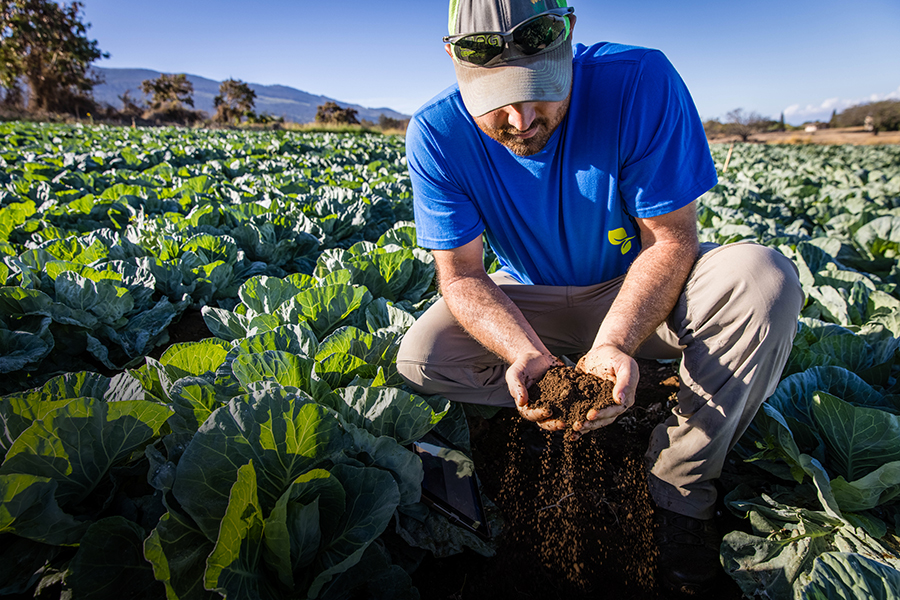 Shyloh-Jones is using agriculture techniques he learned in the Midwest to teach a different way of farming in Hawaii.
Jan. 11, 2022
Story by Mark Hornickel, photography by Todd Weddle
It's 6:20 a.m. on a Thursday in October and Shyloh Stafford-Jones '13 is driving his ATV on a rugged dirt road over rocky terrain en route to a field for a morning of crop scouting.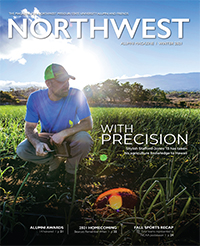 This story appears in the winter 2021 edition of the Northwest Alumni Magazine. To view the print version of the magazine in its entirety, click here.
There's a Midwestern feel to it, but the clumps of prickly pear cactus along the roadside, the mountains on either side of him, the songs of Hawaiian geese echoing across the acreage and the calming blue ocean in the distance tell a very different story.
Stafford-Jones is some 3,800 miles from northwest Missouri and the tobacco farm where he grew up. He's out – way out – on his own, but his profound passion for agriculture and the skills he learned at Northwest are motivating him to help jumpstart crop production on the island of Maui.
"It's kind of funny now because my dad would always tell me, 'You need to go to college so you can get a real job when you get older and not farm," Stafford-Jones says while he drives, wearing dirt-stained jeans and a T-shirt emblazoned with SJ Ag Operations. "I basically have been in the ag industry my entire life. I have a farm now on Maui – of all places in the world to have a farm."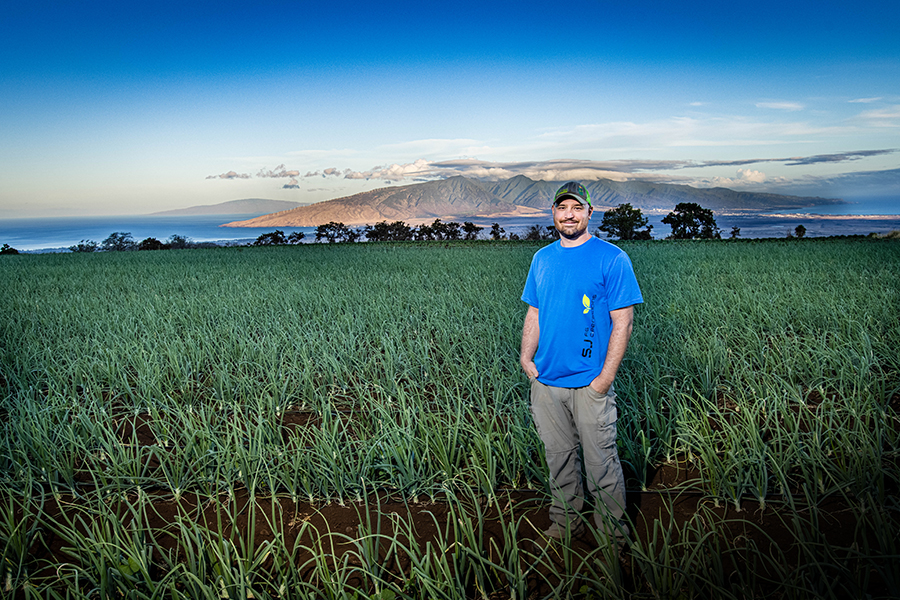 Shyloh Stafford-Jones stands in an onion field on Maui where he was scouting crops for a client. Through his business, SJ Ag Operations, Stafford-Jones consults with and assists farmers throughout the island.
STARTING WITH TOBACCO
As a child, Stafford-Jones spent many days helping his father with the grueling hand labor needed to operate their 200-acre tobacco farm in northwest Missouri. Until high school, growing tobacco was all he knew about farming.
He arrived at Northwest as an agriculture education major, thinking he might follow in the footsteps of his high school FFA advisor. He soon realized he wasn't cut out for teaching, however, and changed his major multiple times, finally finding a fit with agronomy and the University's newly created precision agriculture minor.
During his first year at Northwest, Stafford-Jones stood at the R.T. Wright Farm with classmates who grew up raising corn, soybeans and cattle at larger farming operations throughout the four-state area. He had no experience with the large equipment and technology his instructors were teaching. More than a few times he doubted he could be successful in the ag industry.
"I'm from a 200-acre tobacco farm, and I'm like, 'Oh, this is a lot different,' because most farms are 1,000 acres-plus with larger, more complex equipment," he remembers. "I learned a lot pretty fast from a lot of my friends and fellow students in class."
During his second year at Northwest, Stafford-Jones became an agriculture ambassador with the School of Agricultural Sciences, which helped him grow out of his soft-spoken and reserved personality to advocate for Northwest and the agriculture industry.
But Stafford-Jones says no experience changed the trajectory of his career more than when he joined a faculty-led trip to Alaska. With his growing interest in agronomy, he was fascinated by the untapped potential in another area of the world and suddenly realized he could take his budding knowledge far beyond the Midwest. 
"Every story I tell of why and how I ended up out here, I go back to the ag travel trip to Alaska," he says. "That's the main motivation of why I wanted to leave the Midwest."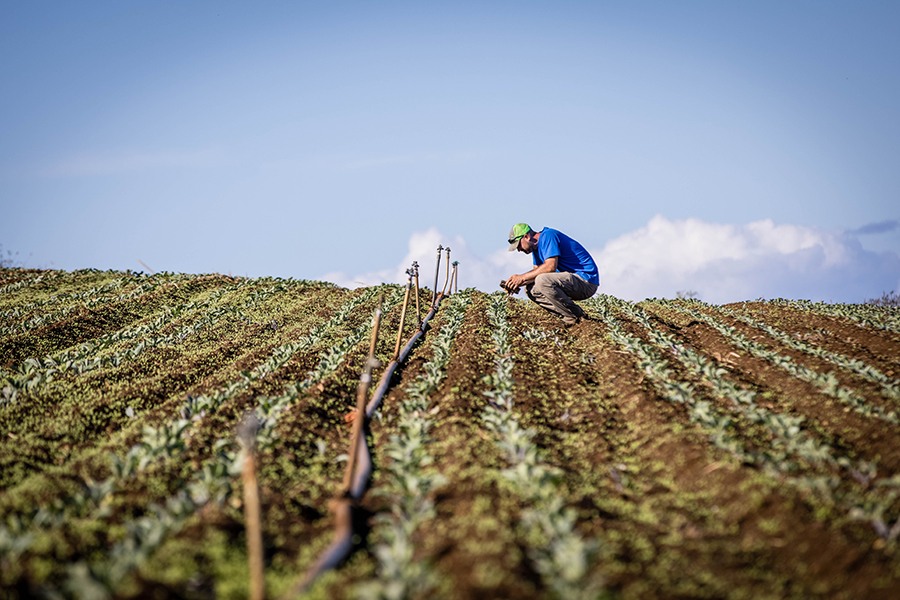 Stafford-Jones inspects crops at a large Maui farm that grows cabbage, sweet onions and peppers.
SOWING THE SEEDS OF HIS CAREER
Stafford-Jones continued honing his skills during the first two years of his professional career. He worked a stint as a precision ag specialist in Mt. Ayr, Iowa, and then moved to seed sales outside of Lincoln, Nebraska, where he ran a warehouse and was responsible for the shipment and handling of about 60,000 bags of corn and 30,000 units of soybeans during the course of the year.
"I kind of added everything in," he said. "I came from the tobacco farm and I learned about big ag at Northwest – agronomy, the science of everything. Then, I learned some technical skills in Iowa with scouting, mapping and running equipment. And then in Nebraska, I learned a lot about the logistics and warehousing and inventory management."
In early 2015, Stafford-Jones, who never stopped itching to move away from the Midwest, spotted an opening for a weed control specialist at a sugarcane plantation, Hawaiian Commercial and Sugar Co. (HC&S), on Maui. The company was attracted to Stafford-Jones' diversified experience in the agriculture industry and hired him.
A TEST RUN ON MAUI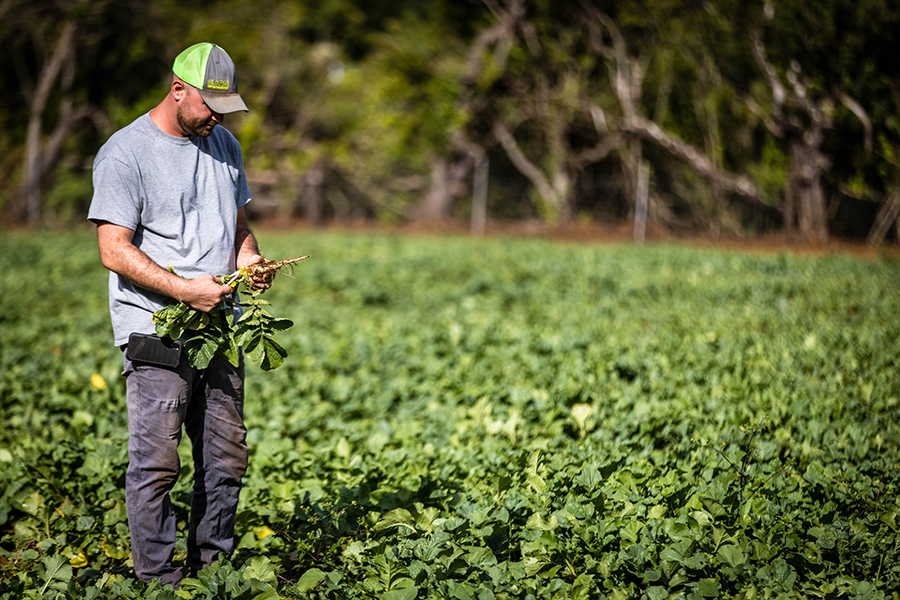 Stafford-Jones evaluates tillage radish he planted to break up the soil compaction on a former pineapple farm, which the property owner was converting to pasture. Hawaii's naturally acidic soil is even less habitable in areas once covered by pineapple, but Stafford-Jones' methods had the ground almost completely covered with new grass in November.
Stafford-Jones arrived on Maui in the spring of 2015 when the aroma of burned sugar still enveloped the island and HC&S's massive mill complex - with its 36,000-acre plantation - was a town of its own. The sugarcane industry had thrived on Maui since 1848, and HC&S was the kind of employer found in so many industrial communities where generations of family members had worked and everyone on the island seemed to know someone there.
Since the 1970s, though, agriculture in Hawaii has taken a backseat to tourism as the state's economic driver, and Stafford-Jones quickly realized HC&S hadn't hired him just to handle weed control. The company put him in charge of starting corn and sorghum crops it hoped to use in the production of bioenergy while it transitioned out of the sugarcane business.
Stafford-Jones had enormous success and was pushing up to 40 tons an acre of sorghum, up to 30 tons an acre of corn silage and 200 bushels of grain per acre at the peak of the project. On Maui, where the summertime daylight lasts just 13 hours, the silage and grain proved valuable to ranchers as feed for livestock, and Stafford-Jones estimates the project likely saved a few operations that couldn't afford to purchase feed.  
But in 2016, HC&S announced the inevitable – that it was ceasing sugarcane production and the mill would close by the end of that year.
Stafford-Jones stayed with the new company for a couple more years as it turned over the plantation for test crops and other uses. By 2019, after years of observing gaps in the ways farmers managed their crops and believing his skills could aid in more efficient production, Stafford-Jones went into business on his own and launched SJ Ag Operations.
ASSISTING MAUI FARMERS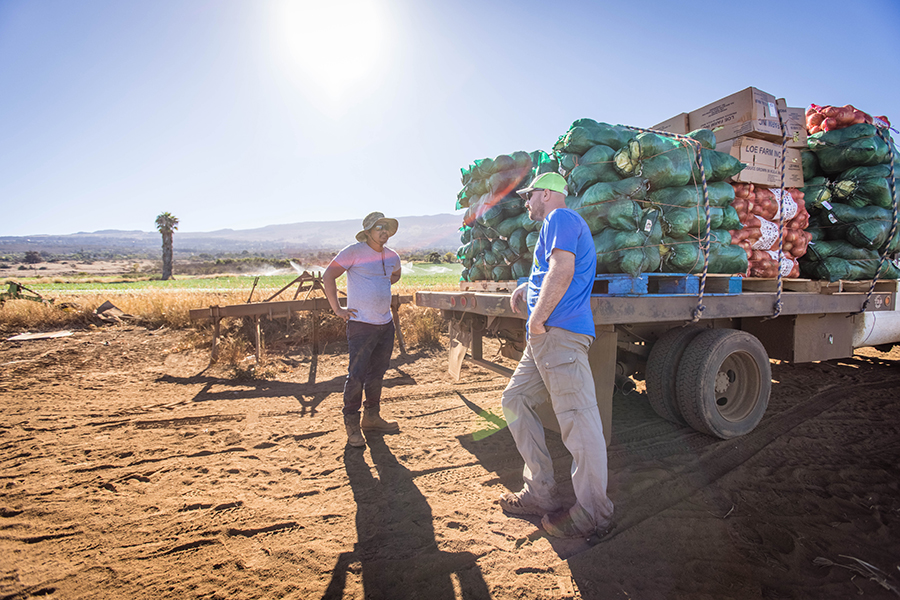 Stafford-Jones converses with a Maui farmer who had just finished loading his truck to fill an order for cabbage.
At a time when farmers in the Midwest are traditionally harvesting their crops, Stafford-Jones was in the thick of another Maui growing season in early October – a continuous cycle where a year's worth of Midwestern farming happens in weeks.
Yet, Maui also presents a harsh environment for farming that includes
abundant sun accompanying dry, windy conditions with only spurts of significant rainfall. The varied microclimates mean growing conditions on one side of the island are far different on another.
"It's not like the mainland where in fall we're going to harvest and soil sample everything," Stafford-Jones said. "You've got to soil sample a little here on this farm and a little there on that farm. It's jumping around because everything's growing year-round all the time. There's no winter, so insects are always an issue and a battle year-round."
Stafford-Jones founded SJ Ag Operations on his desire to educate farmers while offering soil sampling and custom application to clients ranging from large farming operations to small orchard owners and backyard gardeners. He also earned status as a certified crop advisor, making him the only agronomist on the island with that credential.
As he drives his pickup across Maui, Stafford-Jones sees an agriculture industry that stopped innovating while tourism brushed it aside. "There's a lot of opportunity out here for improvement on operations and production," he says. "Everything's old and outdated, which is something that I'm trying to change."
Where the antiquated and rundown farming equipment is common on Maui, Stafford-Jones uses his precision ag expertise to recommend exact amounts of fertilizer, helping farmers grow their crops in a way that is safer for the environment, more efficient and, thus, more profitable.  
"The main goal obviously is to keep the farmers in business, which is lowering their (fertilizer, chemical, water and labor) inputs, but a secondary goal is it's more environmentally friendly," Stafford-Jones said. "Where we're soil sampling, we're applying only what the crop's going to use. None of the excess fertilizer is running off. It's getting used up."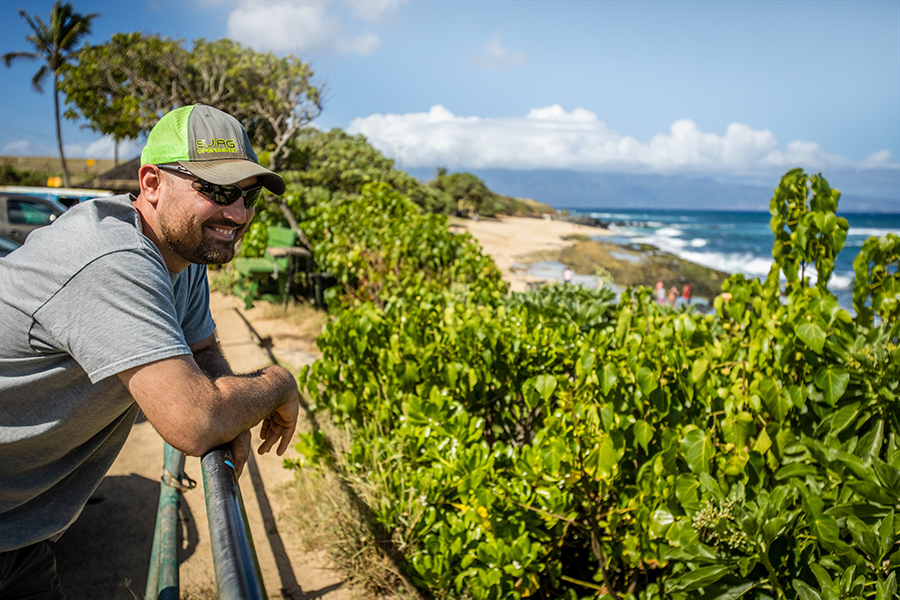 A view of the ocean is never far when Stafford-Jones needs a break from visiting with customers throughout Maui.
OVERCOMING THE PANDEMIC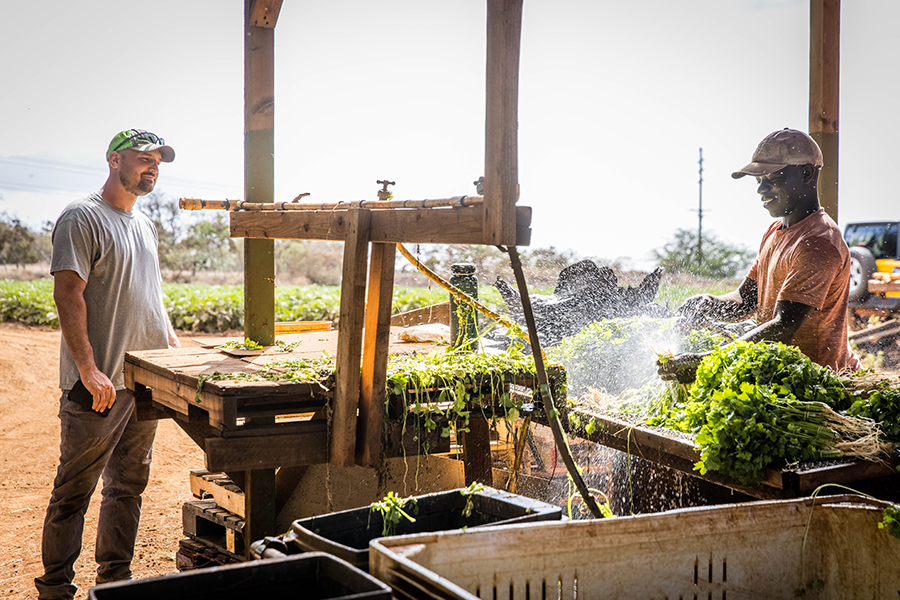 Stafford-Jones converses with a worker washing vegetables at the Kula Agriculture Park, where Maui farmers lease lots and grow a variety of vegetables and ornamentals, including zucchini, onions, eggplant, cilantro, broccoli, bananas and papayas.
While the COVID-19 pandemic put a dent in Hawaii's tourism industry, it has benefited SJ Ag Operations. Stafford-Jones was living in a small apartment near a beach, running his business out of a driveway and a tote in his pickup truck. Then tourism stalled, restaurants closed, grocers were running short on food, and farmers began tapping Stafford-Jones for consultation.
Last January, to help him expand his business, he moved further inland to an abandoned three-acre farm that he leases with the hope of turning its grounds into a lab for demonstration crops.
Stafford-Jones' also began partnering with the University of Hawaii, where he's working on a series of test plots, as well as with Maui County and its farm bureau to conduct soil sampling.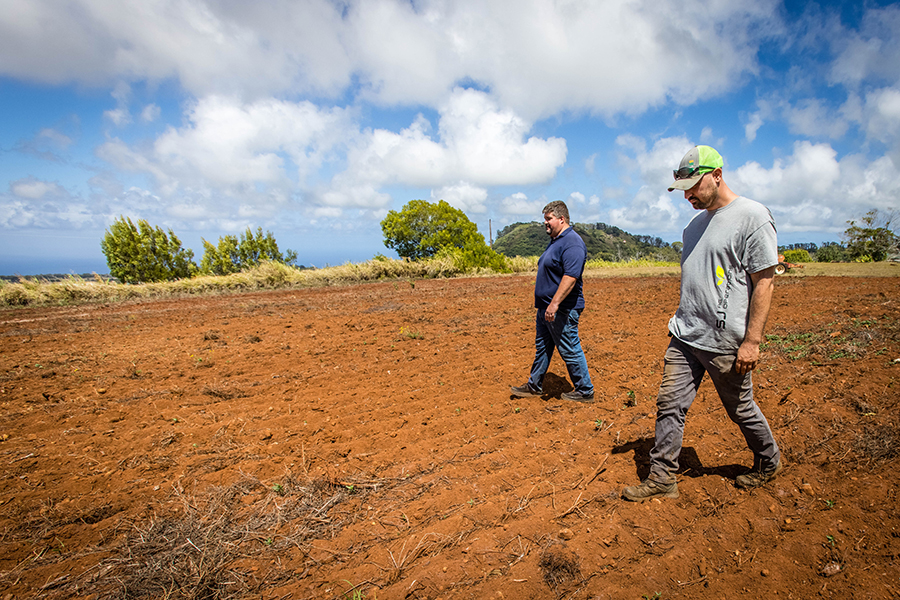 Stafford-Jones and Dr. Kyle Caires, a University of Hawaii faculty member, assess a pasture at the Haleakala Research Station, where Maui's red volcanic dirt offers another challenge in soil sampling for Stafford-Jones.
"Hawaii was involved in big ag, but it was mainly sugar and pineapple, and the level of agronomy required for those crops – not taking away from those people – is kind of akin to what you need to operate a D8 dozer – not a whole lot precision," said Dr. Kyle Caires, a University of Hawaii faculty member and extension agent who works closely with Stafford-Jones. "Agronomy is a very weak area within the state of Hawaii and, between the gaps of the land grant institution and industry, Shyloh's really the only one providing agronomic support."
At the Haleakala Research Station, which once was a home to prolific alfalfa production and macadamia nut trees, Caires and Stafford-Jones have eliminated invasive plant species in favor of converting a field to productive pasture. 
"He's the precision-ag guy that's also the tractor-mechanic guy that's also the farm-equipment-operator guy, the implement-fixer guy, the soil-sampling guy, the soil-sampling-interpretation-of-results guy," Caires said. "Google still knows a little bit more than Shyloh, but the gap is closing."
As the world tries to put the COVID-19 pandemic behind it, Maui farmers are attempting to grow quality crops that are in demand among high-end restaurants as tourism returns. Stafford-Jones is helping farmers design plans for nutrient management, crop rotation and other practices that are fundamental to crop management in the Midwest.
"Being able to adapt and willing to learn has helped me a lot," he said. "A lot of people that come out here from the mainland, it's either their way or no way, and they all end up failing and moving back. So having an open mind helps a lot. It takes a little longer, but it's more effective."