Dec. 14, 2021
Northwest Missouri State University this month is recognizing 90 employees who have attained milestone years of service at the University.
The cumulative years of service for the recognized employees is 1,165 years. Those employees recognized and their years of service are listed below.
5 years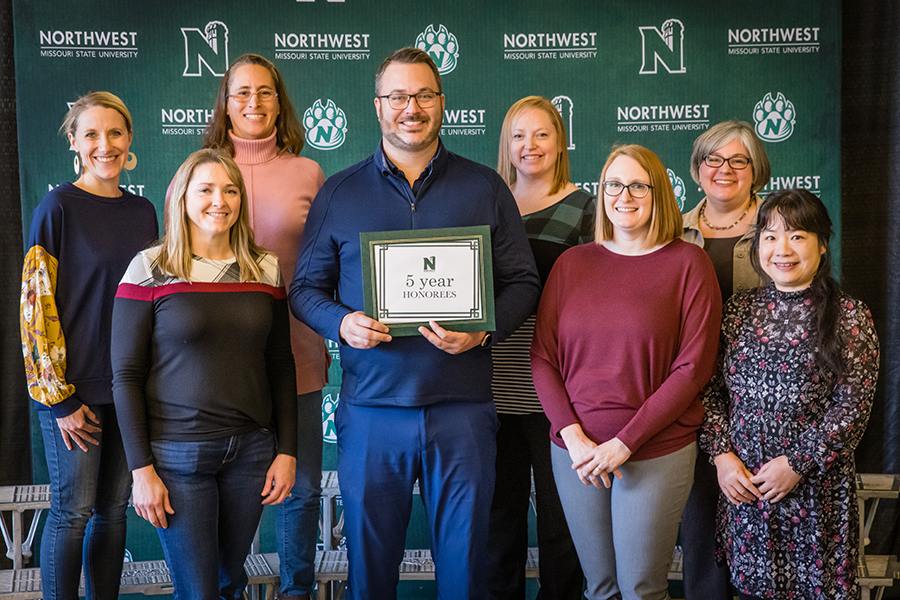 Pictured in the front row, left to right, are Cari Cline, Mark Hendrix, Amanda Dempsey and Dr. Cindy Tu. Pictured in the back row, left to right, are Lisa Finney, Dr. Arceli Hernandez Gonzalez, Selena Foreman and Niki Richardson.
Dr. Jamie Hooyman
Lindsay Stapley and Janie Thacker
Erica Buck, early childhood teacher, Phyllis and Richard Leet Center for Children and Families
Dr. Luke Campbell, assistant professor of political science, Department of Humanities and Social Sciences
Jiwon Choi, staff accompanist, Department of Fine and Performing Arts
Cari Cline, instructor of computer science and information systems, School of Computer Science and Information Systems
Amanda Dempsey, senior admissions specialist, Office of Admissions
Dr. Abdelaziz Fellah, associate professor of computer science and information systems, School of Computer Science and Information Systems
Lisa Finney, primary care provider, Wellness Services
Selena Foreman, office manager, Auxiliary Services
Dr. Tolina Fufa, assistant professor of economics, Melvin D. and Valorie G. Booth School of Business
Courtney Gard, library circulation specialist, B.D. Owens Library
Dr. Jessica Gracey, assistant professor of political science, Department of Humanities and Social Sciences
Mark Hendrix, university scheduling coordinator, Auxiliary Services
Dr. Arceli Hernandez Gonzalez, assistant professor of management, Melvin D. and Valorie G. Booth School of Business
Dr. Jamie Hooyman, provost, Office of the Provost
Dr. Damon Leiss, assistant professor of health and physical education, School of Health Science and Wellness
Dr. Jodie Leiss, assistant professor of health and physical education, School of Health Science and Wellness
Shannon Long, electrician, Facility Services
Dr. Michael Miller, assistant professor of agricultural sciences, School of Agricultural Sciences
Wesley Parker, plant operator, Facility Services
Dr. Jerry Qin, associate professor of computer science and information systems, School of Computer Science and Information Systems
Tasha Quimby, accounting manager, Office of the Controller
Brooke Richards, international involvement specialist, Office of International Affairs
Niki Richardson, financial literacy coordinator, Student Support Services
Jerry Sharr, plumber, Facility Services
Sarah Sipling, assistant professor of art, Department of Fine and Performing Arts
Dr. Linda Smith, associate professor of professional education, School of Education
Lindsay Stapley, assistant director, Student Account Services
Kamala Tabor, instructor of political science, Department of Humanities and Social Sciences
Janie Thacker, accounts receivable supervisor, Student Account Services
Dr. Cindy Tu, associate professor of computer science and information systems, School of Computer Science and Information Systems
Kendra Watson, project assistant, Regional Professional Development Center (RPDC)
Ashley Weybrew, custodian, Facility Services
Rachel Wistrom, coordinator of counseling, Upward Bound
10 years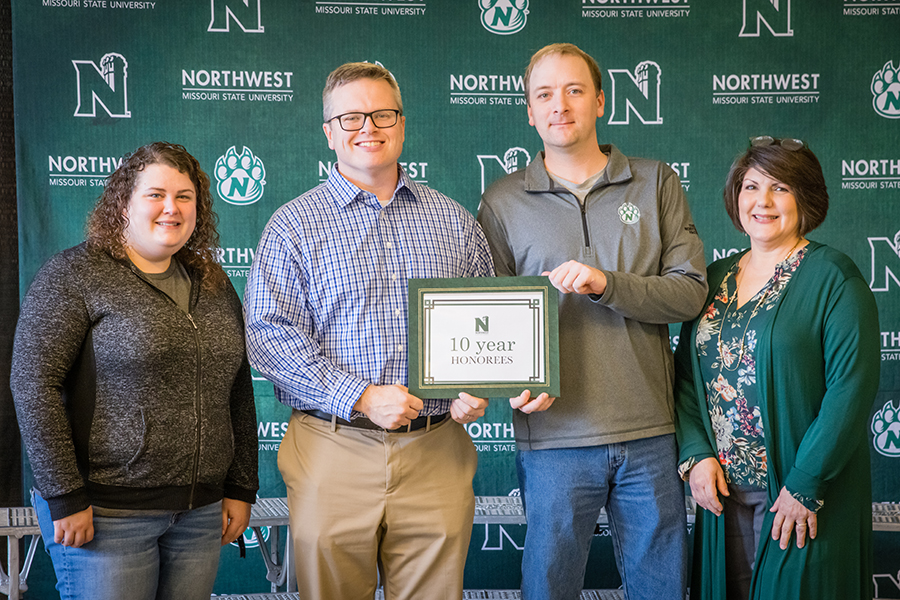 Kelsey Bowlin, Mike McBride, Matthew Schieber, and Carma Kinman
Jill Baker, senior instructor of professional education, School of Education
Meghaan Binkley-Hopper, operations support specialist, Northwest-Kansas City
Chad Bostwick, co-defensive coordinator and linebackers coach, Department of Athletics
Kelsey Bowlin, instructor of biology, Department of Natural Sciences
Dr. Kimberly Casey, associate professor of political science, Department of Humanities and Social Sciences
Mary Collins, assistant vice president of finance, Office of the Controller
Dr. Shantel Farnan, associate professor of professional education, School of Education
Dr. Elyssa Ford, associate professor of history, Department of Humanities and Social Sciences
Dr. Dan Gordon, associate professor of professional education, School of Education
Carma Kinman, alumni and constituent relations specialist, Office of Alumni Relations
Dr. Mike McBride, associate director of accreditation and assessment, Office of Institutional Research and Effectiveness
Andy Peterson, director of athletics, Department of Athletics
Matthew Schieber, senior instructor of computer science and information systems, School of Computer Science and Information Systems
Roger Stone, custodian, Facility Services
Brian Swafford, senior instructor of communication, School of Communication and Mass Media
Karen Wigger, project assistant, Regional Professional Development Center (RPDC)
Amy Woerth, head volleyball coach, Department of Athletics
15 years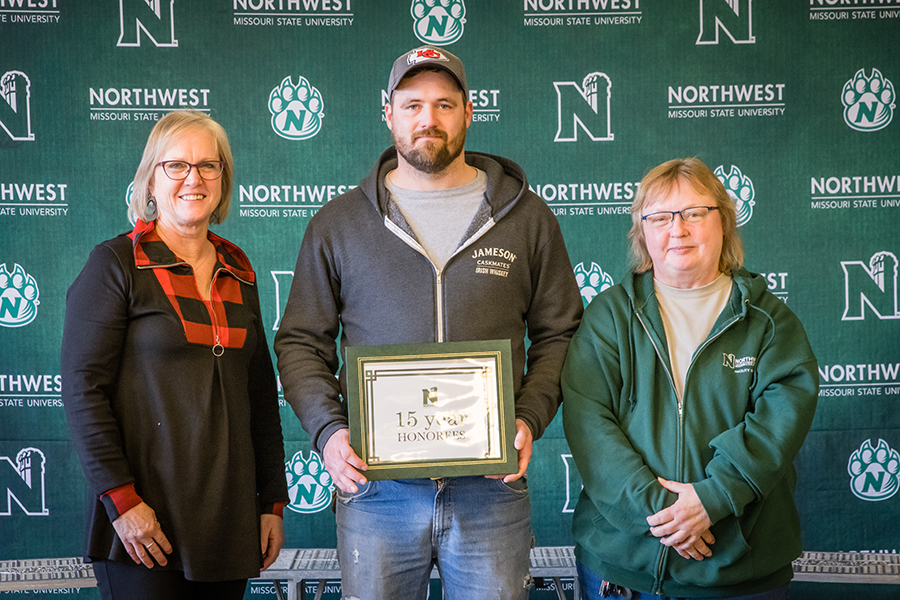 Debra Korell, Rex Welch and Sherry Gutzmer
Dr. Himadri Chakraborty, professor of physics, Department of Natural Sciences
Dr. Alice Foose, associate professor of recreation, School of Health Science and Wellness
Dr. Alisha Francis, professor of psychology, School of Health Science and Wellness
Sherry Gutzmer, custodian, Facility Services
Andrew Hefner, custodian, Facility Services
Jane Jackson, project assistant, Regional Professional Development Center (RPDC)
Debra Korell, project assistant, Regional Professional Development Center (RPDC)
Colleen Lainhart, office manager, Northwest-Kansas City
Justin Long, custodian, Facility Services
Mike Miller, assistant director, Office of Residential Life
Deb Redmond, custodial supervisor, Facility Services
Dr. Jenny Rytting, associate professor of English, Department of Language, Literature and Writing
Sonny Scadden, project manager, facility services
Crystal Ward, manager of web services, University Marketing and Communication
Amy Washam, director, Northwest-Kansas City
Rex Welch, HVAC technician, Facility Services
20 years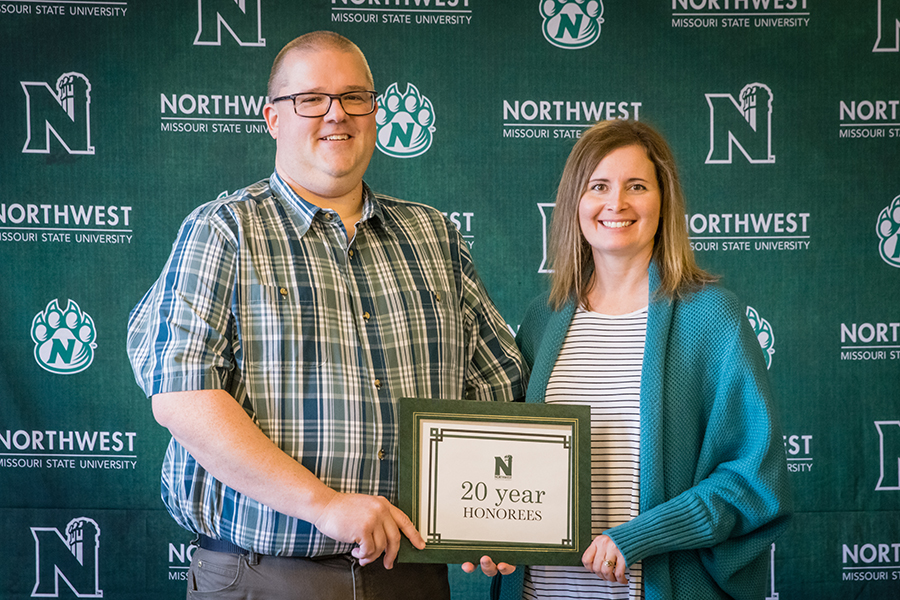 Tim Carlyle and Diana Linville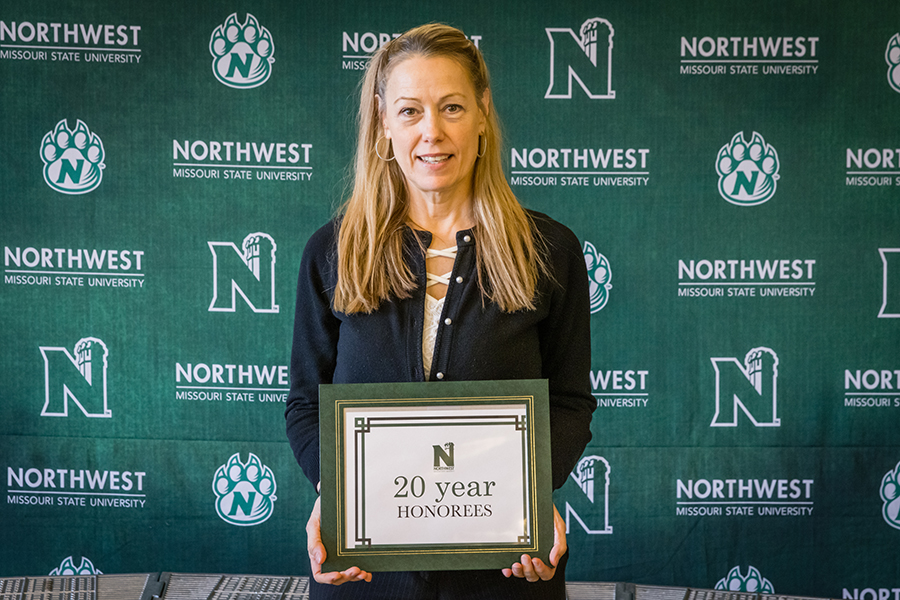 Jacquelyn Loghry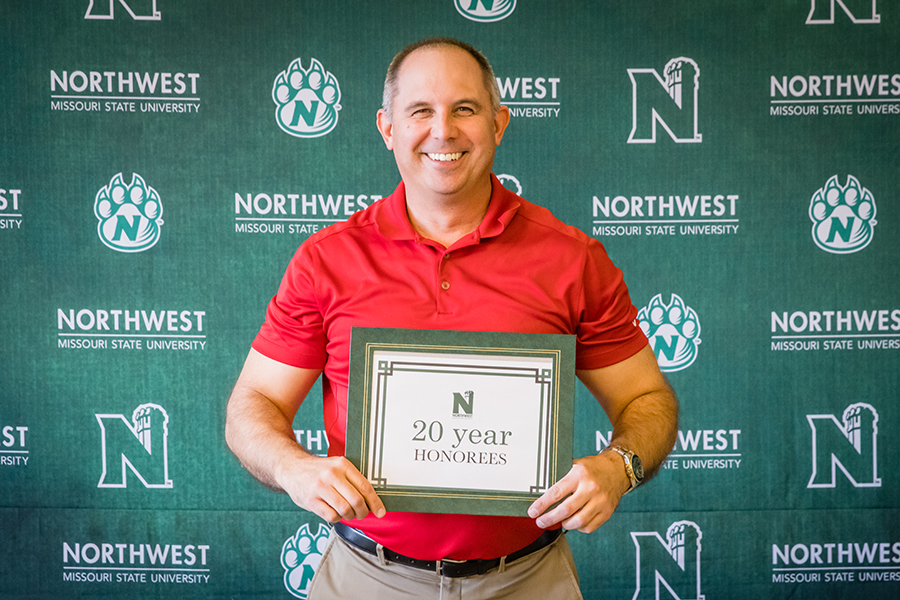 Matt Walker
Tim Carlyle, director of infrastructure services, Office of Information Technology
Brenda Jones, senior instructor of marketing, Melvin D. and Valorie G. Booth School of Business
Dr. Joe Kreizinger, professor of theatre and associate chair, Department of Fine and Performing Arts
Jacqueline Lamer, senior instructor of mass media, School of Communication and Mass Media
Diana Linville, senior instructor of computer science and information systems, School of Computer Science and Information Systems
Jacquelyn Loghry, assistant director and academic success coach, Student Support Services
Dr. Stephen Ludwig, associate professor of accounting, Melvin D. and Valorie G. Booth School of Business
Lori Mardis, research librarian for instructional design and assistant professor, B.D. Owens Library
David McClintock, electrician, Facility Services
Paula McLain, senior human resources generalist, Office of Human Resources
Matt Walker, director, School of Communication and Mass Media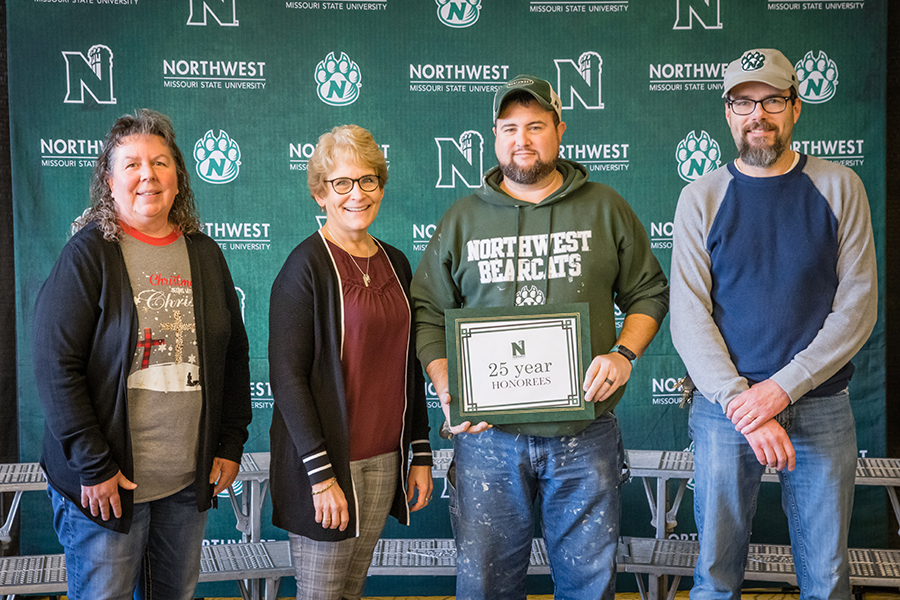 Angie Wolters, Judy Frueh, Jared Groomer and Dale Grasty
25 years
Judy Frueh, assistant director and women's health nurse practitioner, Wellness Services 
Dale Grasty, technology specialist, Office of Information Technology
Dr. Clarence Green, vice president of culture and policy chief, University Police Department
Jared Groomer, carpenter, Facility Services
Dr. Greg Haddock, associate provost of graduate and professional studies, Graduate Office
Lisa Raasch, custodian, Facility Services
Dr. Matt Symonds, professor of health and physical education, School of Health Science and Wellness
Dr. James Walker, professor of marketing, Melvin D. and Valorie G. Booth School of Business
Angie Wolters, senior buyer, Purchasing 
35 years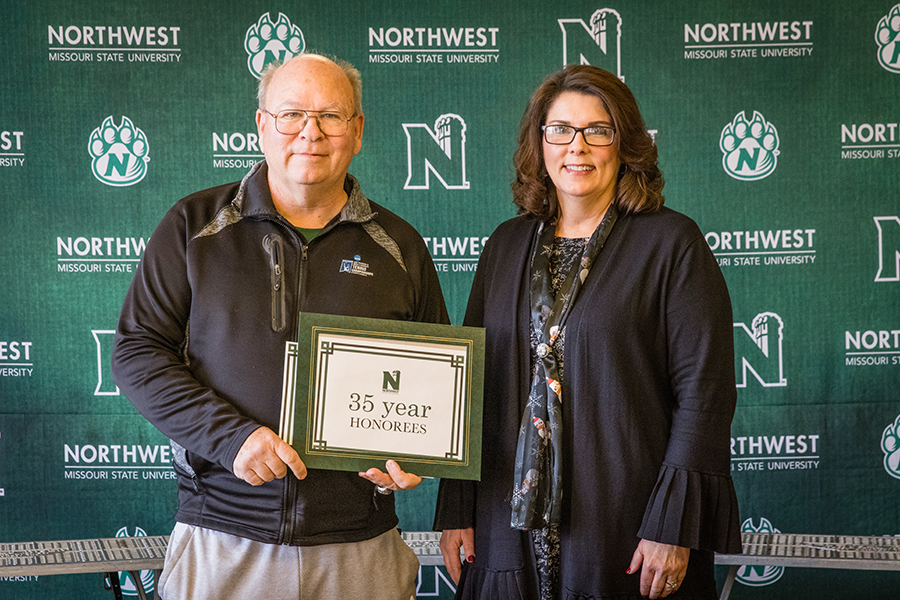 Mark Rosewell and Cindy Wood
Mark Rosewell, head tennis coach, Department of Athletics
Dr. Stephen Town, professor of music, Department of Fine and Performing Arts
Cindy Wood, purchasing manager, Purchasing
40 years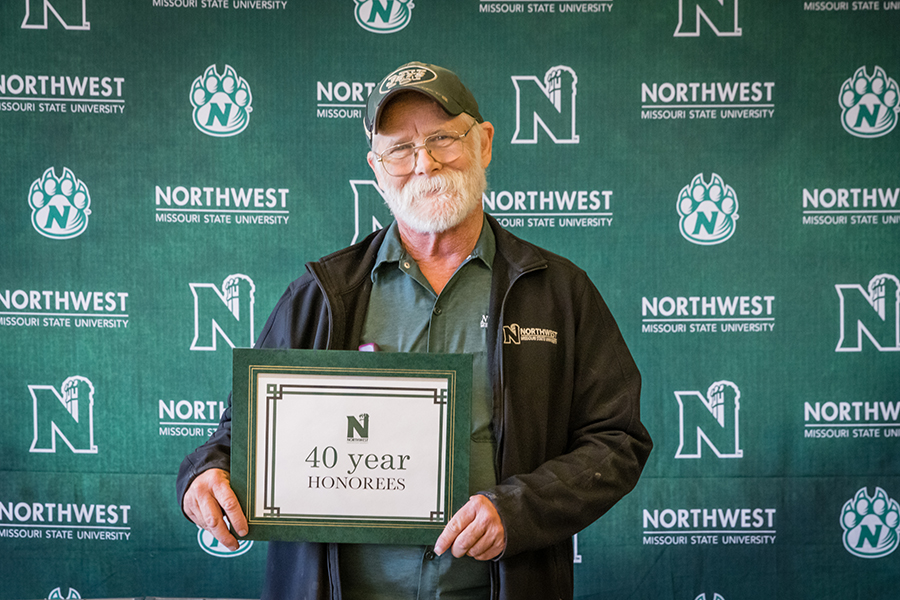 Ronnie Adamson
Ronnie Adamson, supply clerk/material handler, Purchasing