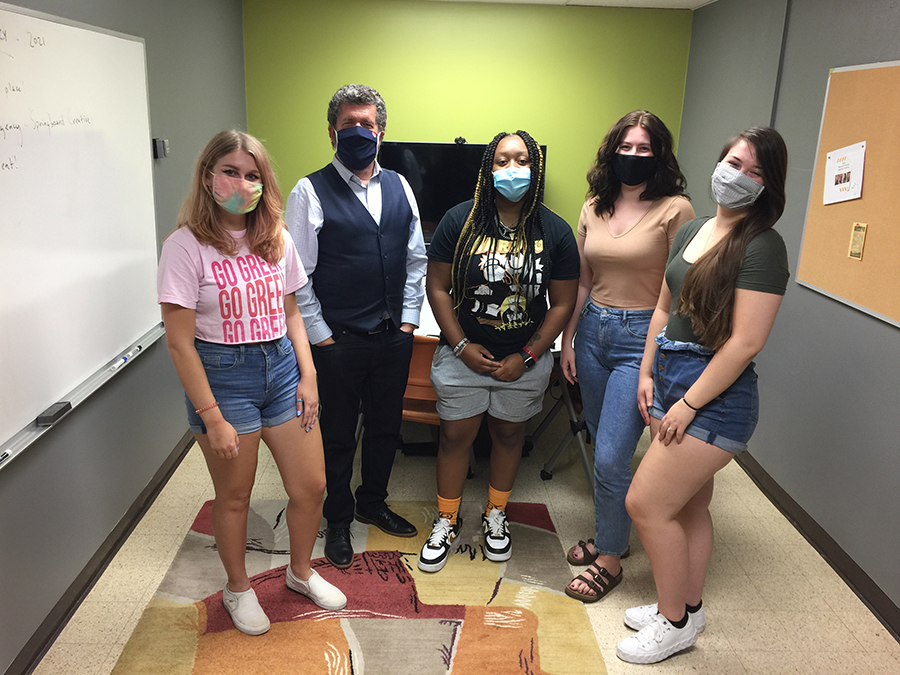 The Bearcat Virtual Agency consists of Maddisyn Combe, Northwest alumnus Kevin Fullerton, Kyerra Williams, Grace Stephens and Cailey Hartenhoff.
Nov. 22, 2021
By Edidiong Idong-Bassey, communication assistant
For three decades, Kevin Fullerton, a 1988 Northwest Missouri State University alumnus and the creative director of Springboard Creative, has supported students studying communication and mass media. This fall, he further supported students to launch the Bearcat Virtual Agency. 
"I wanted to do something for the students in the communication and mass media department where they could work together as a team on real work, work in different roles with a real client and also be directed by someone who's a professional within this field," Fullerton said. 
Last summer, Fullerton and Jacquie Lamer, a senior instructor of mass media at Northwest, connected to discuss other ways Fullerton could help students in the School of Communication and Mass Media launch their professional careers. Their dialogue conceived the Bearcat Virtual Agency, a 10-week, two-credit hour internship that mirrors other advertising and marketing agency internships, giving students an opportunity to gain profession-based experience in the industry.
This fall, the interns worked with TJ Roberts, the owner of Kinship Café, to develop the café's brand and digital presence. Kinship café is a Black-owned startup coffee shop located in Kansas City, Kansas.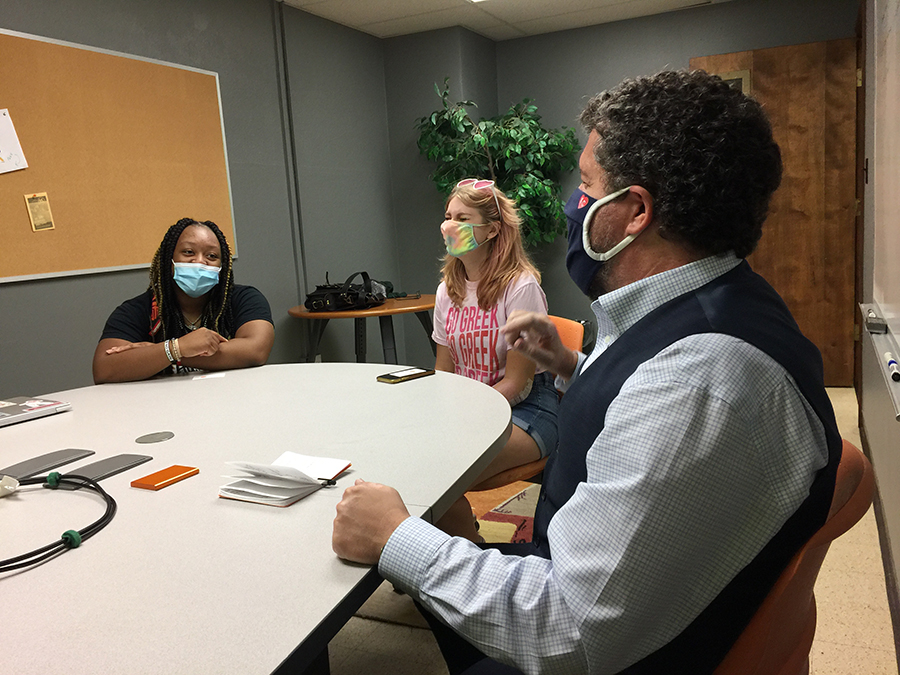 The Bearcat Virtual Agency met weekly in a Wells Hall room meeting space.
The team of interns converged weekly in a Wells Hall room converted into a meeting space just for them. It features a video conference table where they can discuss branding strategies with Fullerton and present ideas to Roberts. Zoom, Slack and other digital communication tools help the team coordinate efforts from their remote locations.
"The pandemic led me to see how we could do it because there were months my designers were working completely from home, so we started using Zoom and Slack," said Fullerton, whose agency is based in the Kansas City area. "I found that I can have more interactions with students and help them out in more ways than before."
Cailey Hartenhoff, a senior applied advertising major from Council Bluffs, Iowa, understands that synergy between a team and client is important to any agency's operations. As BVA's account coordinator, she maintained communication between the team and Kinship Café.
"I've never been an account person and have the opportunity to communicate back and forth with the client, so it's really cool," Hartenhoff said. "I get to learn all this new stuff about how to communicate and establish deadlines."
Grace Stephens, a senior public relations major from Pleasantville, Iowa, understands messages can make or break a company's success. As the agency's copywriter, she took responsibility for crafting the words and messages within the café's tagline and website.
"I found a new passion for copywriting that I probably wouldn't have without this internship," Stephens said. "Kevin is amazing and it's a unique learning experience. The environment that we have is one where I can speak my mind because Kevin cares about our opinions, and he's giving us all the work just like a full-time job would, which I really appreciate."
Kyerra Williams, a senior and Kansas City native majoring in graphic design and studio art with an emphasis in drawing, was the agency's graphic designer. She created logos and other visual elements that align with Roberts' vision. She noticed improvement in her digital art and communication skills during the internship.
"I'm getting used to talking to my teammates," Williams said. "Getting their input on what they think about certain things is helping me get used to the client, and I'm able to explain why I did something within my work."
Maddisyn Combe, a senior digital media major from King City, Missouri, was the agency's web developer. She will graduate in May 2022 and is excited to begin her career as a web developer or user experience designer.
"This internship will definitely help me obtain a future career because it's going to be a huge part of my resume and portfolio," Combe said. "Northwest has allowed me to network with so many amazing people."
Apart from the Bearcat Virtual Agency, Fullerton has lent his expertise to the AdInk advertising club, Northwest Student Media, and the School of Communication and Mass Media's curriculum advisory committee during the last 30 years. He also offers career advice to students and reviews portfolios and resumes.
Fullerton's commitment to helping students stems from his experience at Northwest. As an undergraduate student, he was a journalism major with a minor in graphics communication. He was a designer for The Northwest Missourian, editor-in-chief of the 1988 Tower yearbook and a member of the student advisory committee.
As the Tower yearbook celebrated its 100th edition this past year, Fullerton realized he had worked with almost all of the students contributing to the yearbook since he graduated.
"I am thrilled that I've been able to help students, thrilled to work with them, watch them grow, and there's nothing I like better than seeing them succeed," Fullerton said. "It's more fun to see a student I helped do well than watch myself do well. I take a lot of pleasure in that more than when I succeed."  
Lamer encourages other alumni who want to give back to Northwest and help students to use Bearcat Virtual Agency's on-campus model to pilot internships with other academic departments at the University.
"I think it can be across disciplines for profession-based learning," Lamer said. "We have a lot of graduates who are in high positions in companies all over the country and world. They have the power and ability to set up a program like this, so I think it could be a good model, and it's easy to implement."
For more information about the Bearcat Virtual Agency, contact Lamer at jplamer@nwmissouri.edu or 660.562.1618.