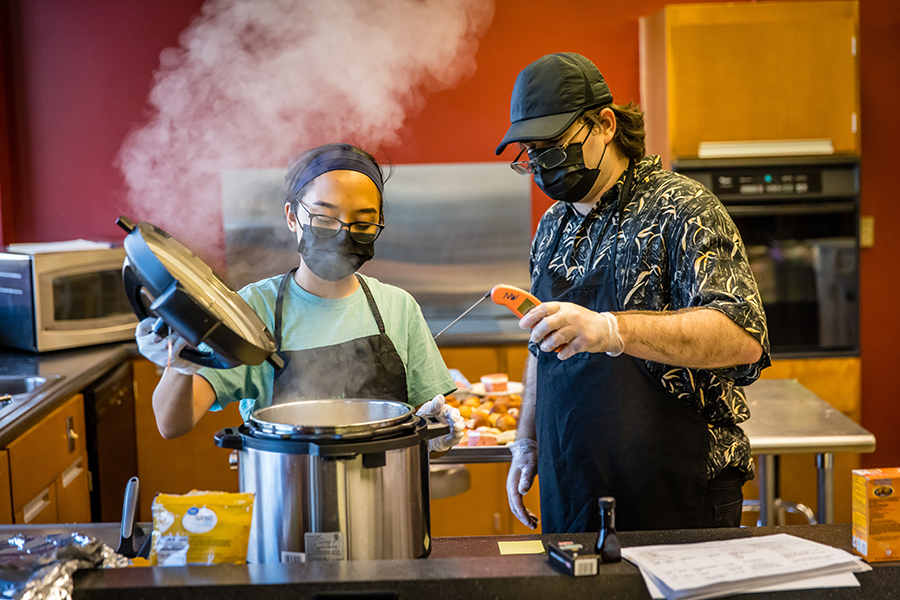 Each fall Northwest dietetics students plan and prepare a full dining experience for patrons of their Friday Night Café. The program provides students with valuable profession-based training, and patrons learn about varied cuisines and cultures. (Photos by Todd Weddle/Northwest Missouri State University)
Nov. 18, 2021
By Edidiong Idong-Bassey, communication assistant
For three decades, senior and junior students studying dietetics, nutrition and food service management at Northwest Missouri State University have hosted the Friday Night Café, serving guests with authentic international meals and décor.
Friday Night Café is the final food service management course Northwest dietetics students must complete, putting their management, leadership and critical thinking skills to the test.
"The students learn they are stronger than they realize and chisel away at the areas they can improve," Dr. Karen From, the director of the didactic program and an assistant professor of dietetics, said. "The customers return year after year because they support and care about the students' success, the fun atmosphere and delicious food. They are great supporters of our dietetics students' efforts."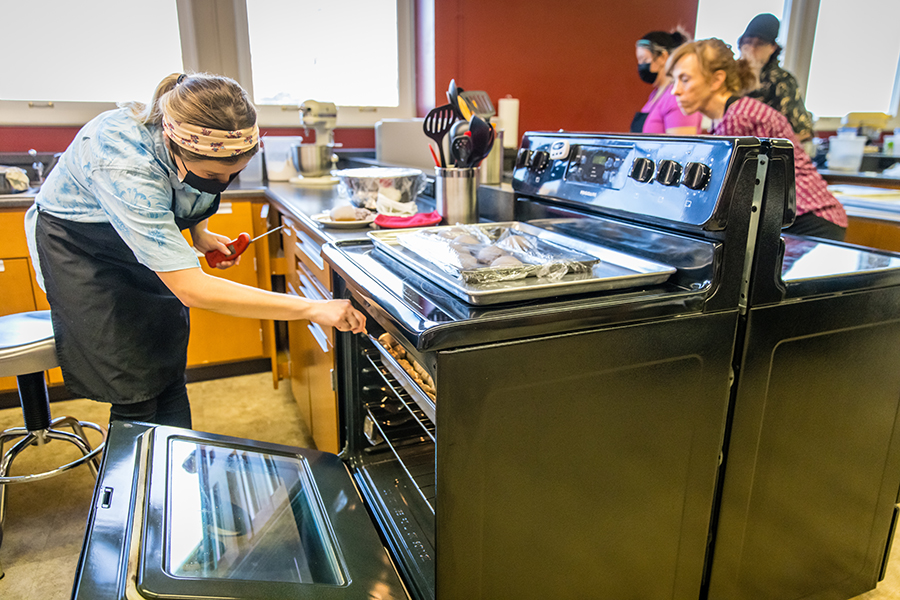 This fall, students served Polynesian dishes on Nov. 5 and Italian delicacies on Nov. 12.
The Italy evening featured warm baked rosemary focaccia with dipping oil served and a selection of salads and sides, including fresh Caprese salad and ancient grain kale salad with cherries. Desserts included Italian fruit tart, velvety strawberry gelato and Italian holiday cookies.
The Polynesian-themed night included sweet and spicy slow-cooked pork tenderloin with a sweet pineapple glaze. Salads and sides featured cool ramen noodle salad and ginger-dressed coleslaw. Desserts featured rosy pink guava cake, chocolate-filled sugar donuts and crispy white chocolate macadamia cookies.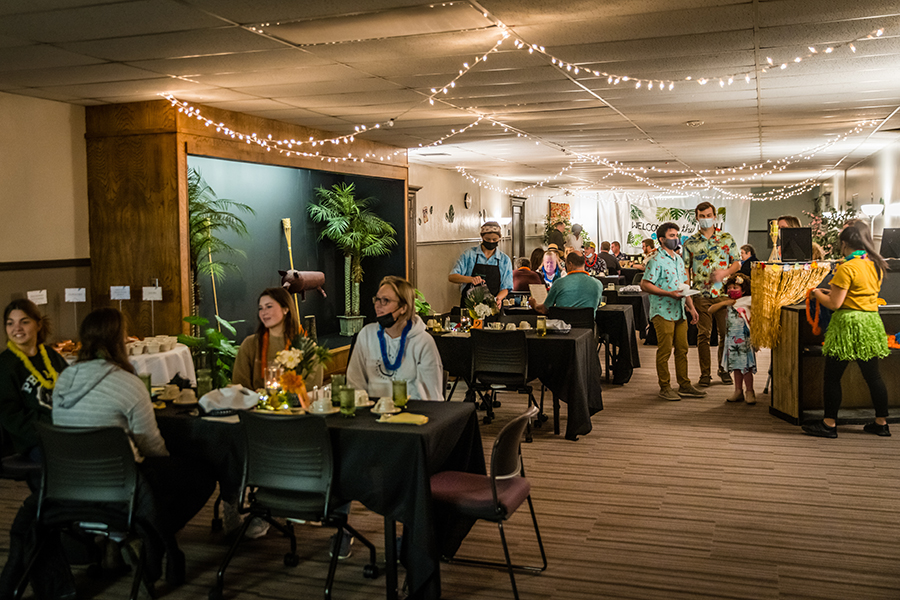 Students organized all aspects of both evenings, including pricing, menu selection, theme and décor. Management teams were divided into three committees, which were responsible for setting up and decorating the café, grocery shopping, budgeting and marketing.
For Shreeyesha Pradhan, a junior from Kathmandu, Nepal, the Friday Night Café improved her food service techniques and knowledge of Italian dishes.
"It felt like we all accomplished a big thing because we worked on those two events for the entire semester," Pradhan said. "All of the hard work that my classmates and I put in throughout the semester had a great result, which we saw from our feedback forms and the event itself."
Anna Watson, a senior from Olathe, Kansas, worked with the Polynesian team and said the café experience provided valuable profession-based training. 
"Our dietetics program at Northwest has prepared me in every way no matter what path I may take in the future," Watson said. "We have presented to many groups of people over various topics, shadowed different dietitians and employees in Northwest dining. Northwest has fully prepared me both with knowledge and experience."
Peyton Young, a senior from Omaha, Nebraska, who worked on the Italian team, noted the café program also exposes the University and Maryville community to varied cuisines and cultures.
"It's a night of food that guests will never get in Maryville, and they learn about the culture behind it," Young said.