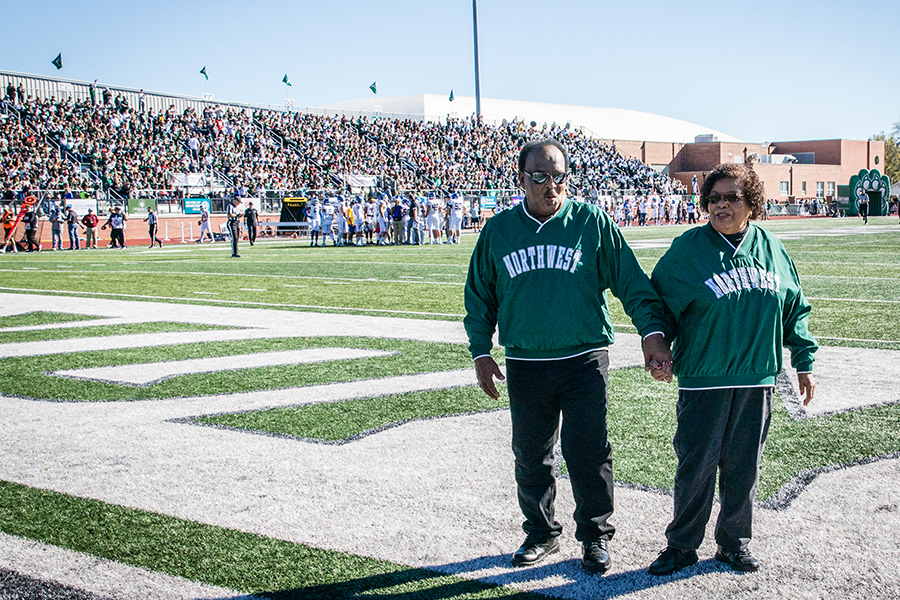 Joe and Judy Bell were recognized during the Homecoming football game Saturday. Joe graduated from the University in 1963 as its first African American to complete a degree. He and Judy have been married 60 years. (Photo by Todd Weddle/Northwest Missouri State University)
Nov. 3, 2021
Northwest Missouri State University, during its Homecoming weekend Oct. 29-30, welcomed home its first African American graduate and made him its Homecoming grand marshal in honor of his legacy at the University.
Joe Bell graduated from Northwest in 1963 with a bachelor's degree in health and secondary physical education while minoring in industrial arts. The degree paved his way to a teaching career that spanned 37 years and a coaching career that lasted 26 years.
With his wife of 60 years, Judy, and family members joining him, Bell was recognized at a variety of activities throughout the weekend.
During Northwest's Board of Regents meeting Friday morning, University President Dr. John Jasinski presented Bell with a plaque "in honor of his perseverance, pursuit of higher education, and his long and distinguished career as an educator." Northwest's Black Alumni and Friends Chapter also recognized Bell during its meeting Friday, and the Department of Athletics recognized Bell, a running back with the Bearcat football team from 1959 to 1962, during its M-Club Hall of Fame Banquet.
"Mrs. J and I, along with our staff and so many alumni and friends, had such a pleasant time getting to know Joe, Judy and their family," Jasinski said. "As Proud Bearcats, Joe and Judy exemplify the meaning of 'Bearcat family' and what it means to be a Bearcat. Their model of ongoing learning, connecting, caring, practicing civility and showing pride warms the Bearcat heart."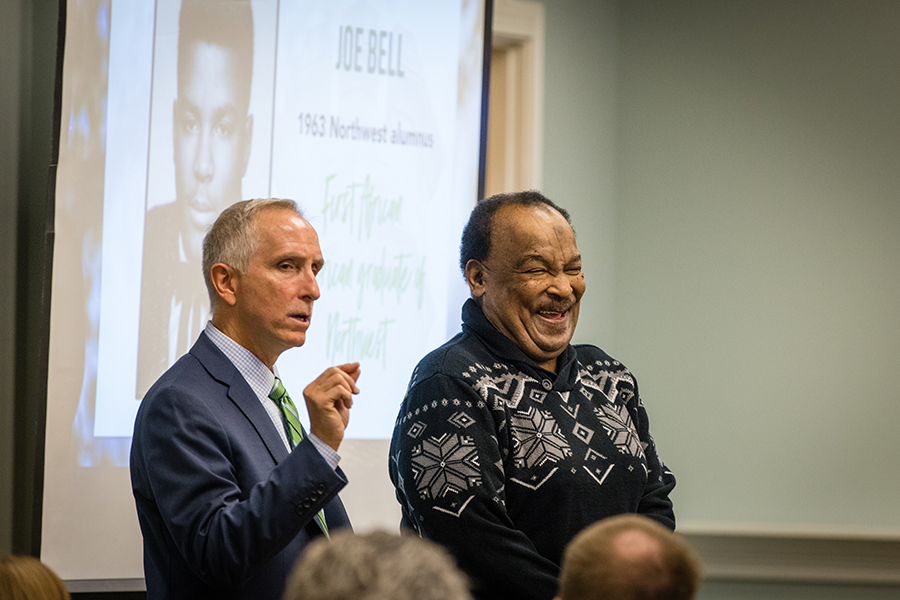 Northwest President Dr. John Jasinski recognized Joe Bell in front of the University's Board of Regents on Friday for his "his perseverance, pursuit of higher education, and his long and distinguished career as an educator." (Photo by Todd Weddle/Northwest Missouri State University)
On Saturday, Bell experienced the joy of riding down Fourth Street as the Homecoming grand marshal and a passenger in the lead car during the Homecoming parade. He also was recognized on the field of Bearcat Stadium during the Homecoming football game.
"Everything's been great – more than what I expected," he said during a break at the football game. "People wanted to take pictures with me, and I was glad that they really noticed me. Things have changed since the late '50s and '60s, and I'm glad to see that."
Indeed, a lot has changed since he was a Northwest student.
Bell was raised by his grandmother, who moved the family from Goodman, Mississippi, to Waterloo, Iowa. There, football proved to be Bell's pathway to advancing his education. Neither Bell nor his grandmother could afford the tuition, but Bell's high school coach, Don Hanson, who attended Northwest, encouraged him to consider enrolling and playing for the Bearcats. Hanson helped Bell secure a scholarship to play football and a financial aid package that paid all but his out-of-state fees.
"I think, for his personality, it was good," Judy said. "I think he would have been overwhelmed going to a bigger college because everything would have been too fast for him."
The civil rights movement was gaining momentum when Bell arrived in Maryville for the fall semester in 1959 and the landmark Civil Rights Act of 1964 wouldn't pass until after he graduated. Black students had come to Maryville before, but none stayed. For most of his time at Northwest, Bell was its only Black student.
"They came up and they stayed and played football, and they found out there were no other Black people there," Bell said. "There were no girls for 'em, and right after football season they left."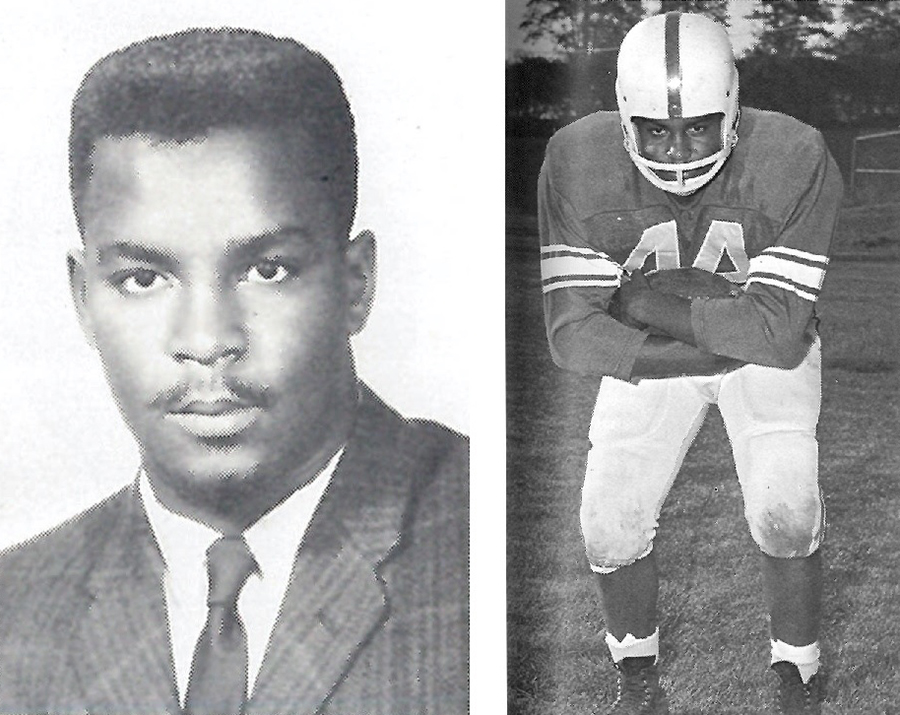 Joe Bell was a member of the Bearcat football team from 1959 to 1962 and became Northwest's first African American graduate in 1963. (Tower yearbook photos)
Bell, however, stayed with encouragement and support from Judy, whom he had known since their junior high school days and married during his sophomore year at Northwest. "Instead of going to Kansas City and St. Joe and Omaha, looking for a date, I got married my sophomore year with a girl that I knew back in Waterloo, Iowa," he said.
The Bells say they carry fond memories of their time at Northwest and the Maryville community, but encounters with racism also left their mark. "The college people treated us wonderfully," Judy said. "It was just a few people out in town that didn't treat us good. We got broad shoulders. We can handle it."
Joe recalled a road trip with the Bearcat football team when a restaurant manager mistook him for the team's bus driver and refused to serve him. When one of Bell's coaches corrected the manager and threatened to take the team elsewhere for their meal, the manager opted to serve the team, including Joe.
Judy couldn't get work at a local grocer because the store, the employer told her, was fearful of losing customers. A minister subsequently helped her find a job in the laundry room at the former St. Francis Hospital in Maryville where she had an opportunity to train as a nursing aid. She decided against pursuing it further, though, after an encounter with a patient who became angry about her presence in the hospital room. "I was upset because I was born in the north and I was not used to being called names," Judy said. "So I said, 'Oh no, this is not happening. I'm outta here.'"
In another incident, Joe borrowed a car to take Judy to a laundromat to wash her clothes. The next morning, Joe received a call with instructions not to bring his wife to the laundromat. When a local appliance store heard about the incident, it provided the Bells with a washer and dryer set. "We carried it for three states," Judy said. "It was back when things were built good, so it was a blessing."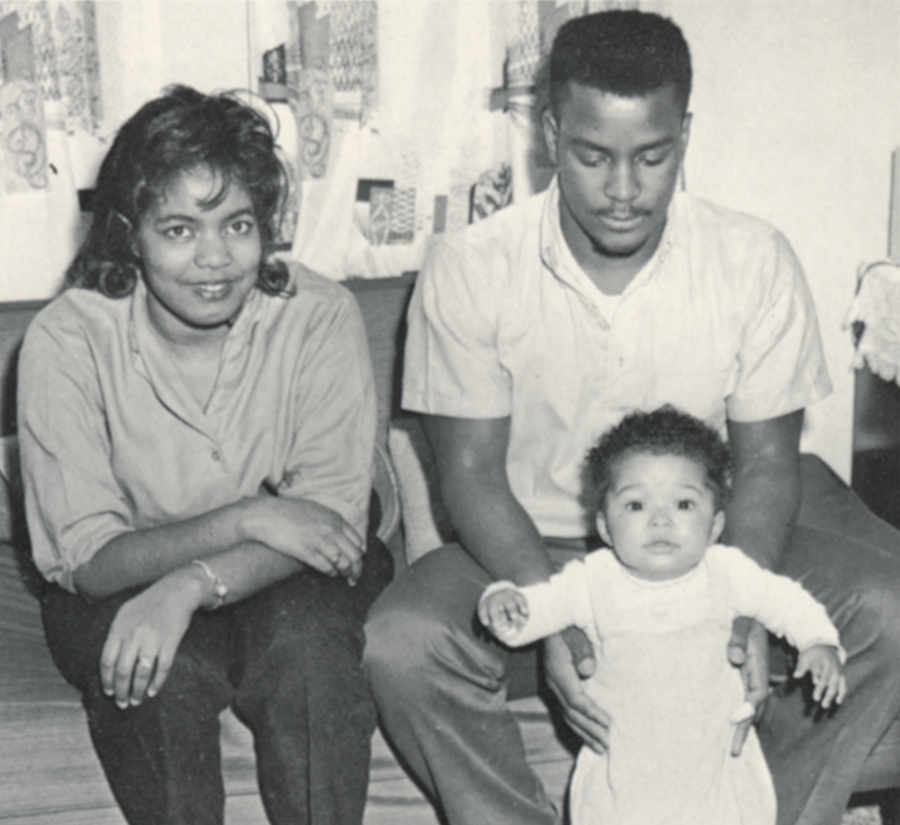 Joe and Judy Bell were pictured in the 1962 Tower yearbook with their son, Chris. (Tower yearbook photo)
Away from the football field, Joe devoted his time to studying. He lived on campus with Judy and worked at a clothing store in Maryville and later an electronics store. A photo in the 1962 Tower yearbook shows the couple with their toddler son, Chris, under the headline, "Married students are vital part of college enrollment." 
While most of his classmates in Waterloo were either working at the local foundry or going into military service, Joe was determined to succeed at more than football and set his sights on completing his college degree. In addition to his bachelor's degree at Northwest, Joe completed graduate work at the University of Illinois in vocational and technical education.
"His education was more important to him than anything and that was his goal," said Judy, who spent 30 years working for American Honda and says she regrets not pursuing a degree of her own during the couple's time in Maryville. "He wanted a better life."
After graduating from Northwest in 1963, Joe began his career at the Annie Wittenmyer Home, an orphanage in Davenport, Iowa. Two years later, he began teaching at Riverdale High School, just across the Mississippi River in Port Byron, Illinois, where he spent the next 35 years. During that span, he taught electronics, drafting, physical education and summer drivers education. He also coached football for 26 years.
If it wasn't for his young family, Joe says he might have played professional football. Bud Grant, who would go on to lead the NFL's Minnesota Vikings to four Super Bowl appearances, was coaching the Canadian Football League's Winnipeg Blue Bombers and showed an interest in signing Joe.
"The only thing I remember about Winnipeg is it was 14 degrees when we were playing," Joe said. "It was cold and the linemen went downtown and bought gloves, but the running backs coach wouldn't let us because there weren't really good gloves for holding the ball back in the '50s and '60s. That was quite a deal, but I wrote him and told him that I couldn't come up there because, in the meantime, I had a little child I had to take care of and a guaranteed job."
The Bells enjoyed raising their two sons on a farm in rural Port Byron. Now retired and residing in East Moline, Illinois, they have five grandchildren. "We're close to the cities – Rock Island, Moline and all that – but we loved the country life," Joe said.  
Looking back on their experiences, what advice do the Bells have for the newest generation of college students?
"We always talk about how important education is," Joe said. "You gotta work hard to advance yourself through the system."
Added Judy, "No matter what color you are."