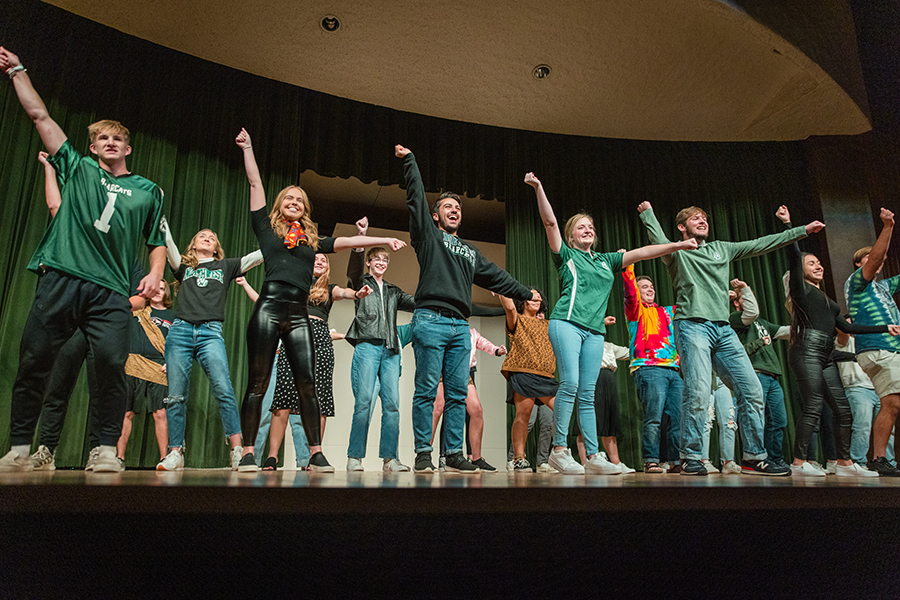 Northwest students performed skits and olio acts during the annual Homecoming Variety Show Oct. 29 in the Charles Johnson Theater. (Photos by Todd Weddle/Northwest Missouri State University)
Nov. 2, 2021
Northwest Missouri State University capped its 2021 Homecoming Nov. 1 with its awards ceremony announcing winners of competitions throughout the annual celebration.
Northwest hosted its Homecoming week, "Bearcats Remember When," Oct. 24-30, with a variety of activities, including traditions such as the Variety Show, the annual International Flag-Raising Ceremony, the Homecoming parade and the Homecoming football game. The University also welcomed the classes of 1970 and 1971 during its annual Golden Years Society Reunion.
During Friday's Variety Show, Ryan Shurvington and Annie Punt were crowned Northwest's Homecoming king and queen. Shurvington, of Clever, Missouri, is a senior agricultural education major. Punt, of Omaha, Nebraska, is a senior communication major with a public relations emphasis.
As a result of Northwest's annual Homecoming canned art contest, student organizations donated 600 pounds of food to the Maryville Ministry Center and 813 pounds to the Bearcat Food Pantry.
Northwest's 2021 Homecoming Executive Board consisted of Rylie Goeders, a senior business management and marketing major from Story City, Iowa; Bailee Urban, a senior therapeutic recreation major with a minor in Spanish from Elkhorn, Nebraska; Rebecca Danforth, a sophomore applied health exercise science major from Kansas City; and Amberlea Auffert, a marketing, business management, and management information systems with an emphasis in web development major from Maryville.
All 2021 Homecoming competition categories and winners are listed below.
Philanthropy
Alpha Sigma Alpha
Sigma Sigma Sigma
Phi Mu
Banner
Highly competitive
Alpha Sigma Alpha
Sigma Alpha
Sigma Sigma Sigma
Donation Creation
Highly competitive
Phi Mu
Sigma Sigma Sigma
Sigma Kappa
People's choice
Sigma Sigma Sigma
Alpha Delta Pi and Alpha Kappa Lambda
Sigma Kappa
Variety Show
Skits
Sigma Sigma Sigma and Sigma Phi Epsilon
Phi Mu and Sigma Tau Gamma
Alpha Sigma Alpha and Tau Kappa Epsilon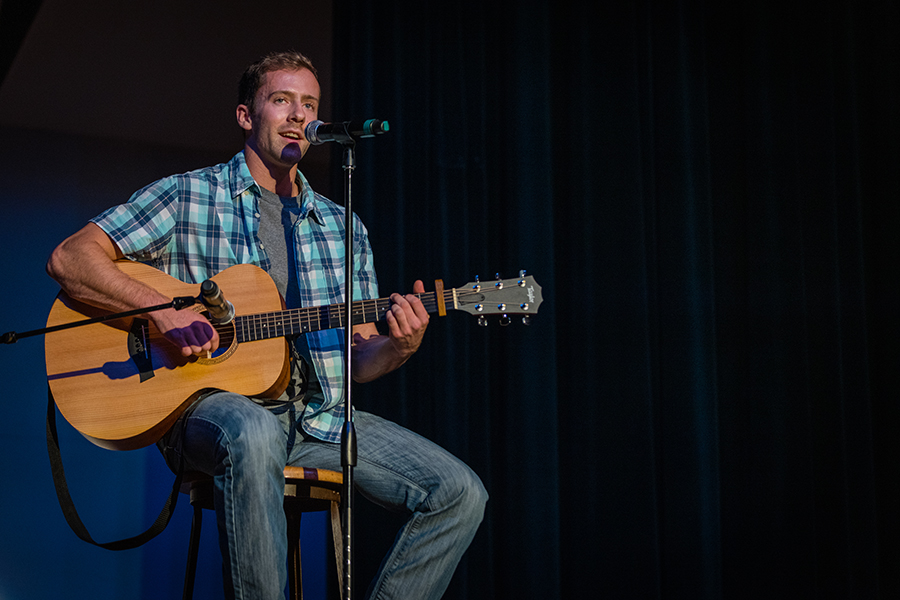 Marcus Klein performed an original song, "Blue Saturday Night," during the Variety Show.
Olio Acts
Riley Cardwell
Michael Verhoeven
Marcus Klein
People's Choice Awards
Best Skit Actress: Courtney Rowe as Bobby the Bearcat, Tri Sigma
Best Skit Actor: Ryan Rouch as B.D. Owens, Sigma Phi Epsilon
Best Skit: Tri Sigma and Sigma Phi Epsilon
Best Olio Act: Michael Verhoeven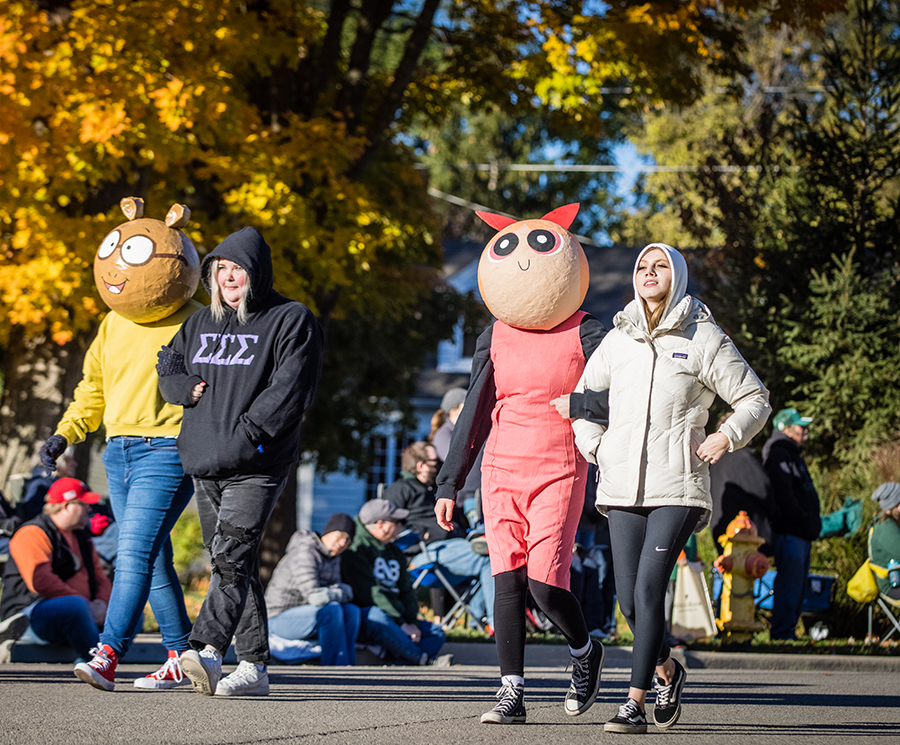 Sigma Sigma Sigma took first place for their paper mache heads.
Parade
Paper Mache Heads
Sigma Sigma Sigma
Phi Mu
Alpha Sigma Alpha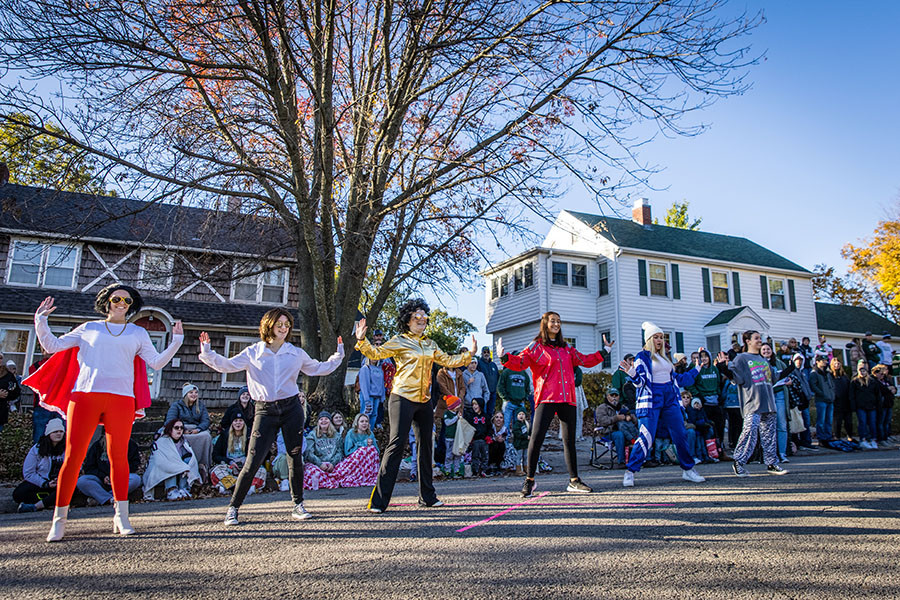 Alpha Sigma Alpha took second place for their dancing clowns performance.
Dancing Clowns
Sigma Kappa
Alpha Sigma Alpha
Sigma Tau Gamma
Alpha Sigma Alpha, Sigma Kappa and Sigma Tau Gamma placed first in the jalopy competition.
Jalopy
Alpha Sigma Alpha, Sigma Kappa and Sigma Tau Gamma
Phi Mu and Alpha Gamma Rho
Sigma Phi Epsilon and Sigma Sigma Sigma
Float
Alpha Sigma Alpha and Sigma Phi Epsilon
Sigma Kappa and Sigma Tau Gamma
Phi Mu and Alpha Gamma Rho
Overall Parade Winner
Alpha Sigma Alpha
Overall Homecoming Supremacy Winner
Sigma Sigma Sigma