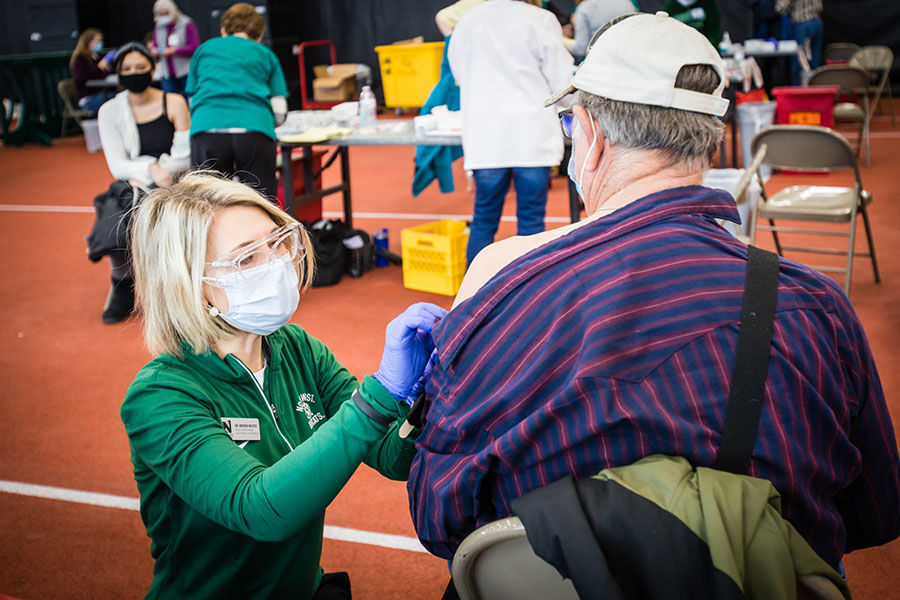 Dr. Brooke McAtee, the director of Northwest's nursing program, gives the COVID-19 vaccination to a community member during a vaccination clinic last spring at the Carl and Cheryl Hughes Fieldhouse. Northwest is offering prizes to Northwest students are fully vaccinated as the fall semester begins. (Photo by Todd Weddle/Northwest Missouri State University)
Aug. 6, 2021
Northwest Missouri State University has announced its first round of prize recipients whose names were drawn from students who are fully vaccinated and have submitted a copy of their COVID-19 vaccine records to Wellness Services.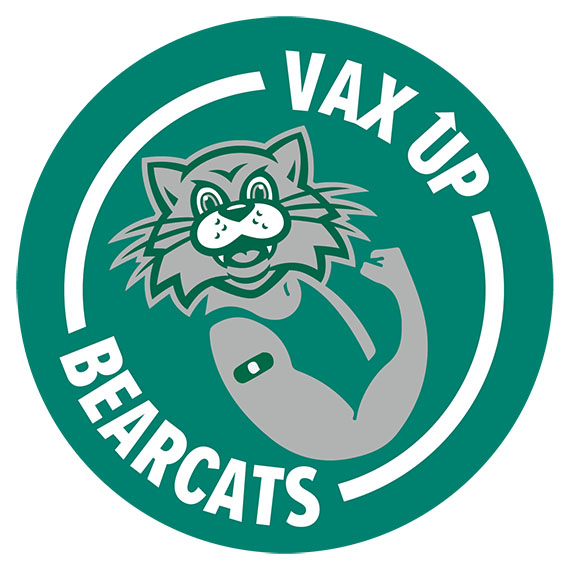 .
The following rules apply to the drawings:
Students must have submitted a copy of their COVID-19 vaccine record to the Wellness Center by midnight Aug. 1, 2021, for the first drawing; by midnight, Aug. 18, 2021, for the second drawing; and by midnight, Sept. 13, 2021, for the third drawing. 
Eligible students include domestic and international, undergraduate and graduate students enrolled in at least one in-person class for the semester the award is received.
Winners must be accepted and enrolled for the fall 2021 semester to qualify.
Prizes are awarded for the 2021-2022 academic year only. Winning students may choose the fall or spring semester for the prize to be awarded.
Prizes are non-renewable and not transferable. 
Winners may be required to show additional proof of vaccination. 
Students who accept a prize agree to allow their name and/or likeness to be used to publicly announce their prize status.
Northwest employees and dependents of Northwest employees are not eligible for these prizes. 
Northwest announced last month its plans to award prizes totaling $20,000 to students who are fully vaccinated as part of efforts to limit COVID-19 transmission and offer a more traditional campus environment as students return this fall. This week's drawing was the first of three, with two more scheduled on Aug. 18 and Sept. 13.
Students selected in the first drawing and their prizes are listed below.
$5,000 Scholarship
Parking Passes
Prathyusha Pullakanti
Jessica Dobbs
Lucas Prater
Pragna Reddy Nathala
Tanna Klein
Kayla Belshe
Mason Graver
$100 Bearcat Bookstore gift cards
Carolyn Estes
Gavon Combe
Barbara Sanchez-Puga Rodriguez
Jayden Pierce
Ryan Spurling
$50 in Campus Dining dollars
Grant Frawley
Maicy Darrah
Grant Holben
Russell Neeley
Kaylee Dyke
Halli Hallman
Jacob Barham
Mary Kathryn Pitcher
Austin Kubie
Emily Truesdell
Damon Andrews
McKynna Newbury
Elizabeth Peterson
Skyler Oksman
Paige Berry
Hannah Wedlock
To be entered into the drawings, students must have completed a two-dose series of the COVID-19 vaccine, such as the Pfizer or Moderna vaccines, or a single-dose vaccine, such as the Johnson and Johnson vaccine. Any completed COVID-19 vaccine series approved by the World Health Organization will be accepted.
Fully vaccinated students must then submit a copy of their COVID-19 vaccine record by emailing Wellness Services at health@nwmissouri.edu, faxing a copy to 660.562.1585 or providing a copy at the Wellness Center on campus. Vaccine information is stored in accordance with Northwest's privacy policies and practices.
The University will award the following prizes during the remaining drawings:
$2,500 in scholarship funding
Parking passes
$100 Bearcat Bookstore gift cards
$50 in dining dollars
How to get the vaccine
The University reminds students and employees that vaccinations are available by calling Wellness Services at 660.562.1348, the Nodaway County Health Department at 660.562.2755 or Mosaic Medical Center-Maryville at 660.562.2525, or by visiting www.vaccines.gov for other locations offering COVID-19 vaccines.
Northwest will welcome students back to its campus for the fall semester with move-in activities beginning Saturday, Aug. 14, and the classes beginning Wednesday, Aug. 18.
Due to the volatility of the Delta variant and low vaccination rates in the region, Northwest has temporarily reinstated its face covering requirement for all students, employees and visitors indoors, regardless of vaccination status, effective Friday, Aug. 13. Face coverings may be removed only in indoor areas where 6 feet of social distance can be maintained, where a physical barrier is in place and in Campus Dining areas. 
Face coverings are required at all times – regardless of distance, physical barriers or vaccination status – in all classrooms and labs; the Wellness Center; Horace Mann Laboratory School and the Phyllis and Richard Leet Center for Children and Families, including its new infant and toddler care area; and Safe Ride vehicles, which are designated as public transportation.
Among other mitigation measures in place on the Northwest campus are plexiglass barriers in high-traffic areas such as Career Services, the registrar's office and the cashiering office. The University also is keeping portable air purifiers and hand sanitizer stations in place to help combat coronavirus and other seasonal ailments.
For more information about Northwest's response to COVID-19, visit www.nwmissouri.edu/wellness/covid.