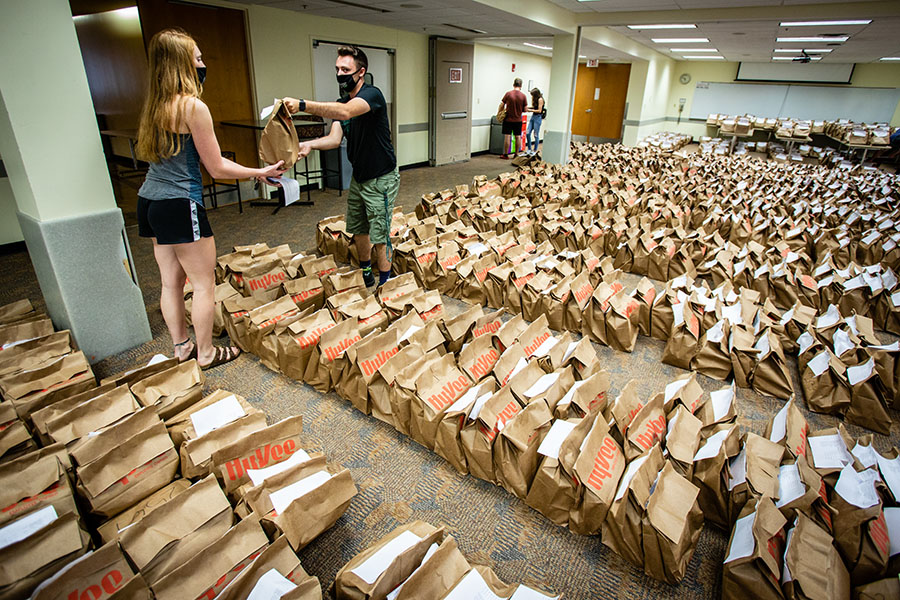 Above, students received their Northwest textbooks for the fall semester last August. As summer courses come to an end, the University is providing hours and options for students to return their textbooks. (Photo by Todd Weddle/Northwest Missouri State University)
Northwest Missouri State University Textbook Services is reminding students to return textbooks at the conclusion of summer courses.
All textbooks for summer courses must be returned to Northwest, either in person or by shipment, by Friday, July 30, to avoid late or replacement fees for campus courses ending July 30. Textbooks for seven-week Block 2 online courses are due once those courses are complete on Friday, Aug. 13. 
Textbook Services is open from 8 a.m. to 5 p.m. Monday through Friday in The Station.
Students who cannot bring their textbooks to campus should ship them by printing a paid UPS return shipping label; the label for summer textbooks is accessible by visiting www.nwmissouri.edu/textbooks.htm and clicking the "Pickup and Return" tab. Northwest will not reimburse students who use a different shipping label to return their textbooks.
Students in the Kansas City area may return books at Northwest-Kansas City, located at 6889 North Oak Trafficway in Gladstone, Missouri. Students may return textbooks during regular business hours between 8 a.m. and 5 p.m. Monday through Friday. 
A hallmark of Northwest's emphasis on providing students access to an affordable education, Northwest provides laptops and textbooks to students as part of their tuition, ensuring all students have access to the tools they need to be successful in the classroom. Northwest launched its textbook rental program in 1922 and the laptop rental program in 2005. The programs save students an estimated $7,200 during their four-year academic career, compared to students attending other institutions.
For more information about summer textbook return, contact nwtxbk@nwmissouri.edu.