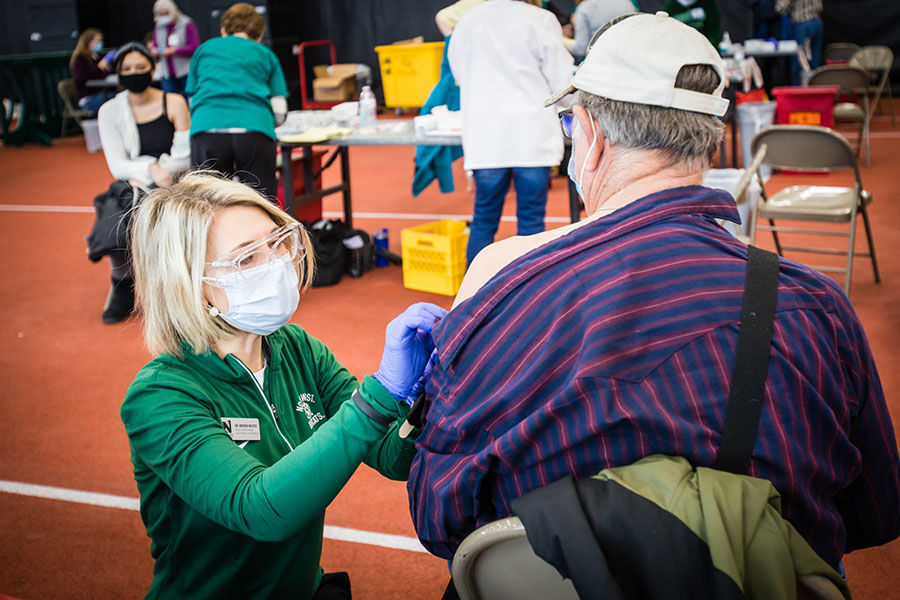 Dr. Brooke McAtee, the director of Northwest's nursing program, gives the COVID-19 vaccination to a community member during a vaccination clinic last spring at the Carl and Cheryl Hughes Fieldhouse. Northwest is offering prizes to Northwest students are fully vaccinated as the fall semester begins. (Photo by Todd Weddle/Northwest Missouri State University)
July 13, 2021
Northwest Missouri State University anticipates a more traditional campus environment as students return this fall and it recovers from the impacts of the COVID-19 pandemic. To help reach its goal and limit COVID-19 transmission, the University has announced it will award prizes totaling $20,000 to students who are fully vaccinated.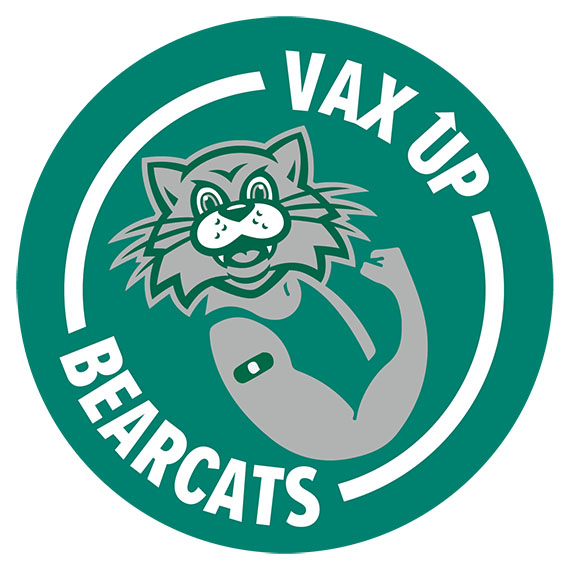 .
The following rules apply to the drawings:
Students must have submitted a copy of their COVID-19 vaccine record to the Wellness Center by midnight Aug. 1, 2021, for the first drawing; by midnight, Aug. 18, 2021, for the second drawing; and by midnight, Sept. 13, 2021, for the third drawing. 
Eligible students include domestic and international, undergraduate and graduate students enrolled in at least one in-person class for the semester the award is received.
Winners must be accepted and enrolled for the fall 2021 semester to qualify.
Prizes are awarded for the 2021-2022 academic year only. Winning students may choose the fall or spring semester for the prize to be awarded.
Prizes are non-renewable and not transferable. 
Winners may be required to show additional proof of vaccination. 
Students who accept a prize agree to allow their name and/or likeness to be used to publicly announce their prize status.
Northwest employees and dependents of Northwest employees are not eligible for these prizes. 
"We are all excited to welcome fellow Bearcats back to campus in just a few weeks," Chris Dawe, Northwest's assistant vice president of student affairs for health and well-being, said. "Unfortunately, this pandemic is not done with our world yet, so we need to continue to do the right things the way Bearcats do. The research is clear. Vaccines work. The most effective way for us to protect the experience we all want as well as our health and the health of those we love is to get as many Bearcats vaccinated as possible."
Northwest will conduct three random drawings on Aug. 1, Aug. 18 and Sept. 13. After drawing the names of eligible students, the University will award the following prizes:
$5,000 in scholarship funding to one student
$2,500 in scholarship funding to four students
Parking passes to 13 students
$100 Bearcat Bookstore gift cards to 11 students
$50 in dining dollars to 48 students
To be entered into the drawings, students must have completed a two-dose series of the COVID-19 vaccine, such as the Pfizer or Moderna vaccines, or a single-dose vaccine, such as the Johnson and Johnson vaccine. Any completed COVID-19 vaccine series approved by the World Health Organization will be accepted.
Fully vaccinated students must then submit a copy of their COVID-19 vaccine record by emailing Wellness Services at health@nwmissouri.edu, faxing a copy to 660.562.1585 or providing a copy at the Wellness Center on campus.
The University reminds students that vaccinations are available by calling Wellness Services at 660.562.1348, the Nodaway County Health Department at 660.562.2755 or Mosaic Medical Center-Maryville at 660.562.2525, or by visiting www.vaccines.gov for other locations offering COVID-19 vaccines.
Northwest will welcome students back to its campus for the fall semester with move-in activities beginning Saturday, Aug. 14, and the fall semester begins Wednesday, Aug. 18.
While the University has lifted its capacity limits inside classrooms, Campus Dining locations and other areas on the campus, some mitigation measures are staying in place. Plexiglas barriers remain in high-traffic areas such as Career Services, the registrar's office and the cashiering office. The University also is keeping portable air purifiers and hand sanitizer stations in place to help combat coronavirus and other seasonal ailments.
In alignment with CDC guidance, Northwest requires that individuals who are not fully vaccinated wear a face covering. For fully vaccinated individuals, face coverings are optional on the Northwest campus.
For more information about Northwest's response to COVID-19, visit www.nwmissouri.edu/wellness/covid/.