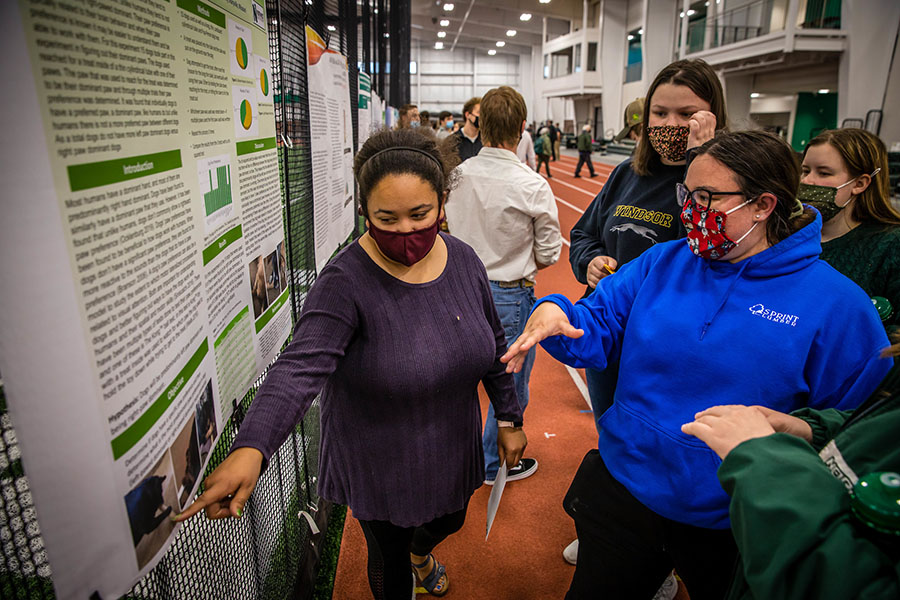 A student presents a poster during Career Services' spring PBL Palooza at the Carl and Cheryl Hughes Fieldhouse. Students presented 67 posters during the event, which occurs each semester. (Photos by Todd Weddle/Northwest Missouri State University)
April 30, 2021
By Edidiong Idong-Bassey, communication assistant
Poster presentations lined the track April 21 inside the Carl and Cheryl Hughes Fieldhouse as Northwest Missouri State University students shared their profession-based learning experiences during the spring 2021 PBL Palooza.
Launched in the fall of 2019, Northwest Career Services organizes the event to highlight students' internships, field experiences, practicums and research projects. This spring's showcase of more than 67 posters addressing a variety of topics.
Jill Brown, director of partnerships and placement at Northwest, said the primary objective of the event is to help students discover the range of opportunities and experiences available to them.
"PBL Palooza is a wonderful opportunity for students to showcase the exciting projects they have completed and get ideas for future projects and activities," Brown said. "We intentionally don't sort posters by topic, hoping that students will walk away from the event with all sorts of new ideas and connections."   
PBL Palooza occurs each semester and is open to all students. The event draws employers, community members, faculty and staff, as well as other students. Attendees received tokens to vote for their favorite posters, and winners received a variety of prizes.
A complete list of PBL Palooza poster prize recipients is provided below.
Group winners
First place: "Break the Silence on Violence"
Second place: "Autism Spectrum Disorder," Kayla Ulven and Sophie McMullen
Third place: "Mental Health (Still) Matters"
Fourth place: "STD Superheroes," Grace Elrod, Skylar Rauch, Gibson Brown and Grace Stephens
Fifth place: "The Office in The Office," Natalia Martinez and Maddy Brown
Sixth place: "Developing a Mystery Game: Pandora's Plaza," Sierra Brewka, Angel Trinh, Molly Hauser, Lexi Vlahos and Kourtnie Stenwall
Individual winners
First place: "The Impact of COVID on the Tech Industry," Nooka Raju Boddu, applied computer science
Second place: "Kimmel Orchard and Vineyard," Morgan Duenke, agricultural education
Third place: "Agricultural Innovator Experience," Mikayla Martensen, agricultural education
Fourth place: "Determining Paw Preference in Dogs," McKayla Fellers, biology and psychology
Fifth place: "Event Coordinator with Career Services," Sadie Graham, agricultural science
Sixth place: "Psychological Effects that Injuries Have on College Athletes," Regan Kirby, biomedical sciences
Seventh place: "The Differences in Working Memory in College Age Men and Women," Zach Van Dorn, biology and psychology
Eighth place: "Testing Water Samples in Maryville," Megan Olson, marine biology
Ninth place: "Ready or Not: Emergency Planning in Midwest Museums," Natalie Cote, emergency and disaster management
10th place: "The Effects of Short Wavelength Light on Pinto Beans," Iyanna Kelly, biomedical sciences
11th place: "Impacts of Canis lupus familiaris on Resting Heart Rates," Micaila Lopez, biomedical sciences
12th place: "Hand Sanitizer vs. Hand Washing Effects on Bacterial Growth," Caleb Liles, biomedical sciences
13th place: "How Many Fats are in Your Food?" Rachel Rumelhart, biology and psychology
14th place: "The Effect of Gatorade on Snap Pea Growth," Josh Paulus, marine biology
15th place: "Mouthwash or Green Tea, Which Inhibits Oral Bacteria Growth More," Collins Nwanonenyi, biomedical science
16th place: "The Business Strategy Game: Competing in a Global Marketplace," Riley Schumacher, business management