April 14, 2021
Northwest Missouri State University celebrated its alumni and friends who contribute generously to the University in support of scholarships, campus facilities and the value of a college degree during its seventh annual Thank a Donor Day Tuesday.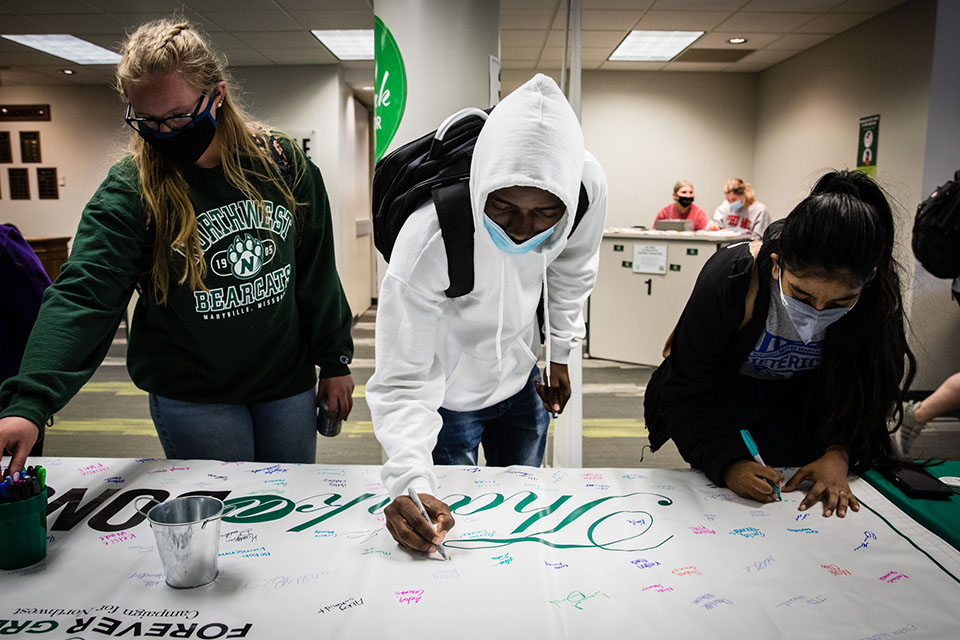 Students signed a banner to thank donors during the University's Thank a Donor Day on Tuesday. The annual day of activities encourages the University community to show appreciation for donors through their participation in a series of activities. (Photo by Brandon Bland/Northwest Missouri State University)
Students were encouraged throughout the day to share their gratitude by submitting virtual thank-you notes, signing a thank-you banner, recording video messages for donors and taking pictures at a photo booth.
More than 50 yard signs were placed throughout the campus grounds to educate students about the positive impacts private support has had on students and the Northwest community. Students also had the opportunity to hitch a ride on a golf cart and answer trivia questions related to private support for chances at winning prizes.
On its social media channels, Northwest shared videos of the University community showing gratitude to donors, along with thank you messages submitted online by community members and students.
The Northwest Alumni Association sponsored the day's activities in collaboration with the University's Student Activities Council (SAC).
"Helping the Alumni Association celebrate Northwest's donors was an excellent experience," Kyle Harris, a senior business management major from Gretna, Nebraska, said. "There's no better way to feel connected to this school than getting involved with organizations like SAC or the alumni center."
SAC President Brady Netzel, a senior graphic design major from Omaha, Nebraska, had the honor of driving students who took advantage of the golf cart rides to their campus destinations. Netzel said being a part of Thank a Donor Day has helped him realize and better understand the impacts donor support has on the success of the University and its students.
"As a freshman, I was not aware of this community or the impact donations and scholarships had on not just the University but also on my college career and ability to attend college," he said. "I am a scholarship recipient, and thanks to the financial burden being lifted, I am able to pursue my passions and develop a skillset that will allow me to be career ready when I graduate."
With the help of its donors, Northwest Foundation Inc., the fundraising arm of Northwest, again achieved a high level of scholarship and distribution while securing $5.08 million in donor funding during Fiscal Year 2020. Scholarship support remains a central mission of the Foundation, which awarded $1.11 million in financial assistance through 1,383 scholarships during FY20. With increases for the second consecutive year, those numbers represent the highest dollar amount awarded in the history of the Foundation as well as the highest number of donor-funded scholarships awarded.
Additionally, the Foundation's success parallels with its Forever Green campaign, which launched publicly in October 2019 with a goal of raising $45 million for University initiatives centered on academic excellence, scholarships, student life and other donor-directed gifts. The campaign, which will close this summer, has raised more than $53 million to date.