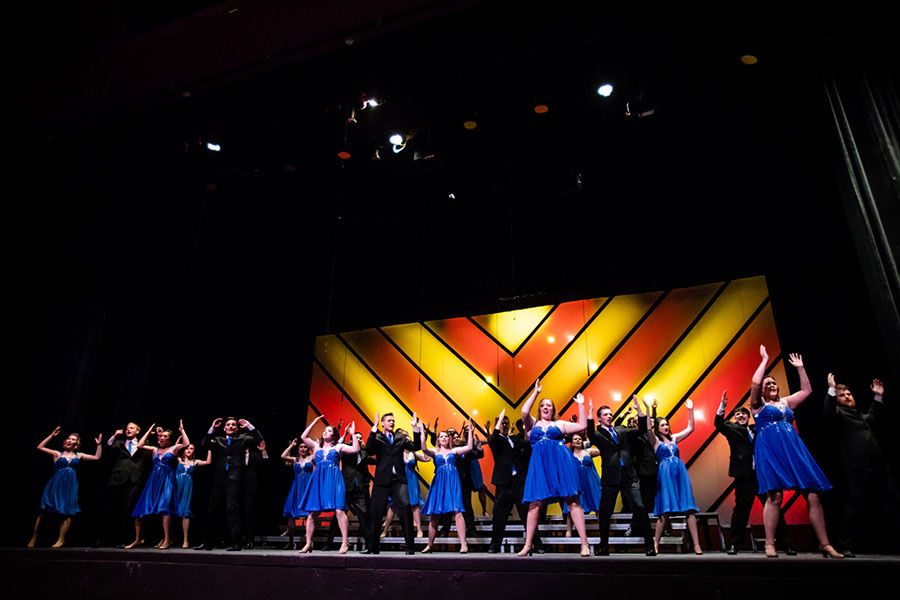 Above, the Celebration choir performs its spring show in 2019. The vocal ensemble will perform its 2021 spring show for an online audience April 23. (Photo by Todd Weddle/Northwest Missouri State University)
The Northwest Missouri State University Celebration choir will present its annual spring show online in a livestream format on Friday, April 23.
KNWT, Northwest's student-led television station, will broadcast the concert, beginning at 7:30 p.m., on its YouTube channel at https://youtu.be/xK_pbxQJpFQ.
The show will feature a selection of vocal jazz tunes and ballads, including "Pop In," "Jazz Up," "Rock Out," "Route 66," "When You Say You Love Me," "Puttin on the Ritz," "Hit That Jive Jack," "Safe and Sound," "Walk Like a Man," "The Look of Love," "Come Fly With Me" and "Imagine."
"I encourage friends and families to tune in to the livestream link for the concert," Dr. Brian Lanier, the Celebration choir's conductor and a professor of music, said. "The music is fresh. The students are fantastic, and it will be a tremendous evening of entertainment."
The Celebration choir, comprised of 28 members this spring, represents a variety of majors at Northwest. During the fall semester, they are known as The Madraliers, a chamber choir that presents concerts on and off campus, including the annual Yuletide Feaste.