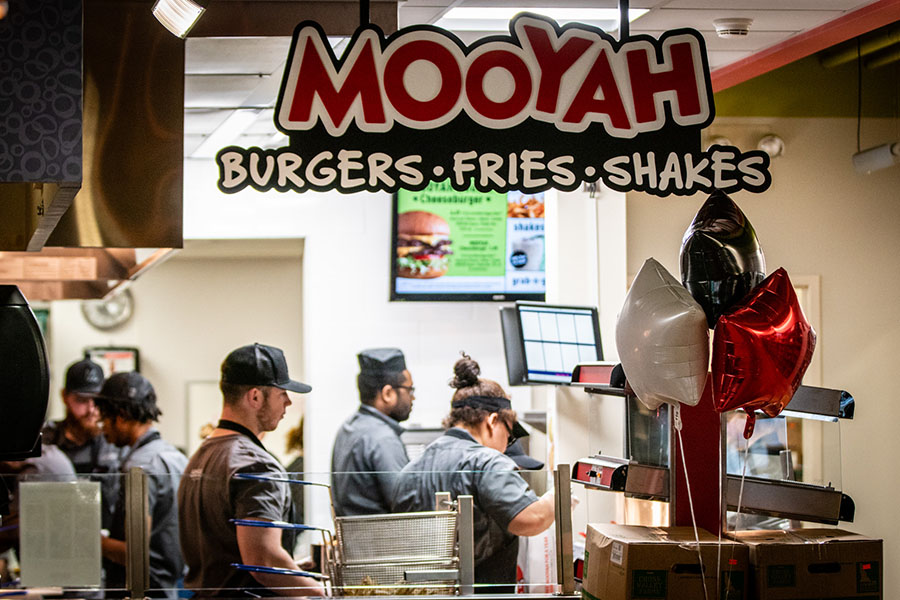 Mooyah (pictured during its opening in January 2019) offers custom burgers, fries and shakes in The Station on the Northwest campus. The location, along with Chick-fil-A and Einstein Bros. Bagels at the Student Union, is now offering curbside pickup. (Photo by Todd Weddle/Northwest Missouri State University)
April 7, 2021
By Edidiong Idong-Bassey, communication assistant
Northwest Missouri State University Campus Dining is now providing curbside pickup for customers seeking a meal at its Chick-fil-A, Mooyah, or Einstein Bros. Bagels locations.
Any customer may place an order by downloading the free "Transact Mobile Ordering" app from the Apple and Google Play stores.
"We have some national brands on our campus that aren't available in the Maryville community, so this is a way to provide some of the services we have to the local community," Spencer Martin, the director of Campus Dining, said. "By offering curbside pickup, we create some more flexibility in the dining program."
After downloading the app, follow these steps:
Select Northwest Missouri State University
Log in with your Google email or Apple ID. "Register email" is for Northwest email addresses only.
Enter a form of payment.
Select your order with your choice of restaurant. Select "pickup" on the top right side and choose "delivery" for curbside or "pickup" for in-store pickup. Type your vehicle description in the provided box.
After arriving at the selected destination, call the number on the curbside delivery stall, type in your stall number and your order will be brought to you.
In addition to curbside pickup, Campus Dining plans to introduce a loyalty program next fall that will feature contests and provide customers with opportunities to win prizes with loyalty points.
For more information, follow Campus Dining on social media at Twitter or Facebook.