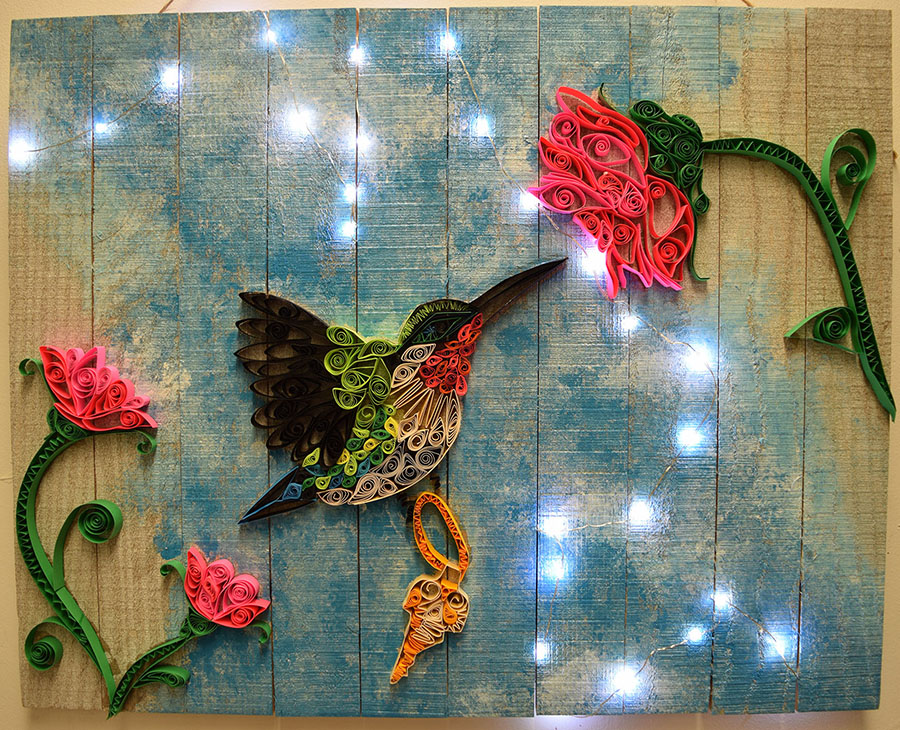 "Flight Home" by Bailey Hopkins is among the selected artworks created by Northwest students appearing in this year's undergraduate art exhibition at the Albrecht-Kemper Museum. (Submitted photos)
April 6, 2021
By Kourtnie Stenwall, communication assistant
(Updated April 30, 2021)
The creations of five Northwest Missouri State University students are among the 56 artworks by 38 artists appearing this spring in the Albrecht-Kemper Museum of Art's National Undergraduate Juried Exhibition.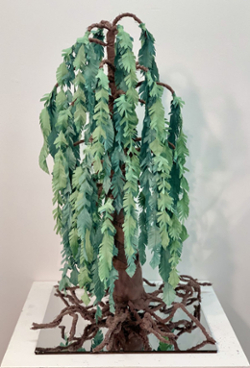 "Reflections of Growth," by Emily Thomas
The exhibition continues through Sunday, June 6, at the museum in St. Joseph, Missouri.
More than 200 works were submitted for the exhibit, and the juried art exhibition selects about 25 percent of the submissions it receives. Artists from six states and representing 15 colleges and universities appear in this year's exhibit, which includes paintings, sculptures, drawings, ceramics and fiber art.
The annual event is open to students enrolled in undergraduate programs throughout the United States. For the fifth year, participants were eligible to submit up to three works for jury consideration. A panel of three judges from the St. Joseph arts community assigned scores to the submissions, and a Best of Show was awarded.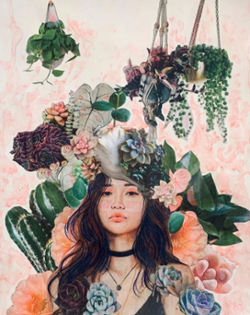 "Desert Rose," by Mackenzee Butts
"Juried exhibitions are competitive," Dr. Karen Britt, a Northwest assistant professor of art, said. "The selection of our students' artwork for the exhibition is important professional recognition that attests to the strength of their work and, of course, their talent and creativity as artists."
Bailey Hopkins, a junior art education major from Creston, Iowa, has one piece featured in the exhibit. Her piece, titled "Flight Home," depicts a hummingbird made of paper. She chose the image because she found the constant movement of the hummingbird to be a representation of her busy schedule.
Hopkins, who had three works included in the exhibition last year, takes pride in the number of students representing Northwest this year.
"I'm just excited that so many people made it this time," Hopkins said. "I think I was almost more excited to hear that five Northwest students made it than knowing about my one piece."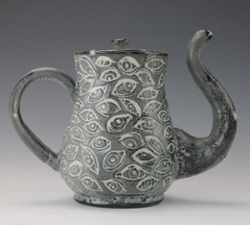 Teapot, by Ashleigh Erickson
Emily Thomas, a junior art education major from Indianola, Iowa, had a painting and two sculptures chosen for the exhibit. "Nature's Beauty" is a painted image of a beach, while her sculptures depict a willow tree, titled "Reflections of Growth," and a cube that reflects the elements of nature, titled "Elements of Nature."
"I was just hoping for one," Thomas said. "Seeing that email come up, I really wanted to do a happy dance. It makes you feel like all those struggles with art classes is worth it when you get into something like this."
Mackenzee Butts, a junior art education major from Liberty, Missouri, had two of her works selected for the art exhibition. Her paper collage, "Desert Rose," deals with the idea of feminine beauty standards, and her painting, titled "Ocean View," depicts an image of a wave.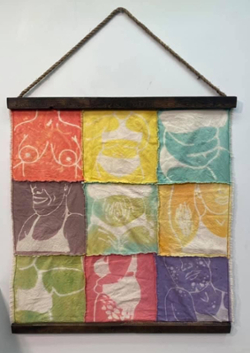 "Ugly," by Taylor Giesken
Ashleigh Erickson, a junior studio art major from Kansas City, Missouri, had two functional ceramic works, a soda-fire teapot and an electric oxidation-fired ewer, selected for the exhibition. Her inspiration comes from the Victorian Gothic style and historical vessels from that time period.
Taylor Giesken, a senior art education major from Maryville, had two of her works selected for the exhibition. The first piece, "Ugly," portrays nine elements of the human body on a quilted wall hanging. Her abstract landscape multimedia sculpture also was selected.
"Showing your work is always an amazing opportunity," Giesken said. "Whether your work is for social aspects or political or whatever your message is behind it, it's being shown to people and hopefully that message is getting across to them."
About the Albrecht-Kemper Museum of Art
The Albrecht-Kemper Museum of Art aims to enrich its community through a collection and exhibition of visual arts by providing education, creating unique experiences and nurturing regional artists. The museum is open 10 a.m. to 4 p.m. Tuesday through Friday and 1 to 4 p.m. Saturday and Sunday. Admission is $5 for adults, $2 for seniors and $1 for students. Museum members and children under age 6 are free.
A work of art itself, the Albrecht-Kemper Museum of Art houses one of the finest collections of American art from the Colonial period to the present. The former William Albrecht home provides a backdrop for works by artists, including Mary Cassatt, Thomas Hart Benton, Grant Wood and Jaune Quick-To-See Smith. A variety of special programs complement the museum's collection, including temporary exhibitions, art classes, gallery talks and special events. For more information, visit albrecht-kemper.org or call 816.233.7003.