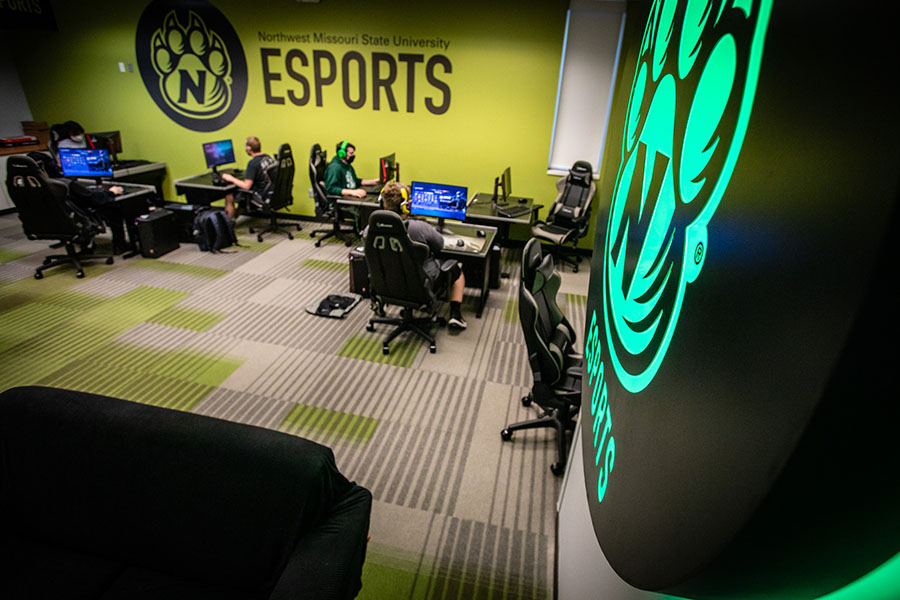 Northwest opened its esports room in the J.W. Jones Student Union last fall, giving video game enthusiasts and other students another opportunity to build connections and interact with each other. (Photos by Todd Weddle/Northwest Missouri State University)
March 31, 2021
By Edidiong Idong-Bassey, communication assistant
A few months after opening, Northwest Missouri State University's esports room in the J.W. Jones Student Union is engaging students and enabling them to thrive in a competitive environment while building long-lasting connections.
Northwest celebrated the opening of the esports room with a ribbon-cutting in November. The facility, which serves as the home of the Northwest Esports Club, is outfitted with gaming centers and furnishings that have brought a new level of student engagement – as well as competitive video gaming – to Northwest.
As interest in the activity grows, Northwest may soon have the ability to offer esports scholarships, too.  
"Not every school provides such a thing, and I think it's a great opportunity because video games have increased in popularity and competitiveness," Tanner Hall, a senior criminology major from Martensdale, Iowa, said. "I see it gaining a lot more people."
The Esports Club, formerly known as Smash Club after the video game of the same name, has rapidly progressed at Northwest from playing non-competitively to winning matches against other universities. It is a club operated for students by students and offers opportunities for beginners to advanced players with games such as "Call of Duty," "Smash," "League of Legends" and "Rainbow Six Siege." Any Northwest student may visit the esports room and play any game.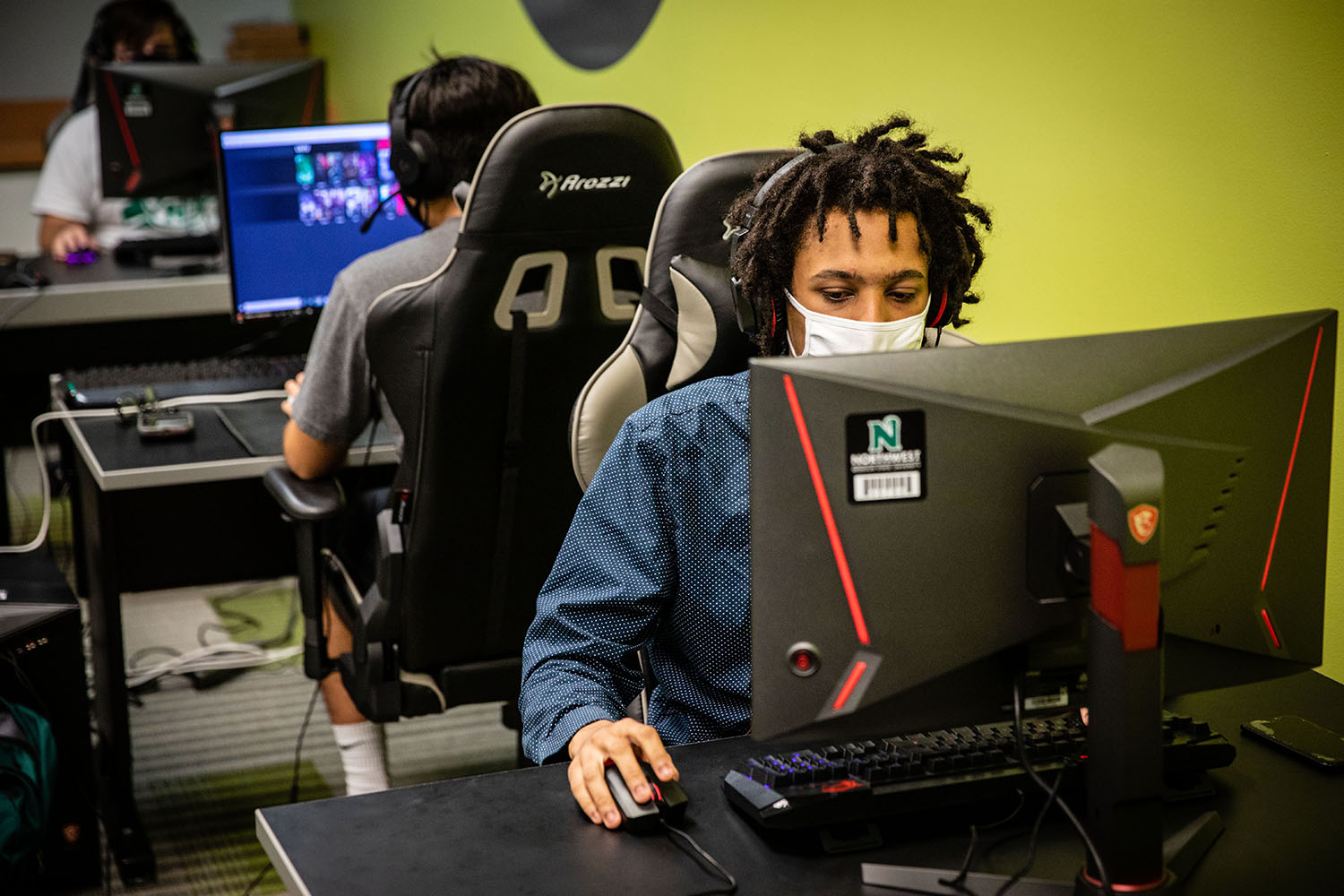 The Esports Club offers opportunities for beginning gamers to advanced players.
This spring, the club's Counter-Strike: Global Offensive team enjoyed a 5-0 winning streak, and it has defeated teams representing Purdue University, The University of British Columbia, Texas Tech University, Milwaukee School of Engineering, The Ohio State University, and Bowling Green State University.
"When we can get our teams to have a lot of coordination and have really good games, it's super fun to play well, play with my team and perform," said Brandon Carey, a sophomore computer science major from Savannah, Missouri. 
Apart from connecting with peers, Colton Wilson, a junior cybersecurity major from St. Joseph, Missouri, said he is gaining administrative and organizational finance experience as treasurer of the Esports Club.
"I've learned a lot from being on the executive board, from learning how leagues work to learning how Northwest operates their clubs," Wilson said. 
With some restrictions remaining on club activities and equipment not yet being operated at full capacity because of the COVID-19 pandemic and social distancing measures, members have adapted by meeting online through Discord to livestream game sessions and replays.
"Esports has been growing so much across the nation, from people playing as a career to the collegiate level," Wilson said. "I think the room is really well done for what we have, and I can't wait for COVID to fully go away so we can use the room to its full capacity."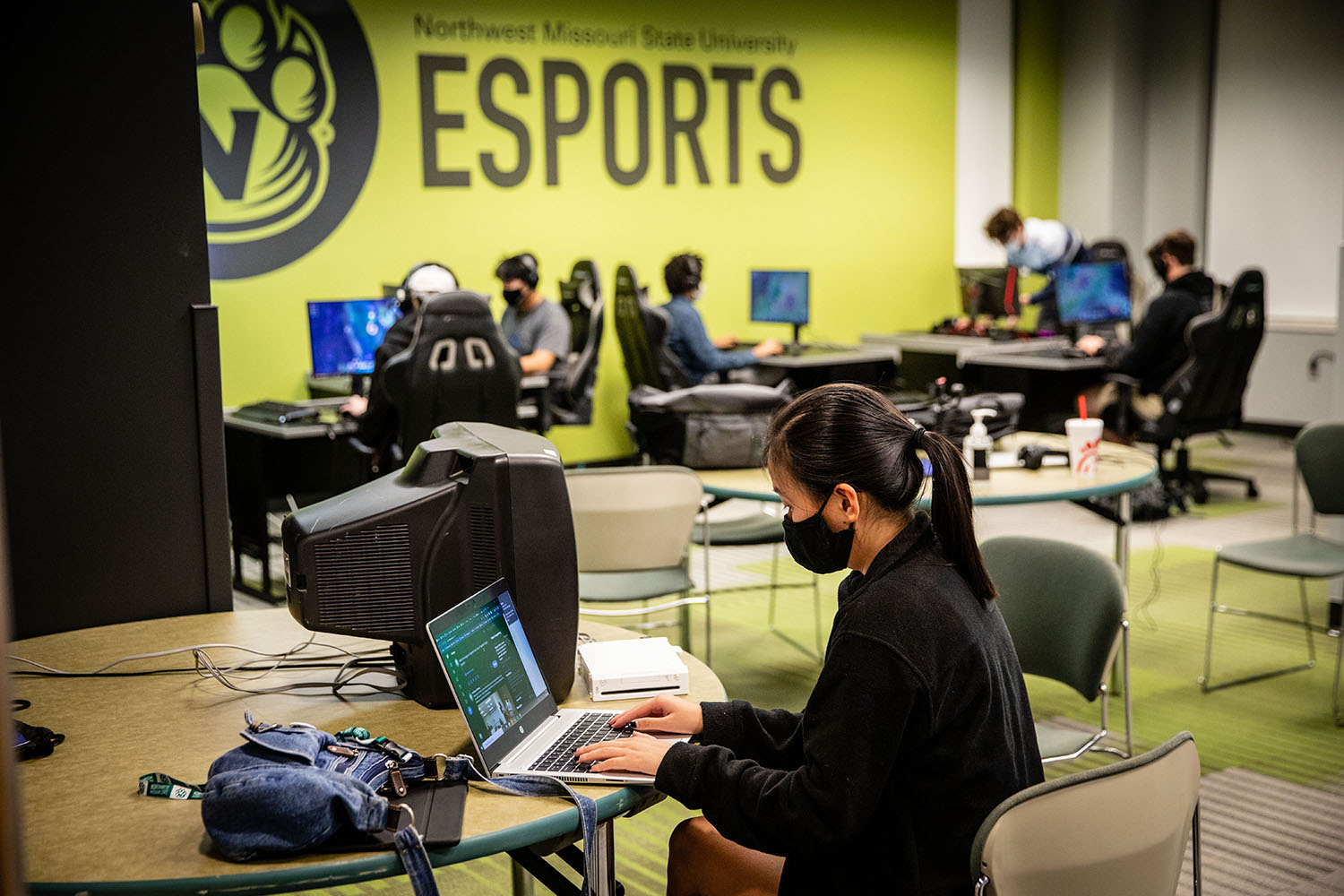 Northwest's esports room is outfitted with a variety of gaming centers and furnishings to support student engagement as well as the competitive video gaming environment.
The organization has given Cecilia Nguyen, a sophomore digital media content strategy major from Kansas City, Missouri, a chance to build her social media communication abilities. She joined the Esports Club to complete a University Seminar credit and stayed because it reminded her of good times playing video games with her family, making the club feel like home. A year later, she is operating the club's Twitter account, sharing announcements and news with followers. 
"I interact with a lot of members even though I'm not on a team," Nguyen said. "I don't play competitively, but it helps with me communicating with different people." 
Thomas Thach, a junior from Wentzville, Missouri, majoring in biomedical sciences with a pre-chiropractic emphasis, is hopeful the club will continue its growth.
"The future of the Esports Club can only grow more because of the way technology is advancing and evolving each year," Thach said. "You'll always have students that have a love for video games as much as someone else, and this club is the perfect club for them to express that interest and gain friends out of it, too."
For more information about the esports at Northwest, contact esports@nwmissouri.edu or visit www.nwmissouri.edu/recreation/eSports/.